Summer is almost here which means fun in the sun! Two of the all-time popular vacation activities for families have been Disneyland and waterparks. Therefore, if you are looking to relax on your next vacation and considering staying at hotels with waterparks, here's a look at the best ones.
Waterparks are always popular with kids and can save a lot of stress when figuring out how entertain them. Choosing hotels with waterparks will save you the challenge of keeping the kids busy. That means more relaxation time instead of planning and driving time. That's always a plus! In this post, we will cover some of the best hotels worldwide with waterparks.
Save Money on Your Existing Reservations By Sending 1 Email
Hotels with Waterparks in the USA & Canada
Holiday Inn Resort Orlando Suites – Water Park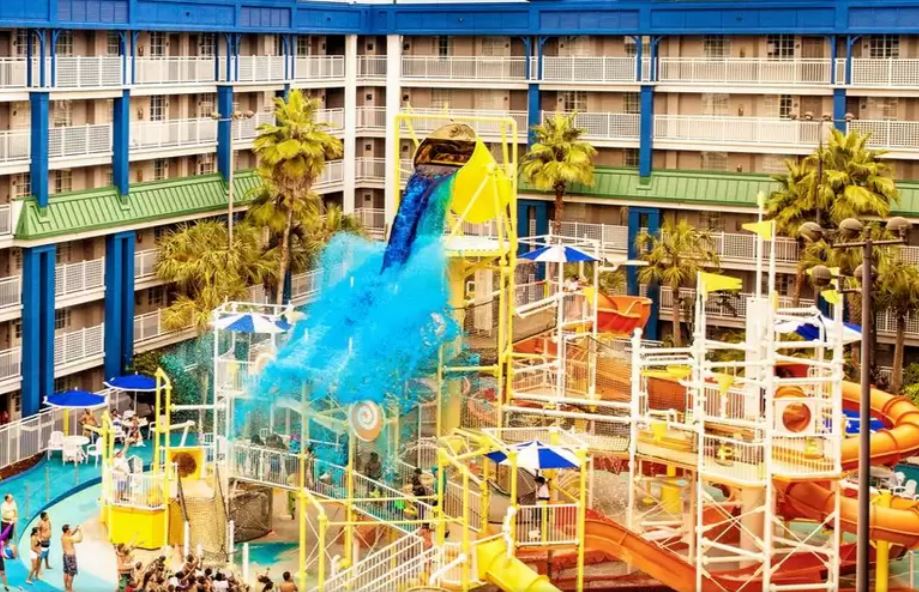 Disneyworld is a family magnet. Therefore, your kids will have the time of their lives combining awesome rides at the amusement park with water fun at the hotel. This hotel is located 6 miles from Disney World and offers a free shuttle to the theme park.
The average cost per night for a room for 2 adults and 2 kids is between $120-$145. That price, however, excludes a daily resort fee of $33.75.
The Courtyard Anaheim Theme Park Entrance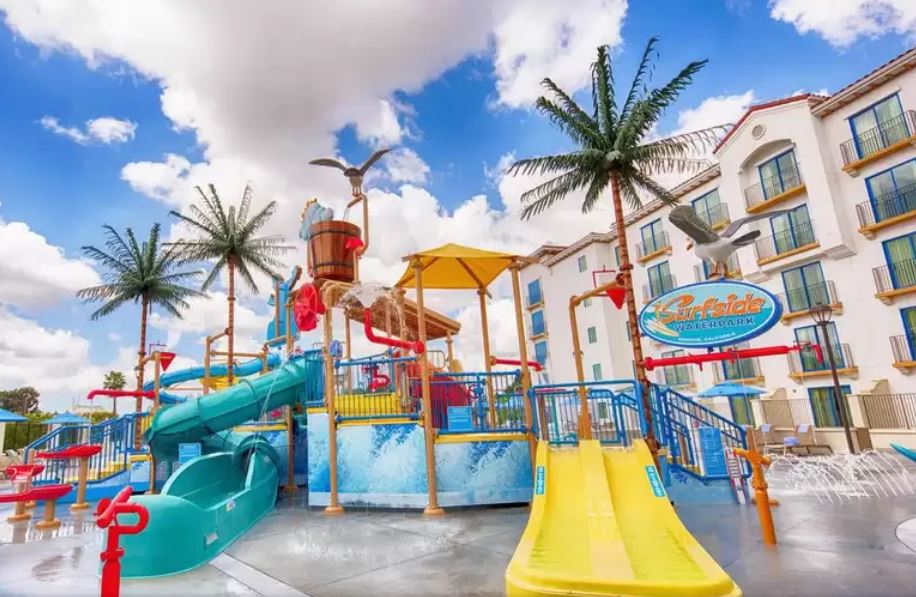 This hotel is located only 8 minutes walking distance from the theme park. For families who prefer Disney's SoCal version, this is the place to stay. The hotel's Surfside Waterpark not only has a view of Disneyland, but also offers two 30-foot waterslides, drench buckets, swimming pools, and hot tubs. Take advantage of L.A´s´outstanding year-round weather to taking optimal care of your body while on vacation.
The Bistro, just off the main lobby, is the hotel's main restaurant and is open for breakfast and dinner. Breakfast includes dishes such as oatmeal, fresh fruit, eggs with bacon, and breakfast sandwiches. Starbucks coffee and beverages are available throughout the day at The Bistro.
Expect to pay anywhere between $250 for their basic room during winter months, to $460 during summer time. Built to be family-friendly, the Courtyard offers extra large rooms that accommodate up to six people. On-site valet parking is required at the Courtyard and costs $20 per day. Unfortunately, self-parking is not available.
If you feel like leaving the hotel premises, use Globosurf to check out a variety of activities available in this area.
Kalahari Resorts and Conventions – Wisconsin Dells, WI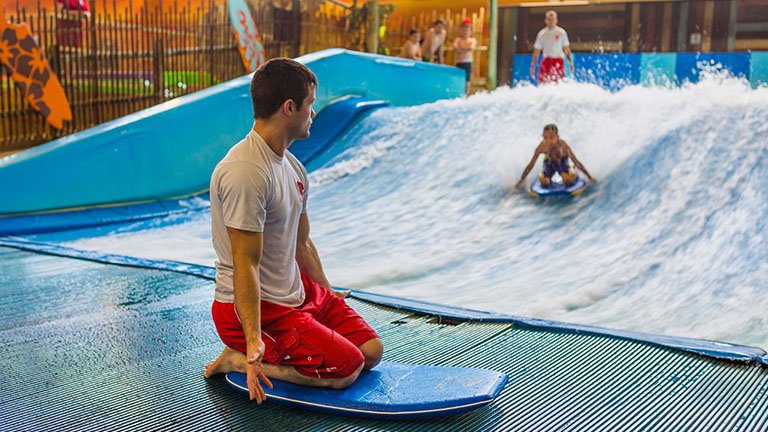 The Kalahari Resorts in Wisconsin Dells happens to have the largest indoor waterpark in the US! Some of their attractions include waterslides, water coasters, tube rides, surf simulators, a wave pool, and a lazy river .
The resort is unique with its African theme and has constantly added new attractions throughout the past decade. There are 752 rooms and suites to accommodate families of all sizes.
The average price for the basic family room is between $129 to $234 depending on the season. There is a resort fee of $54 per room in addition to the room cost.
Grand Wailea, A Waldorf Astoria Resort in Maui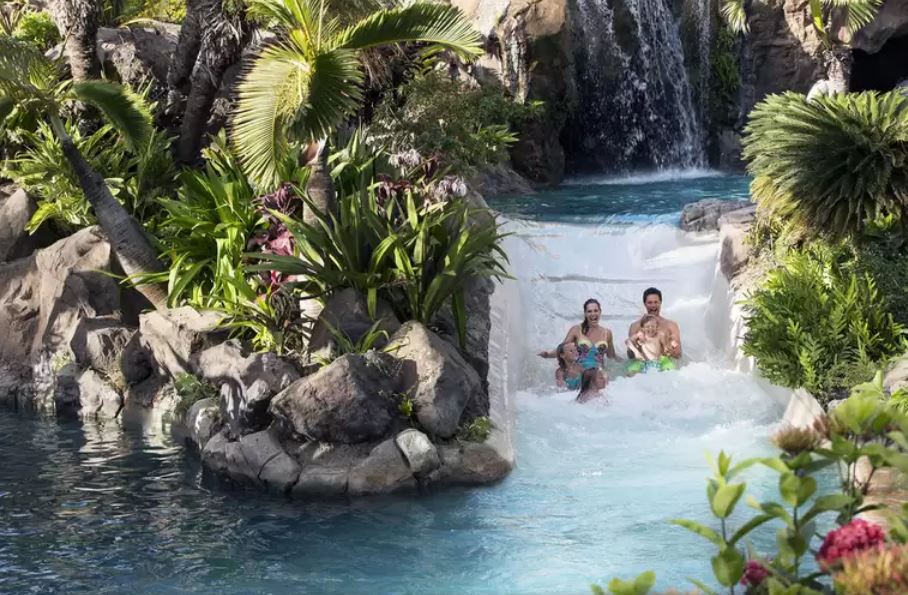 The Grand Wailea is the ultimate destination for a fabulous Hawaii vacation. It's a special resort to experience some family ALOHA. This resort is perfect for families, spa goers, honeymooners, golfers, and active vacationers. Set on 40 acres of tropical gardens bordering Wailea Beach, this luxury resort is next to Wailea Blue Golf Course and 6 miles from Ahihi Kinau Natural Area Reserve.
At the Grand Wailea you will find 9 pools, a 2,000-ft river with waterslides, a newly built three-story lava tube slide, along with a spa and sauna for mom and pop to relax.
The Grand Wailea also has direct access to beautiful Wailea beach. If you want to enjoy land or water sports, you will have plenty of options. For example, you can use their eleven tennis courts, enjoy complimentary SCUBA lessons for first-time divers, play a round on one of three championship golf courses nearby, and use the hotels kayaks, paddle boards, boogie boards and snorkel gear. Not sure what the difference is between paddle boarding and kayaking? Click here to decide which one´s right for you. Rentals are available for a nominal fee. Sunsets are free!!
The average price for a family room is $540-$650 depending on the season. In addition, this hotel charges a $40 daily resort fee.
Booked a Hotel & You Want To Get Reimbursed If The Price Drops? Learn More
Skyline Hotel & Waterpark, Niagara Falls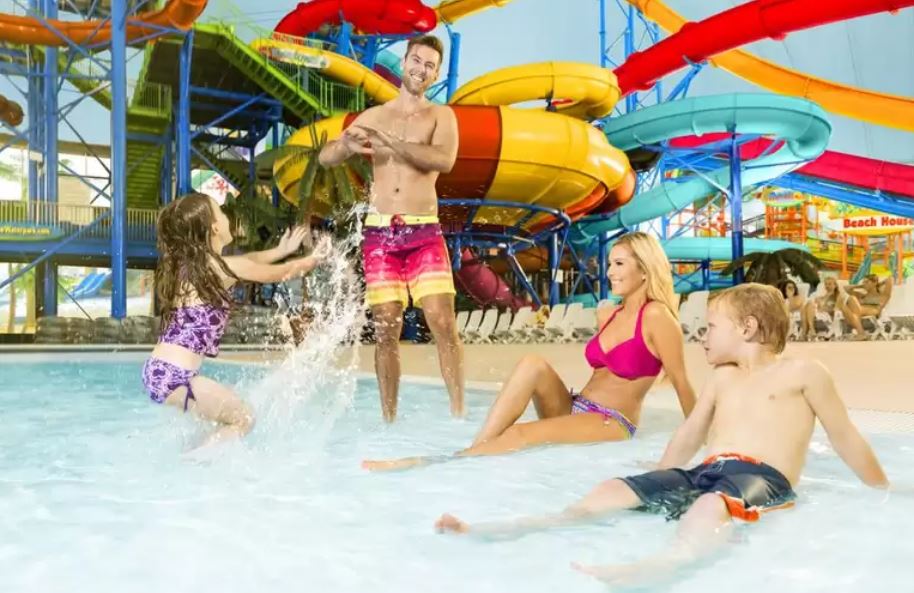 This hotel is directly connected to the Fallsview Indoor Waterpark via an indoor skywalk. Located minutes from the Falls, the Skyline Hotel features suites with 3 beds, housing up to 6 guests per room. In addition, the Skyline Hotel offers family movie night every night in the main courtyard of the hotel. Who doesn't like watching movies under the summertime stars?
This hotel caters to families and allows kids to eat for free. Prices fluctuate tremendously for this hotel. The basic family room in November will cost you around $67 per night. The same room in August will cost around $191 a night.
Hotels with Water parks in the Carribean, Central and South America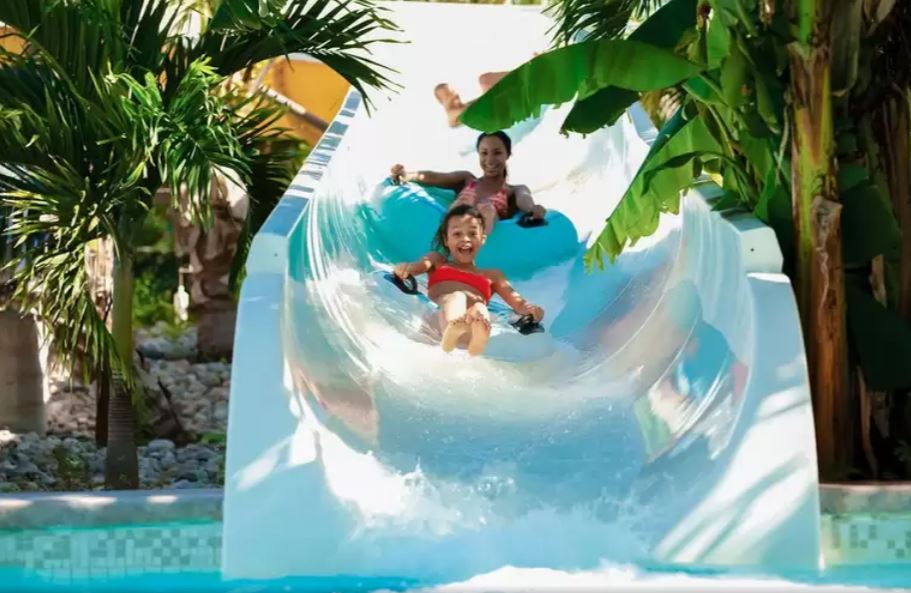 Rated #1 family hotel in the Caribbean by Travel & Leisure, Beaches Turks & Caicos Resort is the largest resort on the Island. The 45,000-square-foot water park is a huge hit with kids from tots to teens. Here, they can enjoy the swim-up soda bar, Xbox games, and a teen disco.
Have fun and try every water sport imaginable using top-of-the-line equipment and professional instruction. The Pirates Island Waterpark at Beaches Turks & Caicos is filled with gigantic waterslides and kid-friendly pools . There are also water cannons, whirlpools and lazy river journeys, as well as the Caribbean's only surf simulator.
Make sure to bring your credit card for this hotel. Expect to pay anywhere between $860 to $3500 for the most basic family room (depending on the season).
Sandos Caracol Eco Resort & Spa, Playa Del Carmen, Mexico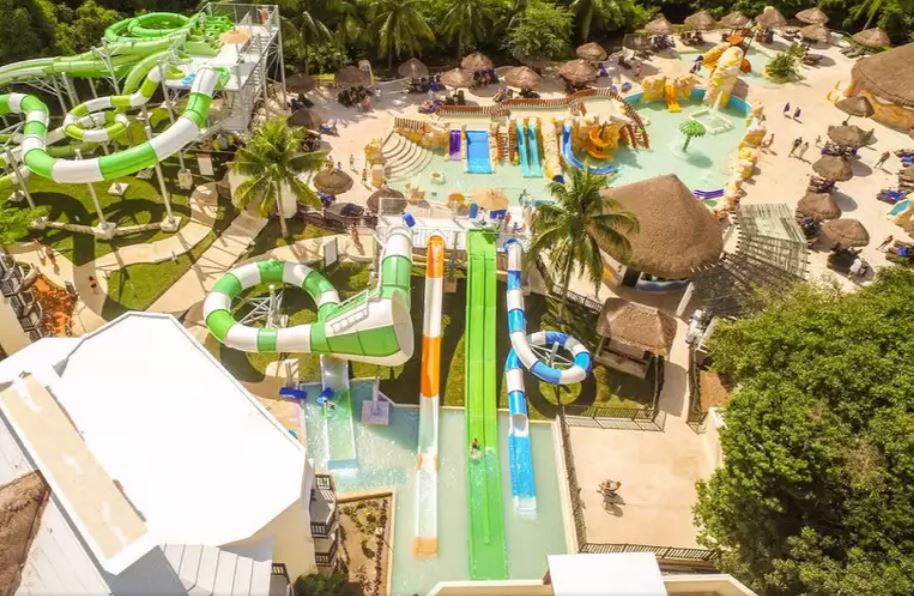 Here at Sandos Caracol Eco Resort, you can swim in the crystal-clear waters of a ancient jungle cenote, lounge on the beach surrounded by palm trees, or spend an adrenaline-filled day at the full-size water park. Not only will you and your children enjoy the 29 water slides this resort has to offer, but you can swim through a mangrove forest, and witness live Mayan shows under the stars in a most stunning outdoor location.
Dine at one of their 9 restaurants, including Italian, Asian, Vegetarian and a Brazilian Rodizio. If you want to substitute pool water for sea water, the hotel has direct access to the beach.
You can get quite the bang for your buck here, as the standard family room costs only $213 per night.
Hilton Rose Hall Resort & Spa, Jamaica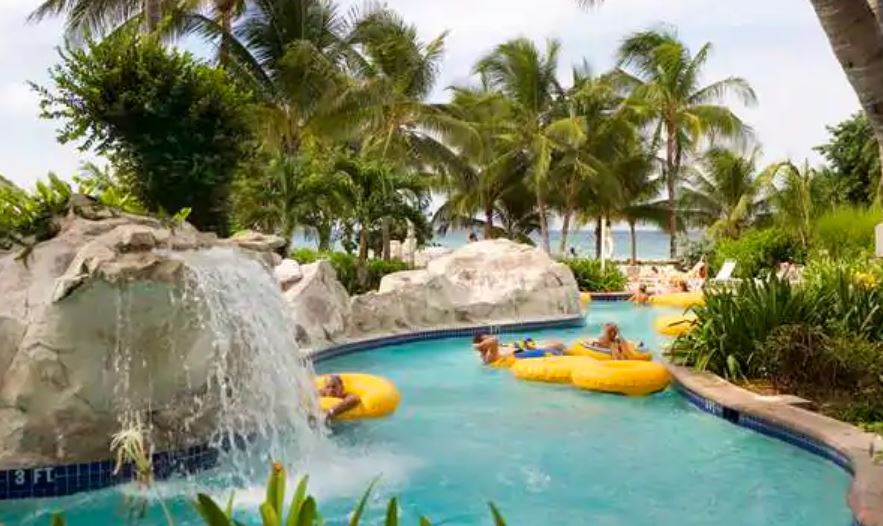 Proclaimed as the biggest waterpark in Jamaica, there is so much to enjoy here for adults and kids alike. Navigate through cascading waterfalls. Relax along the lagoons. Drift on the lazy river with inner tubes or lounge in one of three terraced pools. Kids will enjoy the jungle garden, complete with a rope-and-wood suspension bridge along with a 280-foot water slide.
Prices don´t vary much between seasons, so on average you will pay $325 per night for 2 adults and 2 children.
Hotels with Water parks in Europe
Aquashow Park Hotel, Quarteira, Portugal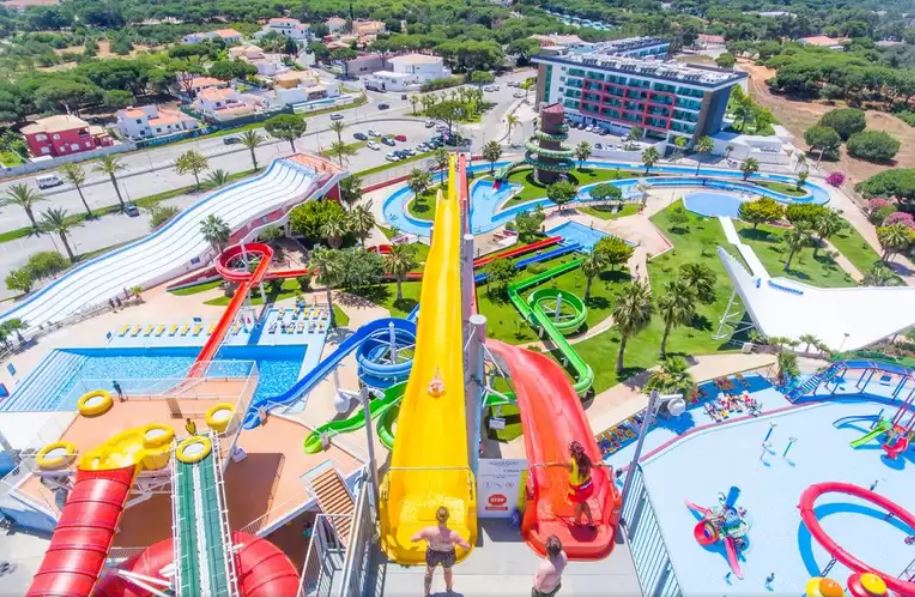 This park is part of a leisure complex with a 4 star Hotel and a future indoor water park. Hotel Aquashow has 148 rooms, indoor and outdoor swimming pools, jacuzzi, gymnasium, children's indoor and outdoor spaces, restaurants and meeting rooms. Access to the park is free for all guests.
Some of the waterpark's activities include a watercoaster, wave pool, a river slide, a free fall slide, and much more.
The average cost per night is around $250 for a family room, which includes access to the waterpark.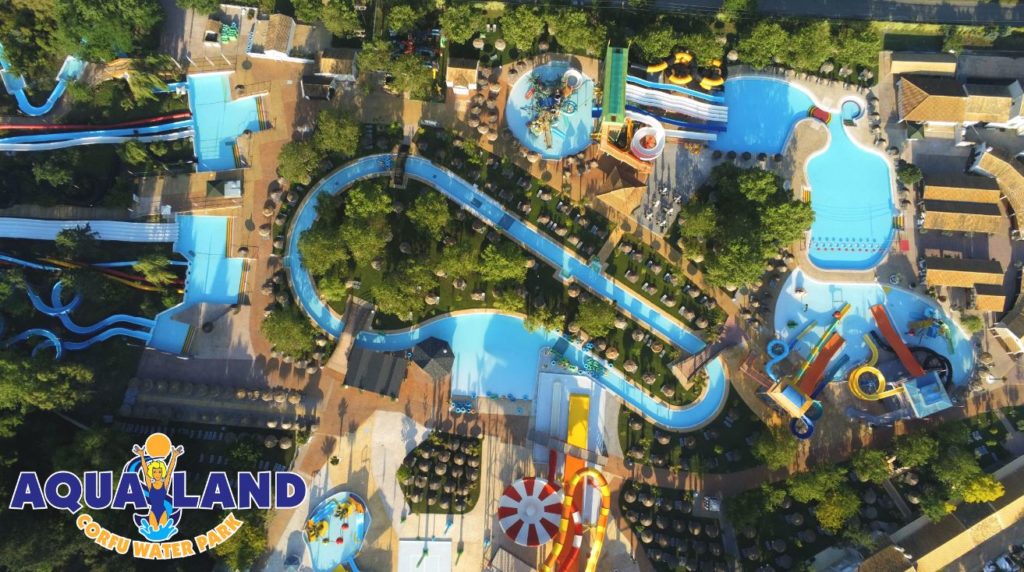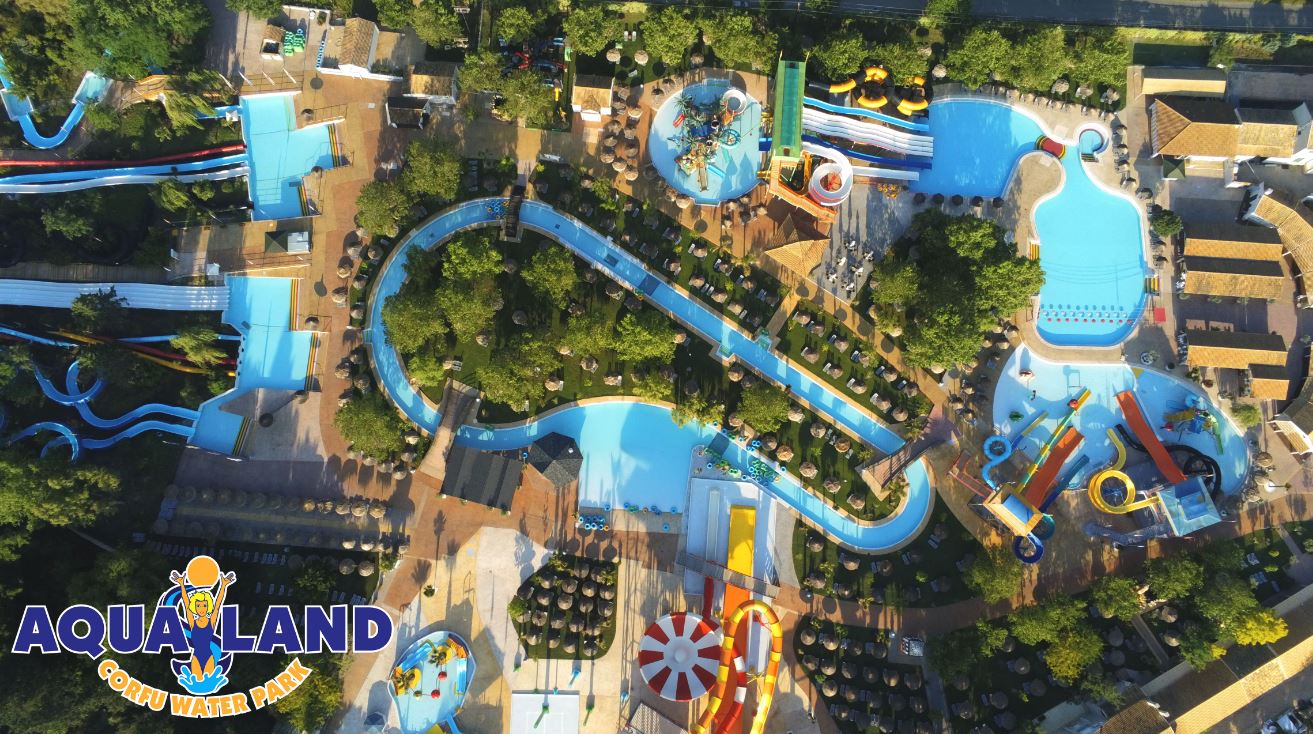 Aqualand's waterpark contains 38 slides, the world's third largest wave pool and a 78 ft. high free-fall slide! The hotel is located in a remote area of Corfu. However, if you want to stray away from the park, the hotel provides a free shuttle bus into Corfu Town. The town is a great choice for a nice day out sightseeing.
Some of the activities at the park are the Giant Slides, a Multi-slide, the Black Hole, Four Twisters, the Kamikazes, the Hydra-tube, the Crazy River, the Lazy River, the two new "free-fall" slides, the big Jacuzzi, and much more.
This all-inclusive resort allows bookings between May and October. During these months the average price per night is $235.
Labranda Blue Bay Resort – All Inclusive, Rhodes, Greece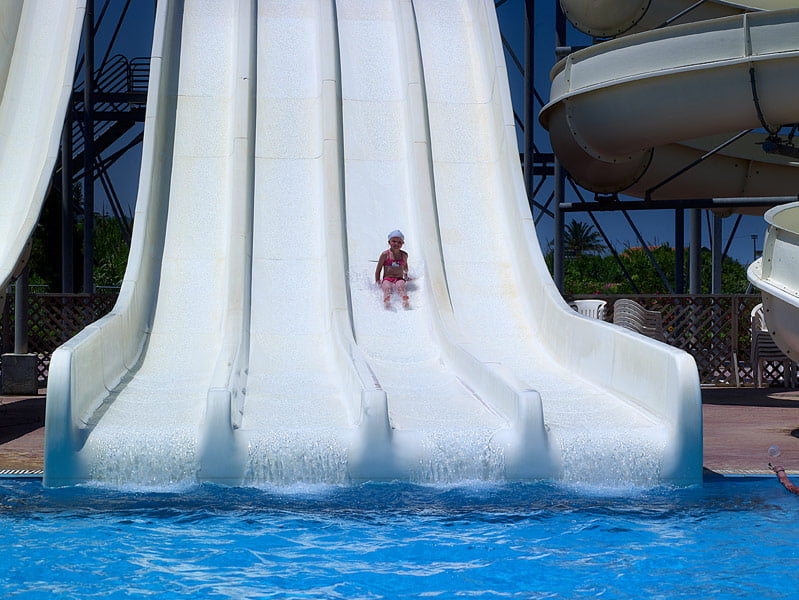 This hotel´s waterpark offers six waterslides, an impressive pirate boat with waterslides, aqua splash center and two swimming pools. Your kids are guaranteed to be occupied with water activities for the entire day!
This hotel is seasonal as well, allowing access to the waterpark between May and October. The Blue Bay resort offers plenty of pampering for mom and pop as well. Some of the facilities include a relaxing spa, sports facilities such as tennis courts, basketball courts, volleyball and beach volley nets, and football on the beach.
During the summer months expect to pay between $350-$420 for a family room. The same room during October can cost you a mere $110 per night.
Tropical Islands Resort, Krausnick-Gross Wasserburg, Germany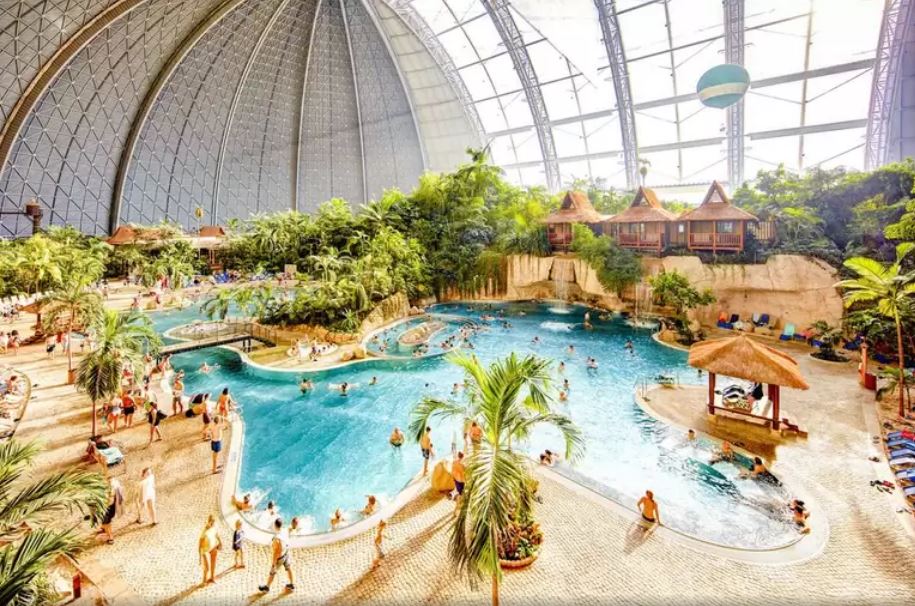 What do you do with an old Soviet air hanger you no longer have any use for? Well, you turn it into a water park of course! In addition to the world's largest indoor rain forest, you will find a lagoon, a tropical sea, Germany's highest water slide, and a recently opened whitewater river with a 820 foot jet stream.
What is unique about this hotel is the different lodging categories. For example, you can park your camper ($228 a night), book a family tent ( $228 a night), mobile and nature homes ($246 a night), or stay in a family room ($403 a night).
Sol Katmandu Park & Resort by Melia, Mallorca, Spain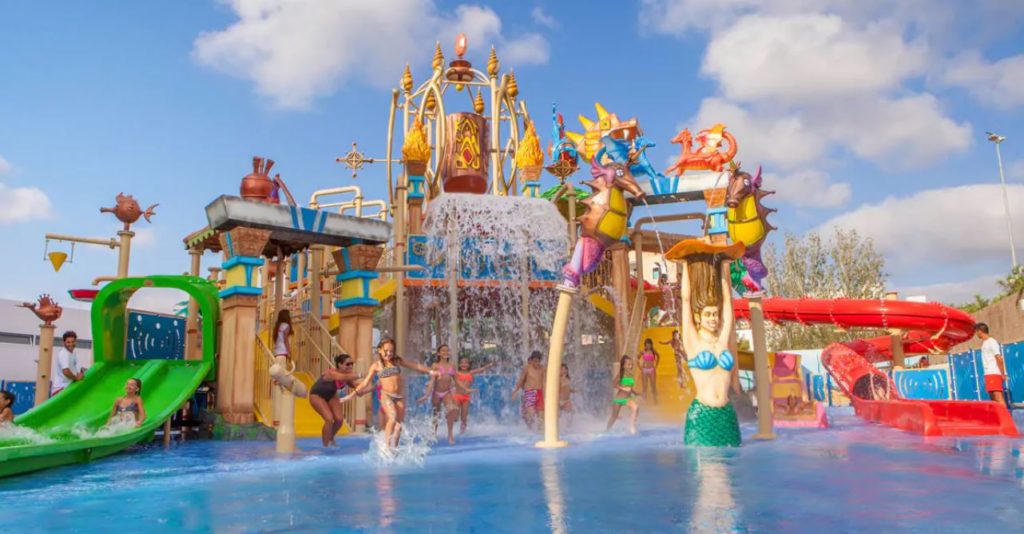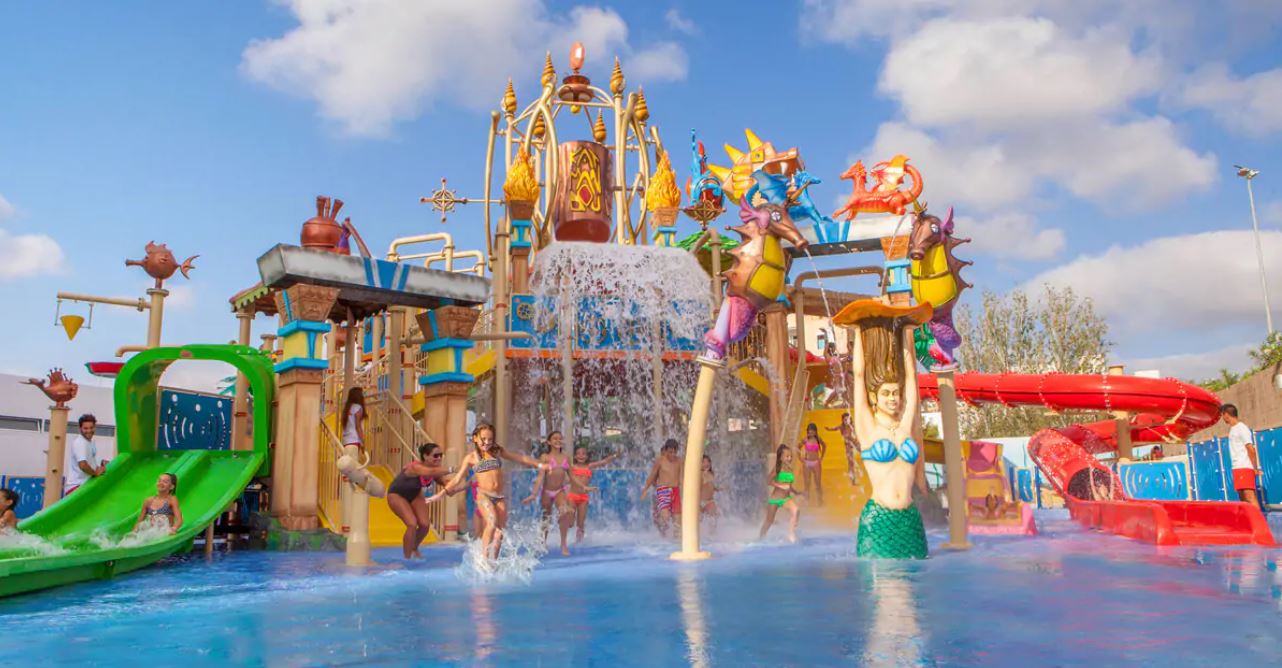 This is the first thematic complex on Mallorca combining accommodations and entertainment. Located only 820 feet from the white-sand beaches, this hotel is ideal for families and adventure lovers.
The hotel organizes a varied entertainment program for children including Breakfasts with Boro & Friends Musical Buffet & Show. Guests have free access to Katmandu Theme Park's wide range of rides which include a splash park, a soft play adventure area, and a 4D cinema.
During the summer months, a room will cost you around $360 a night while in the off-season they price at $187 a night. In case you haven't noticed yet, prices for hotels with waterparks tend to drop drastically during the off-season.
Hotels with Waterparks in Asia and Oceania
Splash Beach Resort by Langham Hospitality Group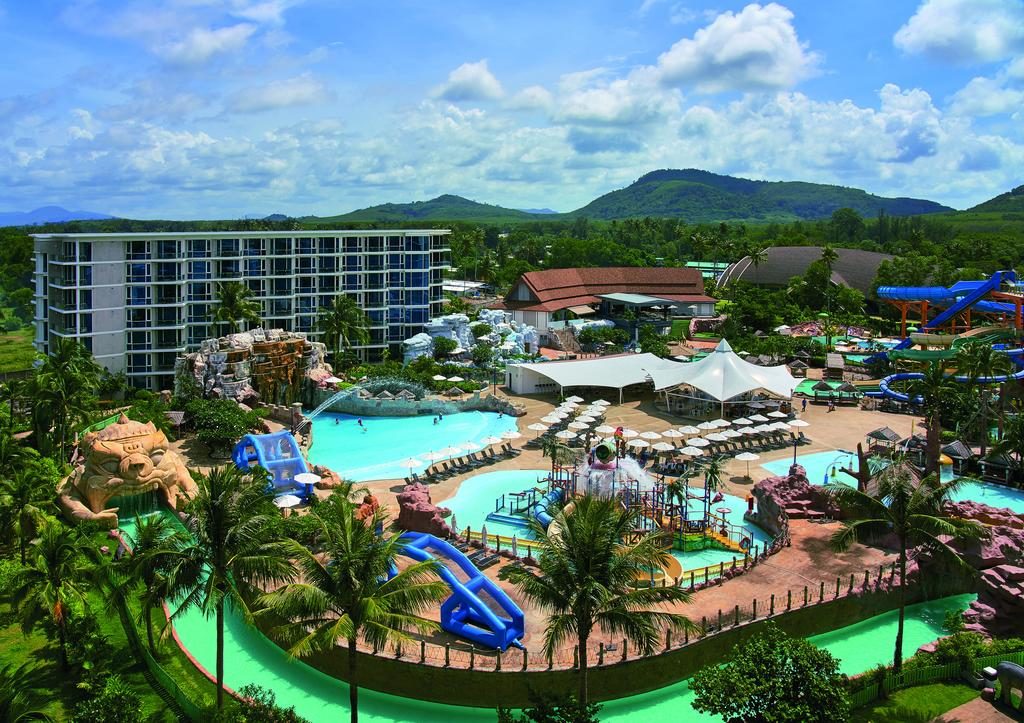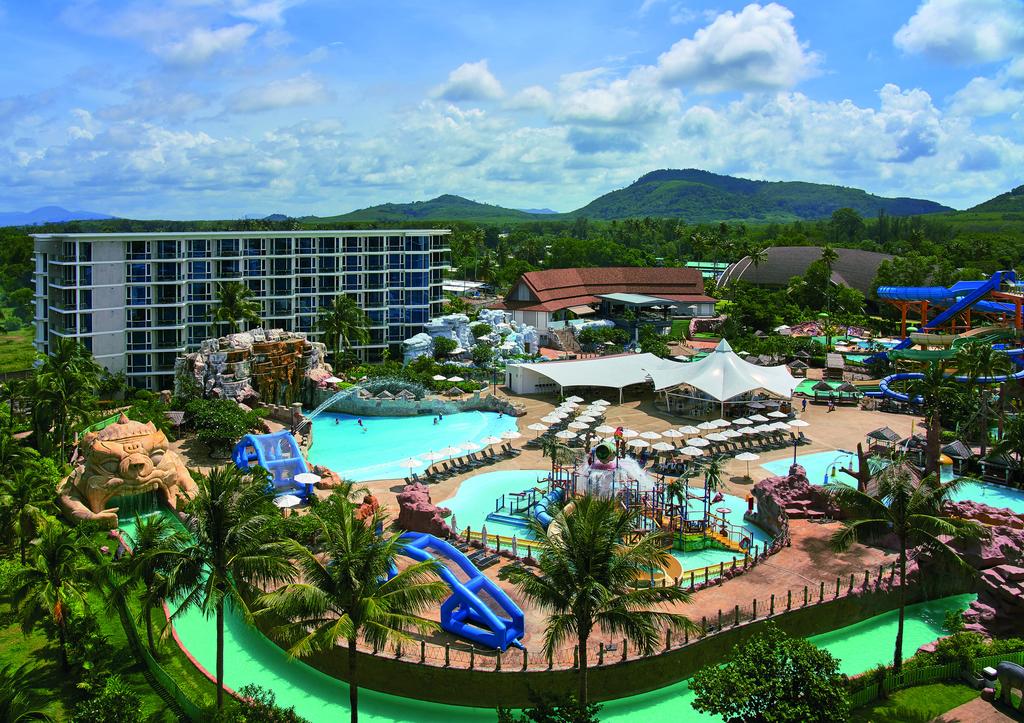 At this hotel´s waterpark, guests can enjoy exciting rides such as Boomerango, a six-level wave pool, and an aqua play pool for children. For those looking for a relaxing water park tour, a 1100 foot lazy river is where you can float around and enjoy the place. The resort also has a sandy pool with direct access to the beach.
The Splash Beach Resort is located only a 15 minute drive from the Phuket International Airport. Like many Thai hotels with waterparks, here you can enjoy a variety of accommodations including rooms, suites, penthouses and villas with views of tropical gardens or the Andaman Sea.
Prices are reasonable. A Deluxe Room for a family of four will only cost you $109 a night.
Mangrove Tree Resort World Sanya Bay-Kapok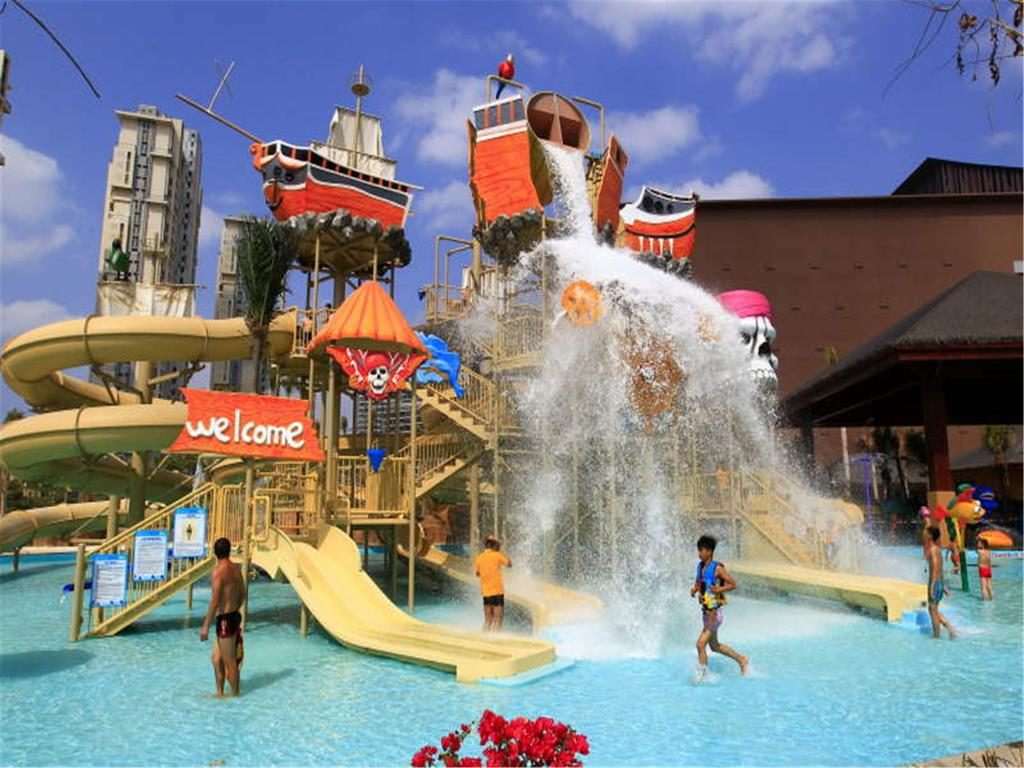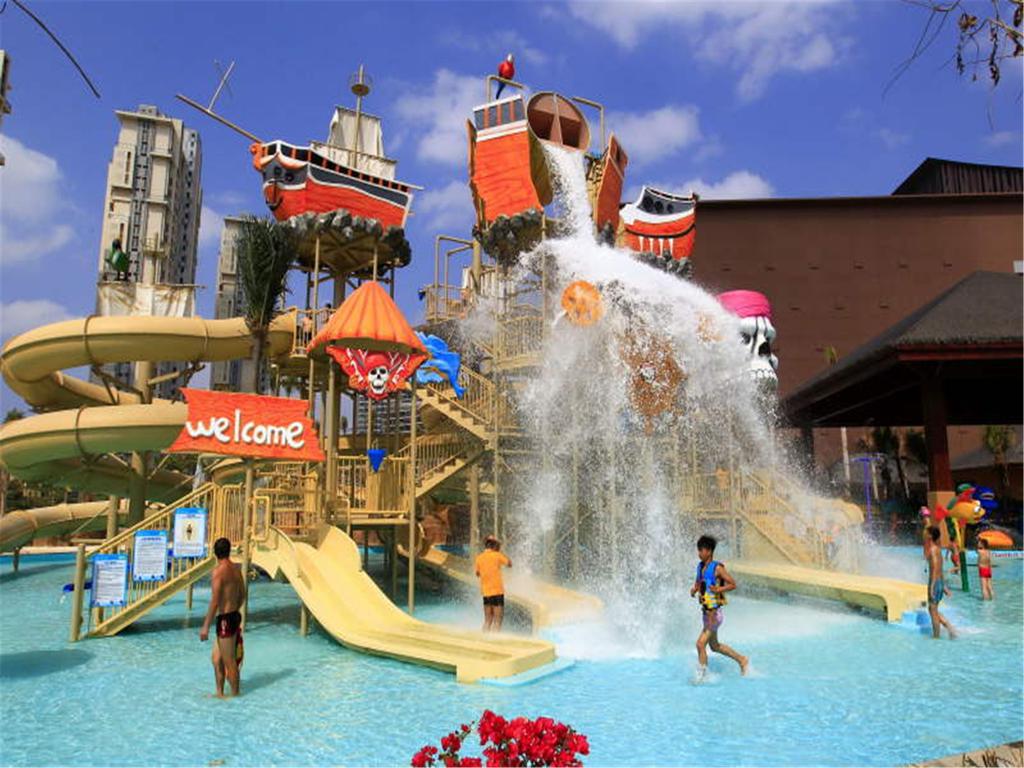 A 5-minute drive from the beach, Mangrove Tree Resort World Sanya Bay offers luxurious accommodations with more than 20 distinctive restaurants, a signature Spa, art displays, bars, and shops.
While hotels with waterparks tend to be more expensive, this luxurious resort and waterpark is comfortably priced during the summer season at $174 for a suite.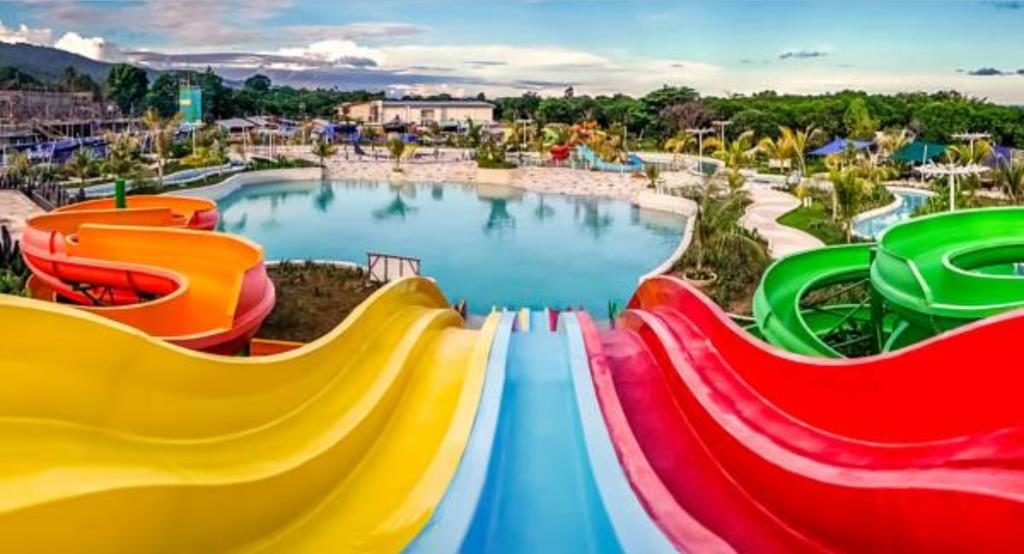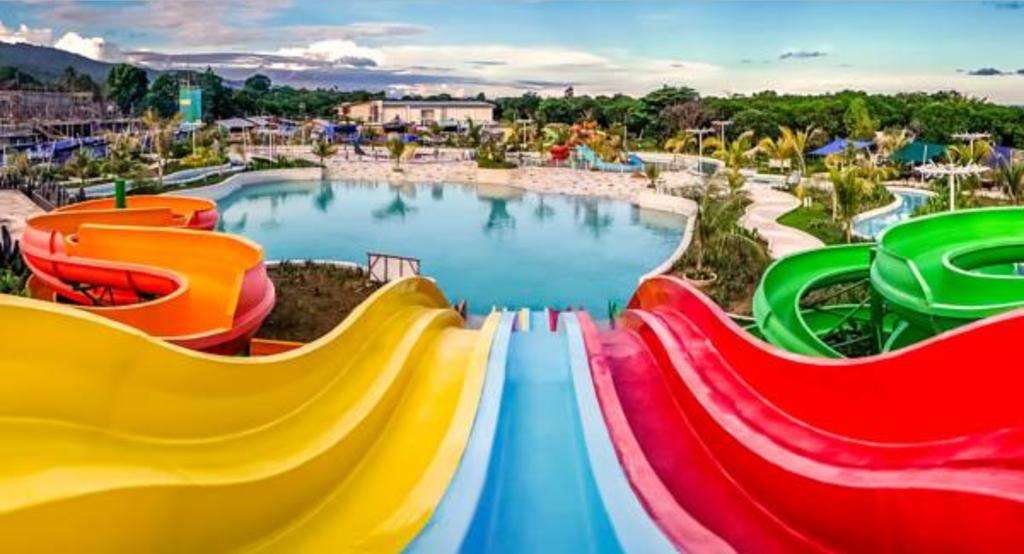 Astoria Palawan is a beautiful resort located in Puerto Princesa. To begin with, it boasts a private beach area, a 115ft. infinity pool and a children's playground. Located just a few steps away from the shores of Honda Bay, Astoria Palawan is home to the first and only waterpark in Puerto Princesa. Taking up one hectare of the entire property, their aquatic playground features many aqua thrills and adventures that both kids and kids-at-heart will surely love.
A two bedroom suite here will cost you a bit less than $300 a night.
Jpark Island Resort & Waterpark Cebu, Philippines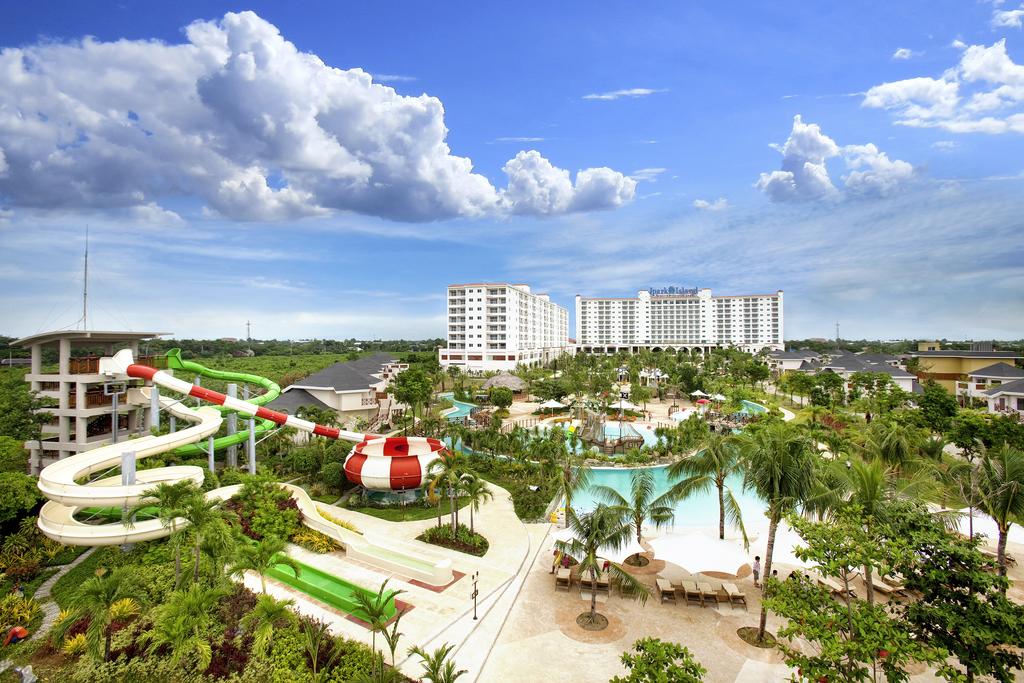 If water fun is your vacation objective, it doesn't get much better than Jpark Island Resort & Waterpark, Cebu, Philippines. Within its 16.5 hectare expanse, you'll find 568 rooms, villas and suites, 6 themed pools, 10 dining outlets, a casino, activity zone, dive shop, and private beach. The highlights of the water complex include 3 towering waterslides, a lazy river pool, and a pool with a beach-like shoreline.
Prices vary tremendously between high season ($500+ per night) and off- season ($270 per night). Therefore, traveling in the off-season can be more economical for families.
Conclusion
Choosing hotels with waterparks can be the perfect option for a family vacation. Your children will never have a dull moment, and as a result, you will have a great vacation experience, too!
Hotels with waterparks tend to be more expensive than your average 4 star hotel. That said, you can still save on your costs by traveling during the off-season, or better yet, saving by sending your hotel reservation confirmations to Pruvo.
Other Relevant Articles:
What are Resort Fees (and How to Avoid Paying Them)
Can you bring your pets to hotels?
Underwater Hotels Around the World