Beaches tend to be a favorite vacation destination for couples, backpackers, families and honeymooners. People dream all year round about that moment when they stretch their entire body and lay on the sand, under a palm tree while drinking a coconut. Depending on your geographical location, summer vacation can fall either between May to August, or December to February.  Thus, this list consists of the best beaches in the world on both sides of the equator. Some are located on remote islands, so make sure you read up on how to score dirt cheap flights. In general, beach accommodation is more expensive as well.  Though we can´t make hotels cheap, we can apply this hack to make hotels cheaper. Since beaches are such a popular vacation choice, we decided to put together the following list.
48 best beaches in the world
1. Harbour Island, Bahamas
Only 3 miles long and half a mile wide, Harbour Island – known as "Briland" to locals – sits just a mile off the better-known island of Eleuthera. These soft, coral sands bask under the warm Caribbean sun, and prove irresistible to locals and visitors alike. With only small handfuls of tourists visiting at any given time and less than 2,000 locals, Harbour Island is one of the best beaches in the world for families and couples hoping to relax by the beach, walk the streets and sip casual sunset cocktails.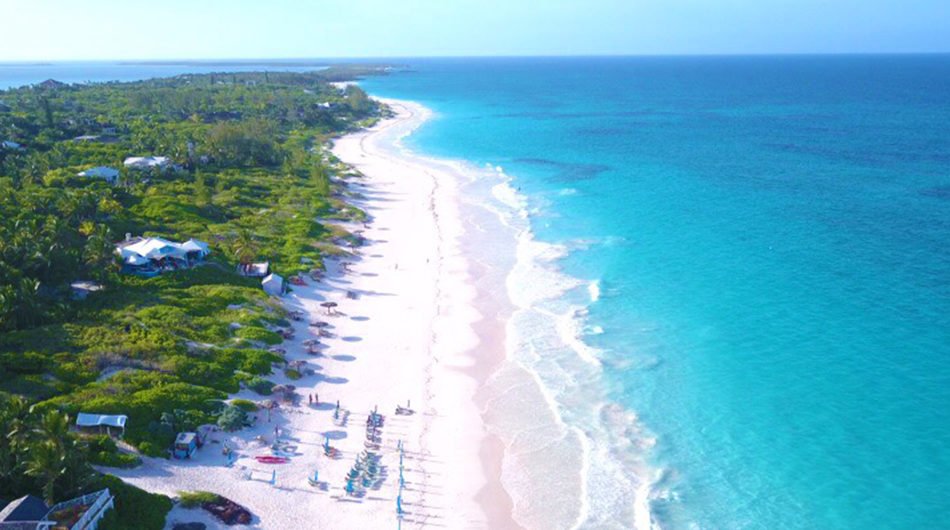 2. Elafonissi Beach, Greece
Elafonisi is a magical place that consists of a small islet full of white and pink sandy beaches.  It lies in the southwestern side of Crete.  You can get to the Elafonissi island on foot because the waters are shallow, sometimes without even getting one's toes wet, and therefore is ideal for families with small children.   The island is home to 110 plant species. It is considered by many as one of Greece´s best beaches, not to mention, one of the best beaches worldwide!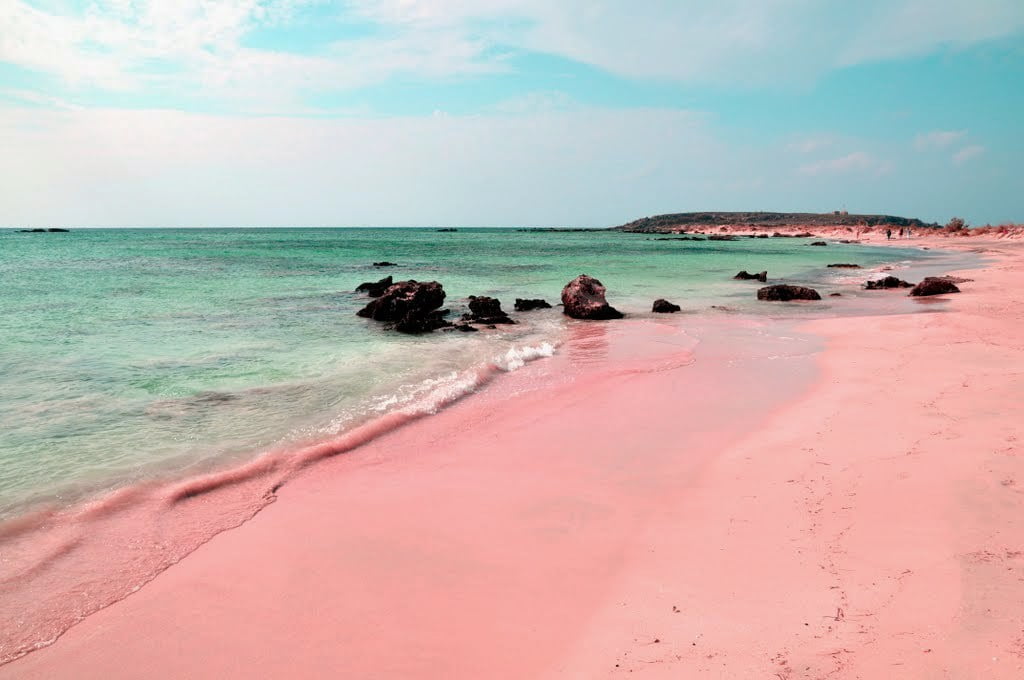 3. Turquoise Bay, Australia
Known as one of Australia's best beaches, Turquoise Bay is the perfect spot to spend an afternoon relaxing, swimming and snorkeling. Snorkeling and scuba diving will earn you encounters with colorful coral, turtles, squid, and plenty of fish – more than 500 fish species live in and around the reef.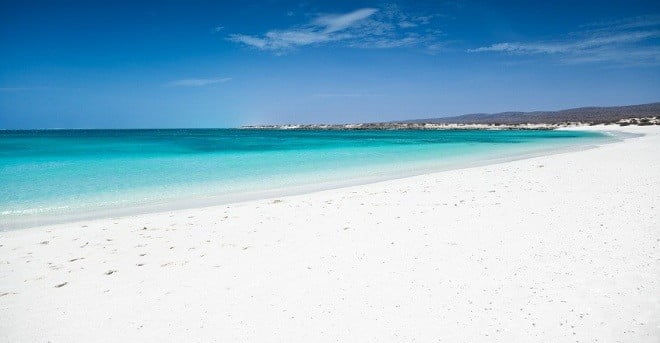 4. Grand Anse, Grenada
The beautiful Caribbean island of Grenada is home to dozens of stunning beaches – and  Grand Anse is one of the best beaches of this island.  Grand Anse is two miles of white sand sheltered from high waves, strong currents and winds. It's the perfect base for exploring above and below the water.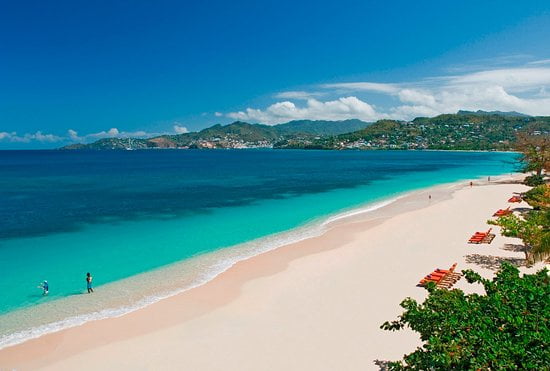 5. Trunk Bay, US Virgin Islands
Considered one of the best beaches on the island, Trunk Bay's clear, warm waters and silky coral sands draw tourists by the bundle. Its well-maintained facilities include chair and snorkel equipment rentals and showers which make it optimal for lengthy visits. If you get tired of snorkeling or sun bathing, you can opt to explore the national park, which consists of hiking trails, and the ruins of historic sugar plantations.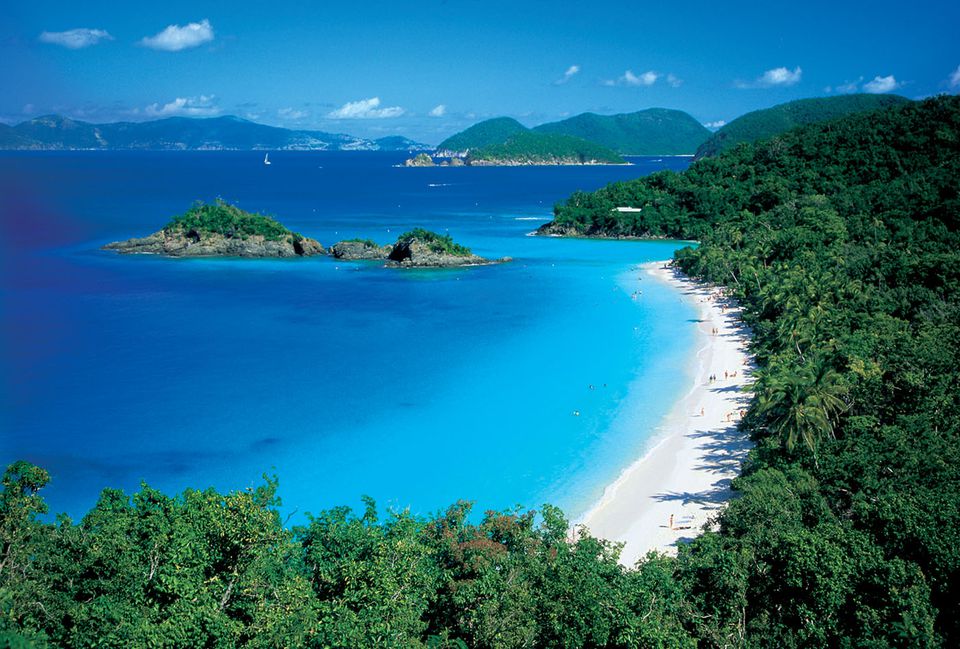 6. Baia Dos Porcos, Brazil
"Pigs Bay" (Baía dos Porcos) is in the National Marine Park of Fernando de Noronha. You have to make your way to this beach through these stone formations. Though the trek is difficult, it's worth visiting.  Once there, grab a mask and a snorkel and watch the sea life while swimiming with sea turtles, stingrays and starfish.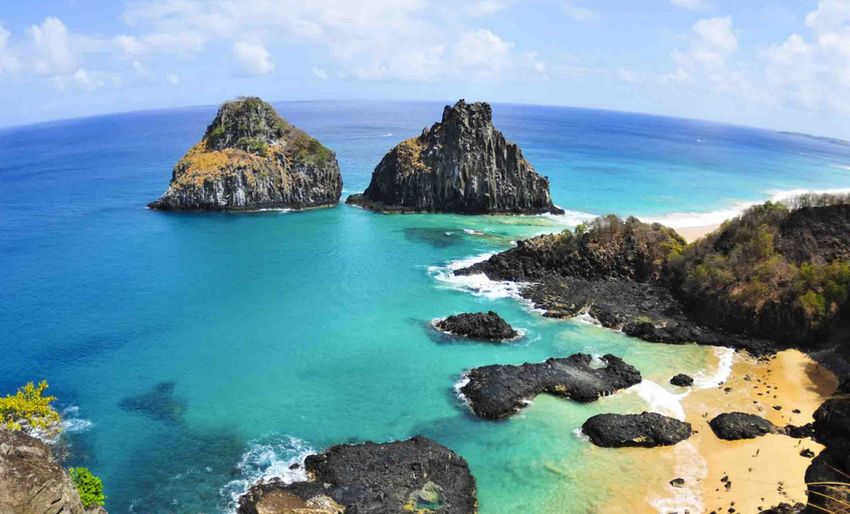 7. Honopu Beach, Kauai, Hawaii
If you are seeking a beach to get away from the crowds, it doesn´t get much more secluded than Honopu Beach. No road or even a hiking trail leads to it. In fact, the only legal way to access it is to swim to it. Make sure to bring with you a pair of fins, snorkel, mask, and a dry bag filled with food, towel, water and sunscreen. Honopu actually consists of two beaches, which are backed by majestic 365mts high sea cliffs.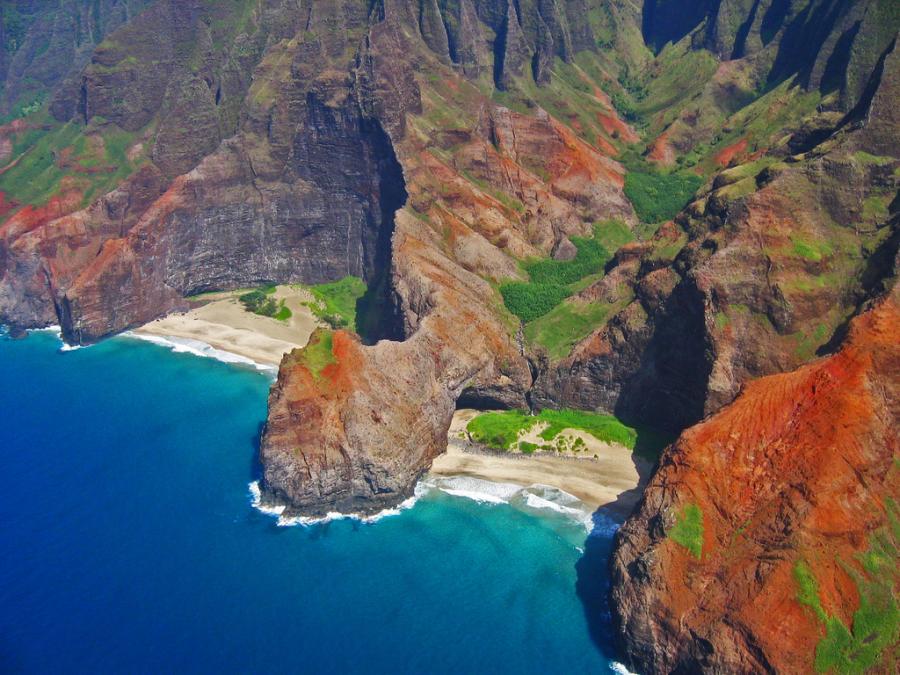 8. Anse Source d'Argent, La Digue, Seychelles
Anse Source d'Argent, in the south-west of La Digue, has often been described as the most beautiful beach in the world, and it is certainly one of the Seychelles' most famous attractions. This beach has been the star of many films and tv shows. To reach this piece of paradise in Seychelles, you must pay an entrance fee of approximately US$7. The mixture of shallow, clear water, golden sand, and imposing granite formations make it one of the most picturesque and best beaches anywhere in the world.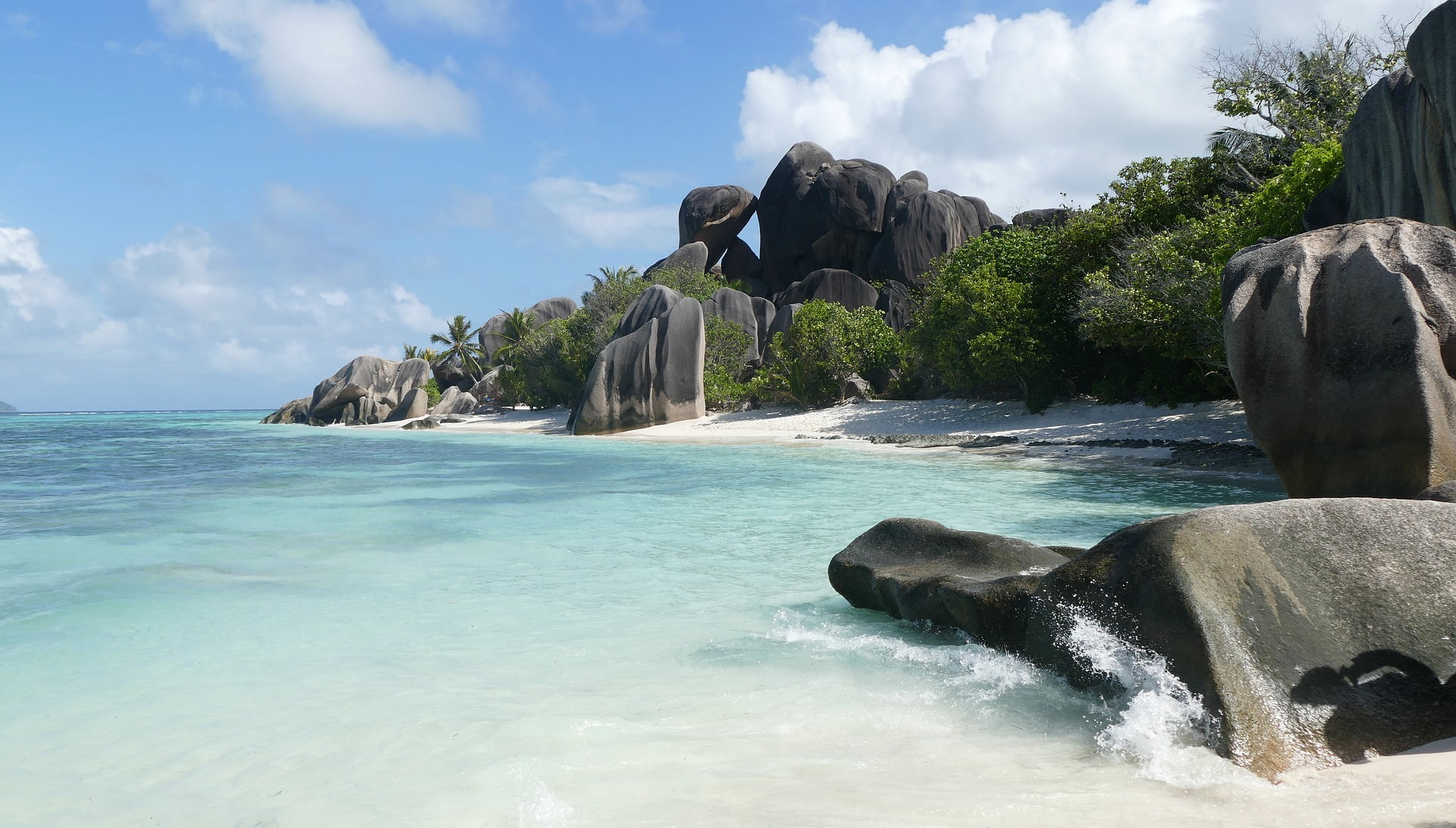 9. Fulhadhoo Beach, Maldives
Located on Fulhadhoo Island in the Maldives' Baa Atoll, you're more likely to see schools of colorful fish, sea turtles, and dolphins than tourists on your visit here.  The island will also suit people with children as one of its lagoons makes up a tiny natural pool with shallow water. Fulhadhoo beach is a great place for those who love snorkeling and free-diving.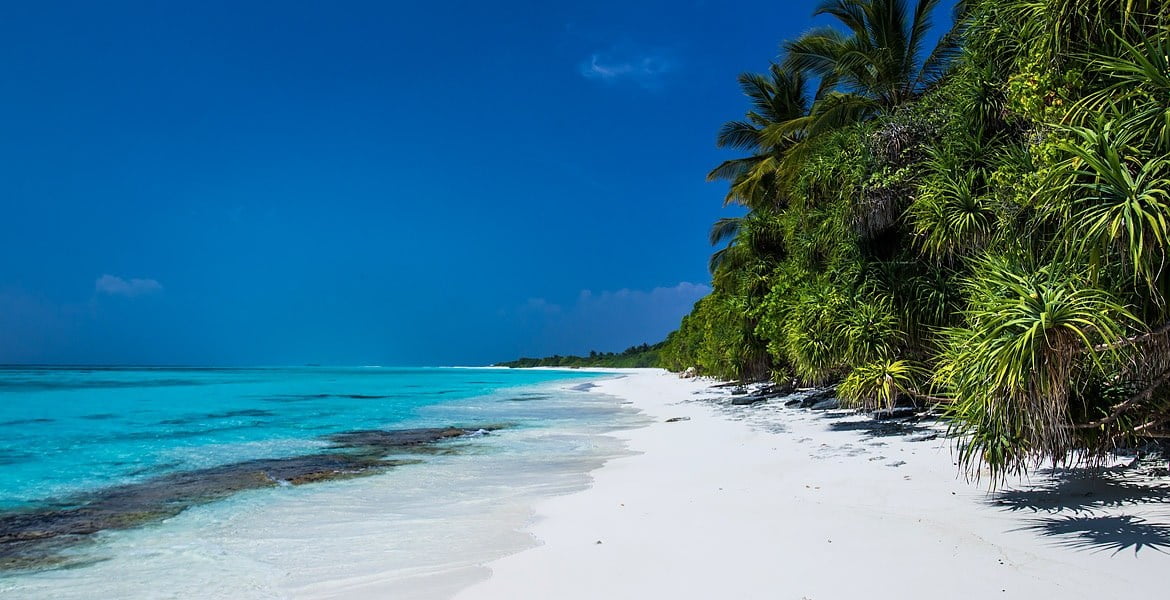 10. Boulders Beach, South Africa
Boulders beach is quite crowded…with penguins. Not only is it one of the best beaches in the world, it's the only place in the world where you can get close to African Penguins. Afterward wandering the boardwalks, head down to Boulders Beach itself and find a spot to soak up some sunshine and enjoy the unique experience of sharing a stretch of sand with these birds.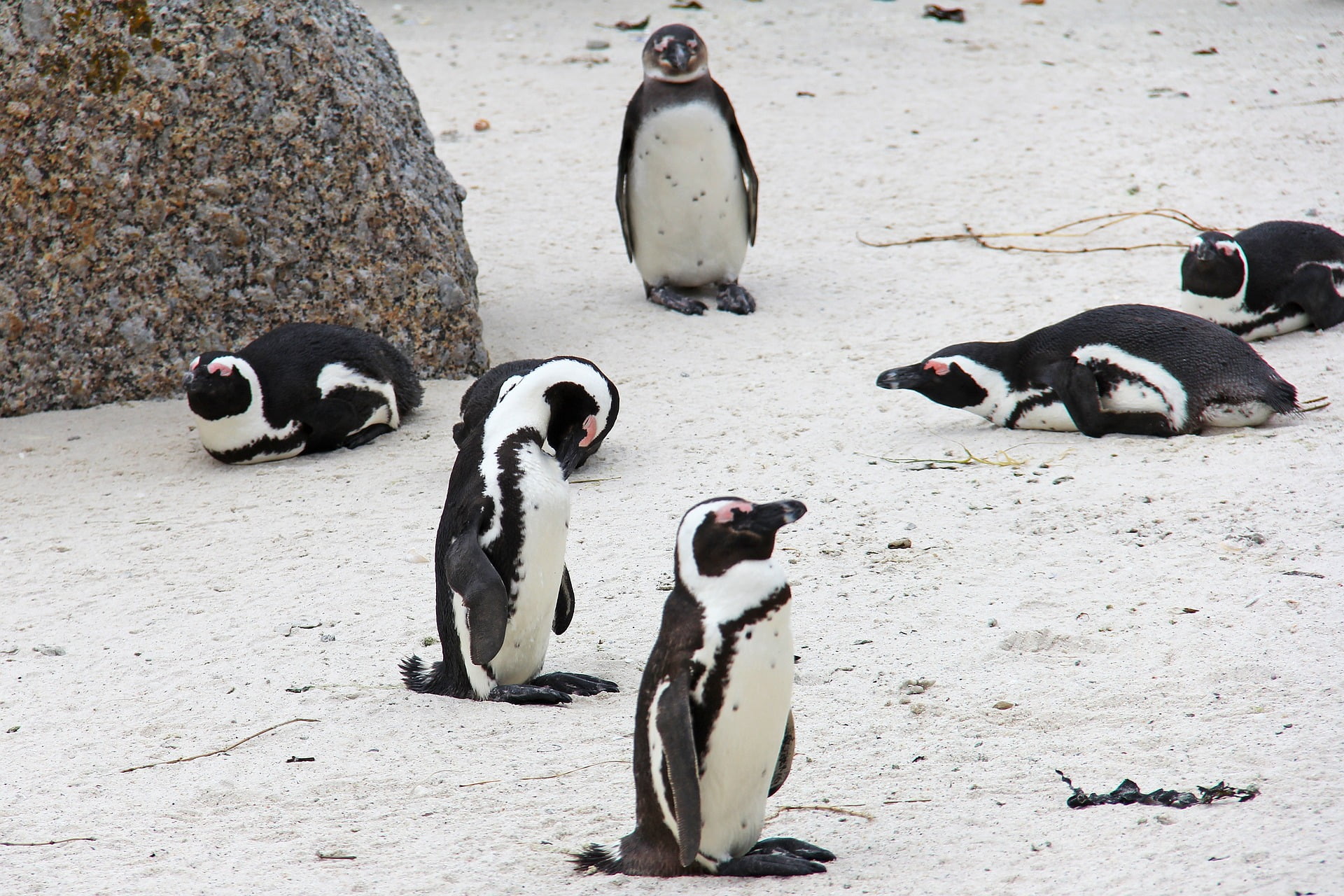 11. Cayo Coco, Cuba
Cayo Coco is a tropical island in the Jardines del Rey chain, off central Cuba. This remote destination is mostly renowned for its white sand beaches stretching for kilometers, its calm, shallow crystal-clear waters, and for its quiet, tranquil atmosphere and natural surroundings. Cayo Coco and the other nearby cayos are uninhabited, only tourism infrastructures are found on these islands.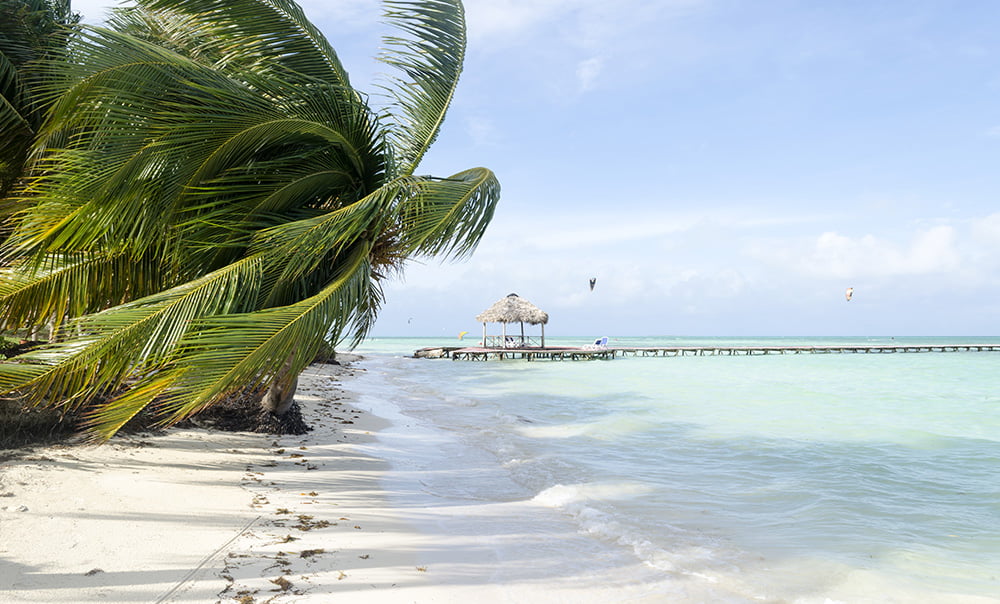 12. Sunset Beach, Oahu, Hawaii
A surfing mecca not to be missed after visiting the popular Waimea Bay. It's one of the best beaches in Oahu to watch big-wave surfers in action during the wintertime. Sunset Beach earned its name and reputation for hosting some of the best, breathtaking sunsets in all of Hawaii! Surfing Sunset Beach challenges even the advanced surfers, who try to conquer these gigantic 5mts-9mts waves.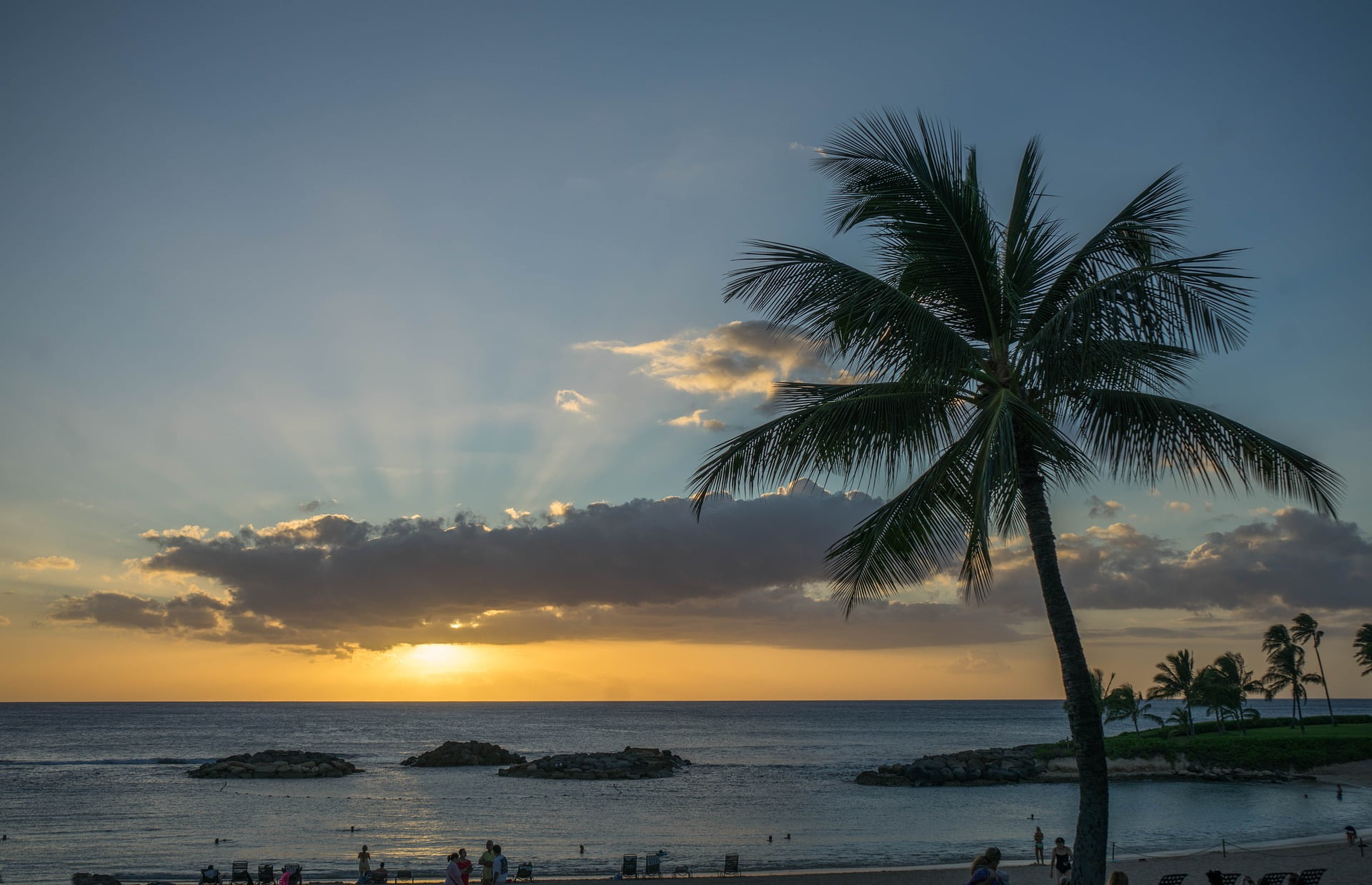 13. Tikehau Island, French Polynesia
This small, 20 Sq/m island is home to about 500 locals, however it´s  tiny white and pink sand islets engulfed in coconut groves puts it on the list of best beaches in the world.  The unique layout of this island creates a lagoon. Formed by an almost unbroken ring of continuous coral, resembles an immense natural swimming pool. Diving and snorkeling are the two main attractions in Tikehau. You will encounter reef sharks and the occasional manta ray, but the appeal here is the enormous population of colorful fish. With stunning natural features and over-water bungalows , this island has become a magnet for honeymooners.
14. Baia do Sancho, Fernando de Noronha, Brazil
Baia do Sancho is an extensive sand beach and tops the list of being one of the most beautiful and best beaches of Brazil.  You can reach the bay either by trekking down a short trail or by sea. Take up high grounds to spot the dolphins swimming and jumping in and out of the water.  If you happen to visit during the rainy season, you will witness two beautiful waterfalls cascading down from the cliffs into the sea.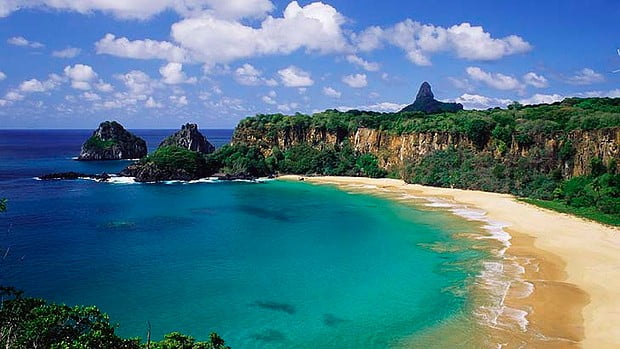 15. Eagle Beach, Aruba
Eagle Beach offers everything you could expect from a paradisaical beach: wide beach, beach huts, near-by parking, and plenty of water sports to practice in between tanning sessions. During weekends Aruba beach tennis fanatics play their tennis games in the powdery white sands of Eagle Beach. Since 4 species of sea turtles nest on Eagle Beach, arriving very early morning could possibly get you an encounter with baby turtles hatching through the eggs.  This is quite the scene, as they make a crawl for their life to the sea, before the vultures will prey on them.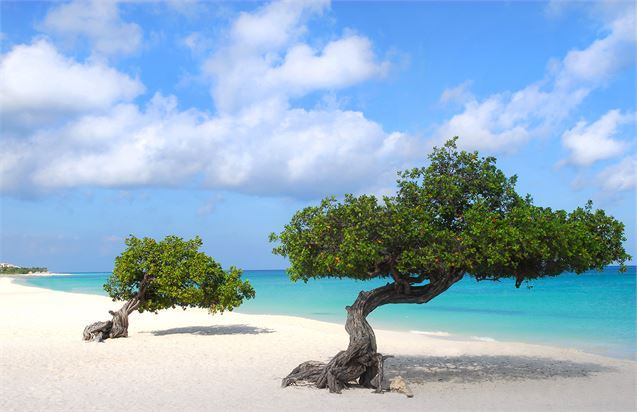 16. Navagio Beach, Greece
The unbelievable formation of white sand and stone, fantastic turquoise waters, and a big rusty shipwreck make this place one of a kind.  Located on the Greek island of Zakynthos, this beach is around 500 meters wide and 50 meters long. One of the reasons it remains one of the best beaches in the world, is thanks to the difficulty to reach this beach. The beach itself is accessible only by boat. You can reach Zakynthos Town and take a boat from there. Above the beach, there is a spot which offers an astonishing view of the white cliffs and the endless mesmerizing turquoise sea.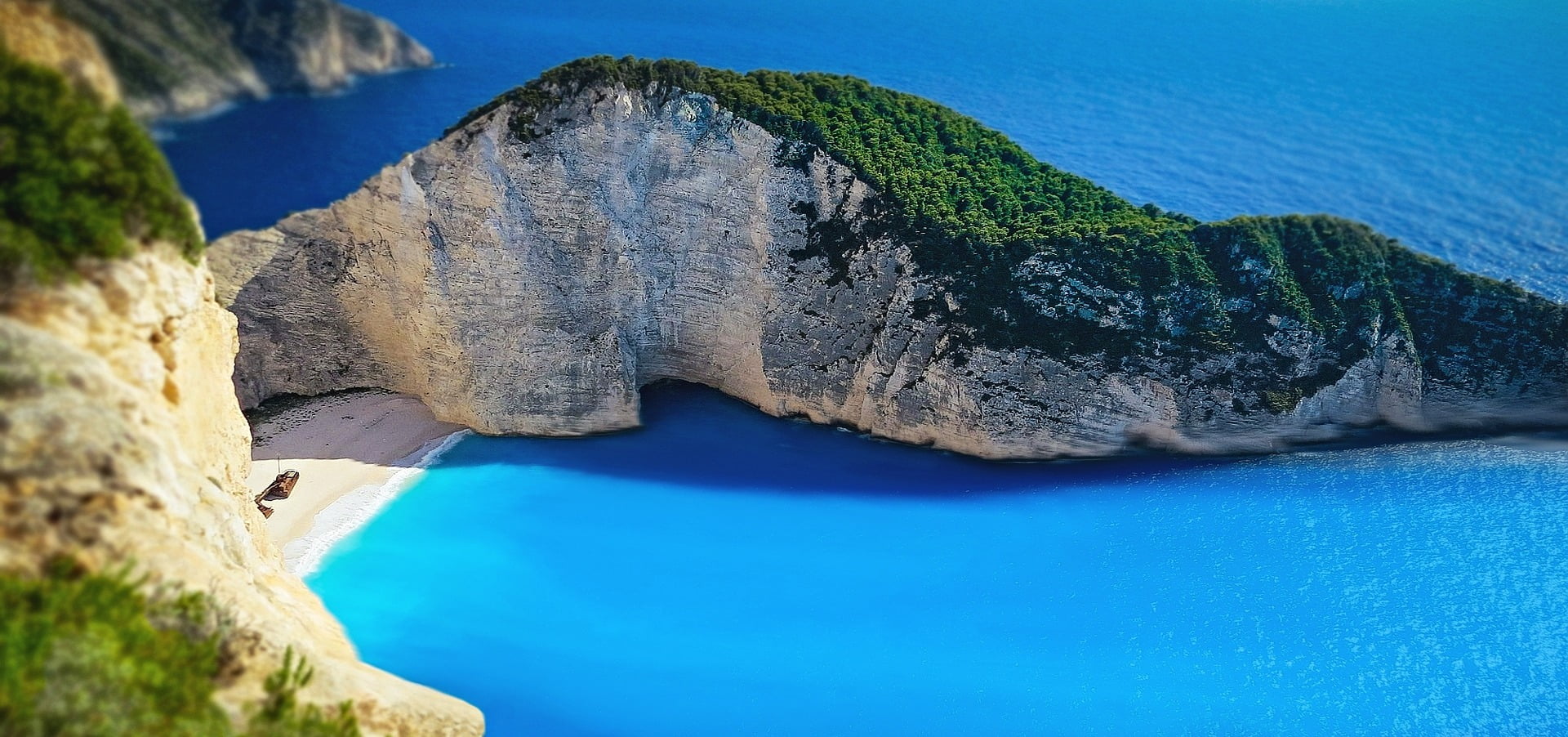 17. Bavaro Beach, Dominican Republic
Playa Bavaro is one of the most popular beaches in Punta Cana.  For divers, Playa Cabeza de Toro is perfect thanks to the natural pool located there. For the adventure lovers, there are organized trips in 4×4 to Cabo Engaño beach, or the even more isolated Macao, only accessible by quad. Besides many water sports, you have the opportunity to swim with dolphins.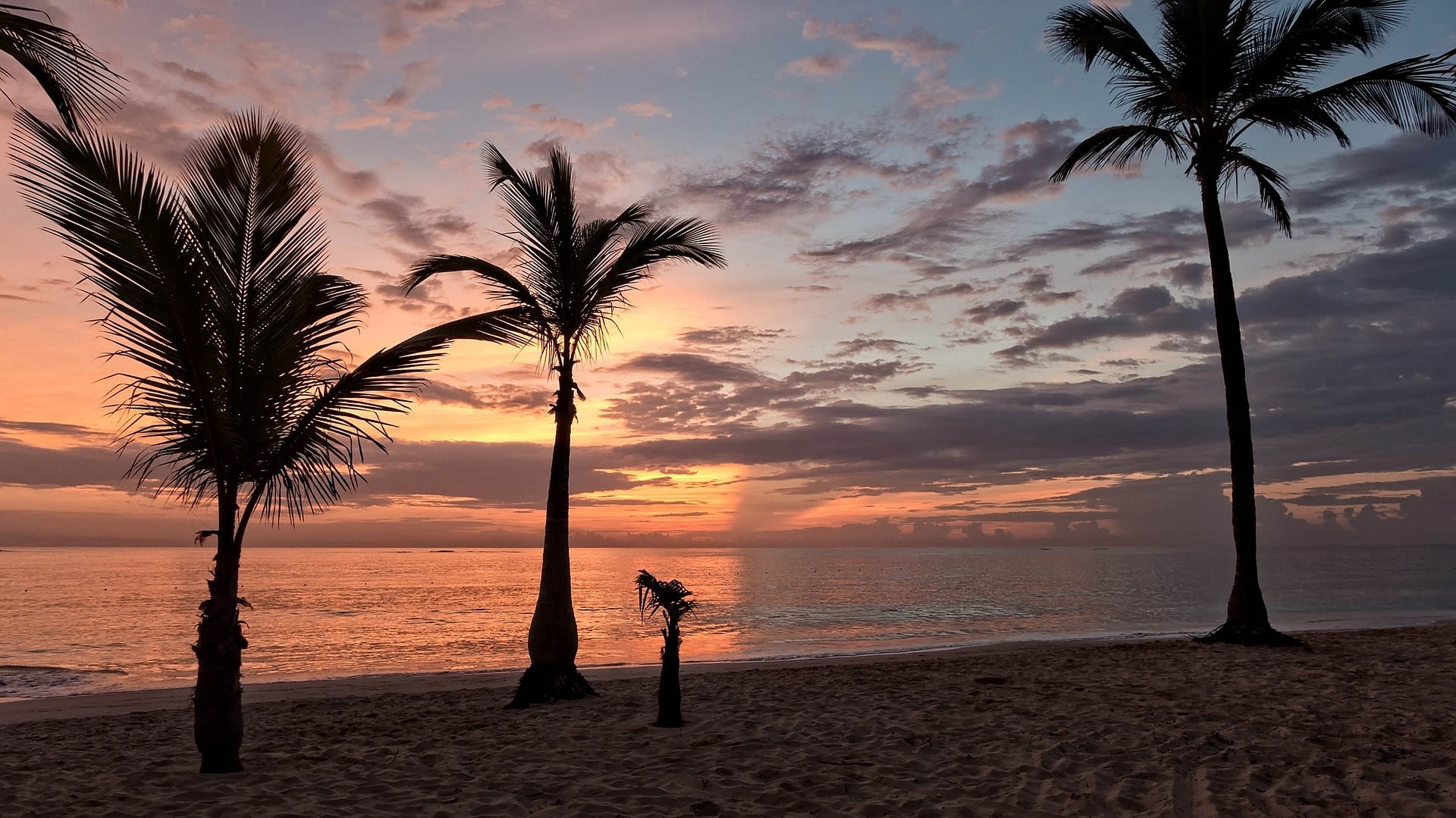 18. Playa Norte, Isla Mujeres, Mexico
Playa Norte is considered on of the best beaches in all of Mexico. The soft white sand, palm trees and water so blue the sky looks pale, make it the perfect place to relax and unwind from the rigors of life. The beach is full of fun restaurants and bars as well as several hotels. Beware, this is where the majority of travelers will spend their beach time so it can get crowded during peak season.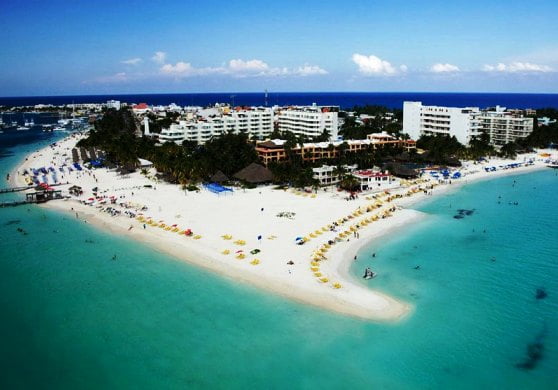 19. Lanikai Beach, Hawaii
Lanikai  means  "heavenly sea" in the Hawaiian language and when you see it you will know why it was given this name.  Finding Lanikai Beach can be a bit tricky, since there are no posted beach signs.  You will know that you are in the general vicinity, as "Lanikai" is written on a huge pillar entrance.  The pedestrian access is located through beach alley ways between the residential homes. If you are into watersports, kayaking parallel to the shore is a popular activity in one of Hawaii´s best beaches.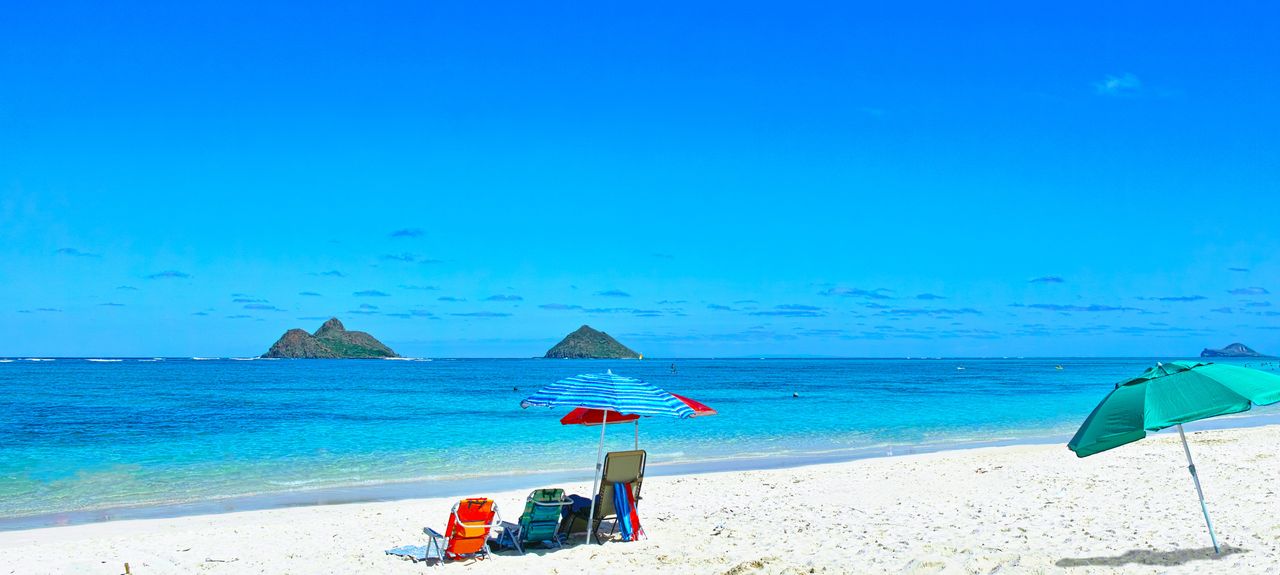 20. Santa Monica Beach, California
What´s unique about Santa Monica Beach is not only the beach itself, rather the abundance of activities around the beach. Outdoors lovers can indulge in swimming, surfing, biking, volleyball, outdoor chess, beachside gymnastics, roller-blading and hiking up the Santa Monica mountains. There is never a dull moment on this SoCal beach.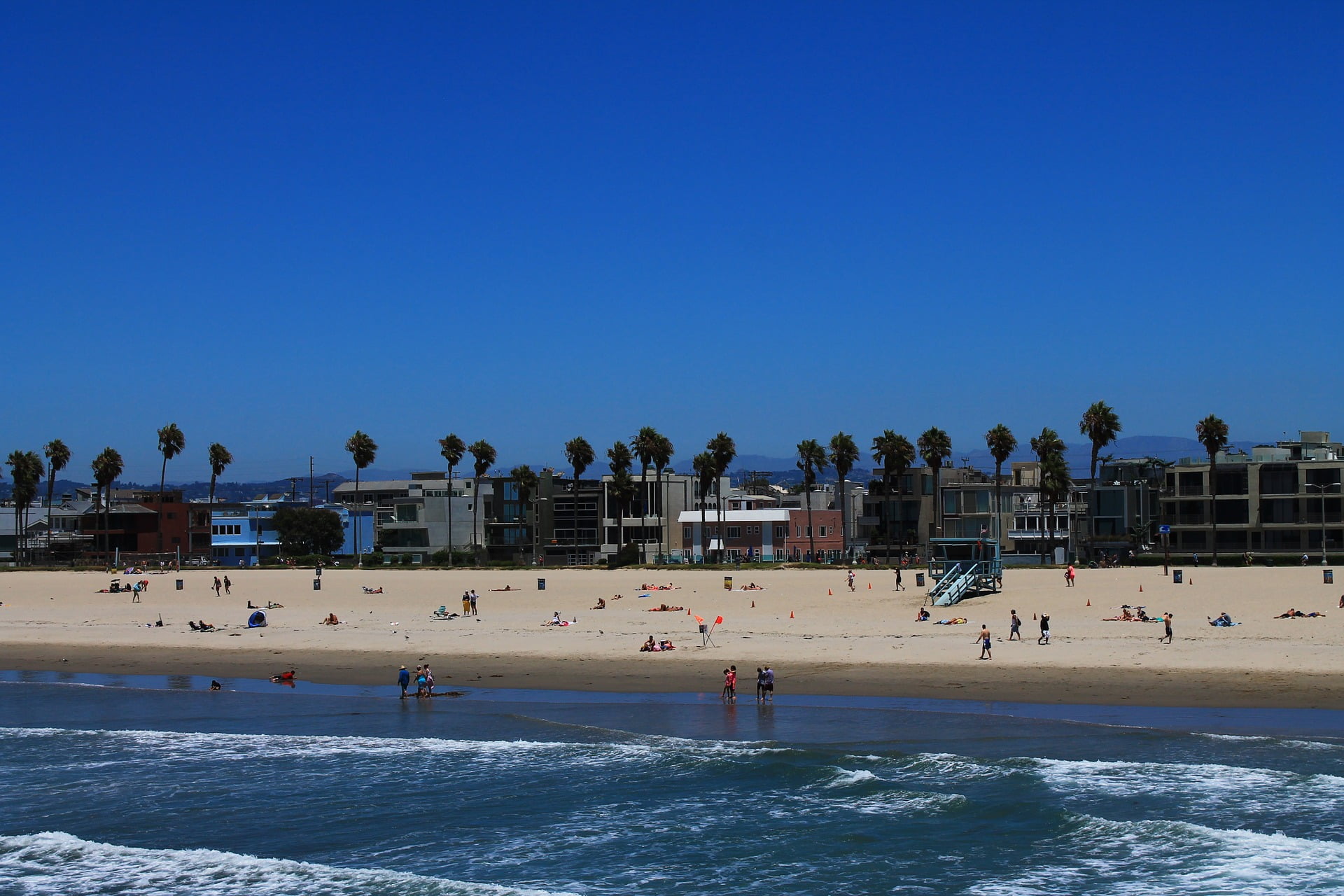 21. Long Beach, Ko Lanta, Thailand
My personal favorite beach in all of Thailand, Long Beach is a 5km stretch of golden sand.  Located 10 minutes driving from Saladan village, you can relax in the natural shade thanks to the palm trees, or take a swim in the tranquil Andaman sea. It´s hard to comprehend that this calm sea was the source of a deadly tsunami only a few years ago.  Ko Lanta has bounced back and is one of Thailand´s most popular islands.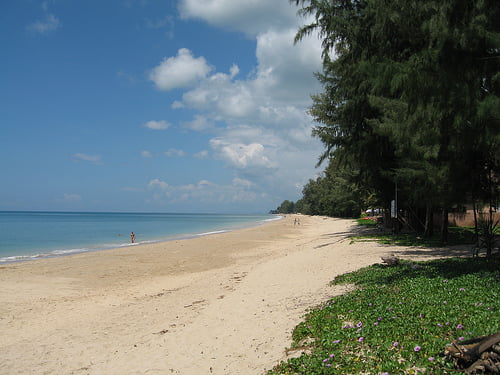 22. Flamenco Beach, Culebra, Puerto Rico
Flamenco Beach is known for its shallow turquoise waters, white sand, swimming areas, and diving sites. It stretches for a mile around a sheltered, horseshoe-shaped bay. The shallow waters will give you a chance to swim closely with  turtles, manta rays and a variety of colorful tropical fish.  There are only very few places to stay right on Flamenco beach, so make sure to book in advance. There is a campground located right at the entrance to Flamenco beach. This is the only spot on the island that camping is allowed. One of the reasons Flamenco is consistently named one of the best beaches is the public amenities. There are outdoor showers with fresh water in operation from 4:00pm to 7:00pm, bathrooms that are open all the time, and water tanks that have fresh water.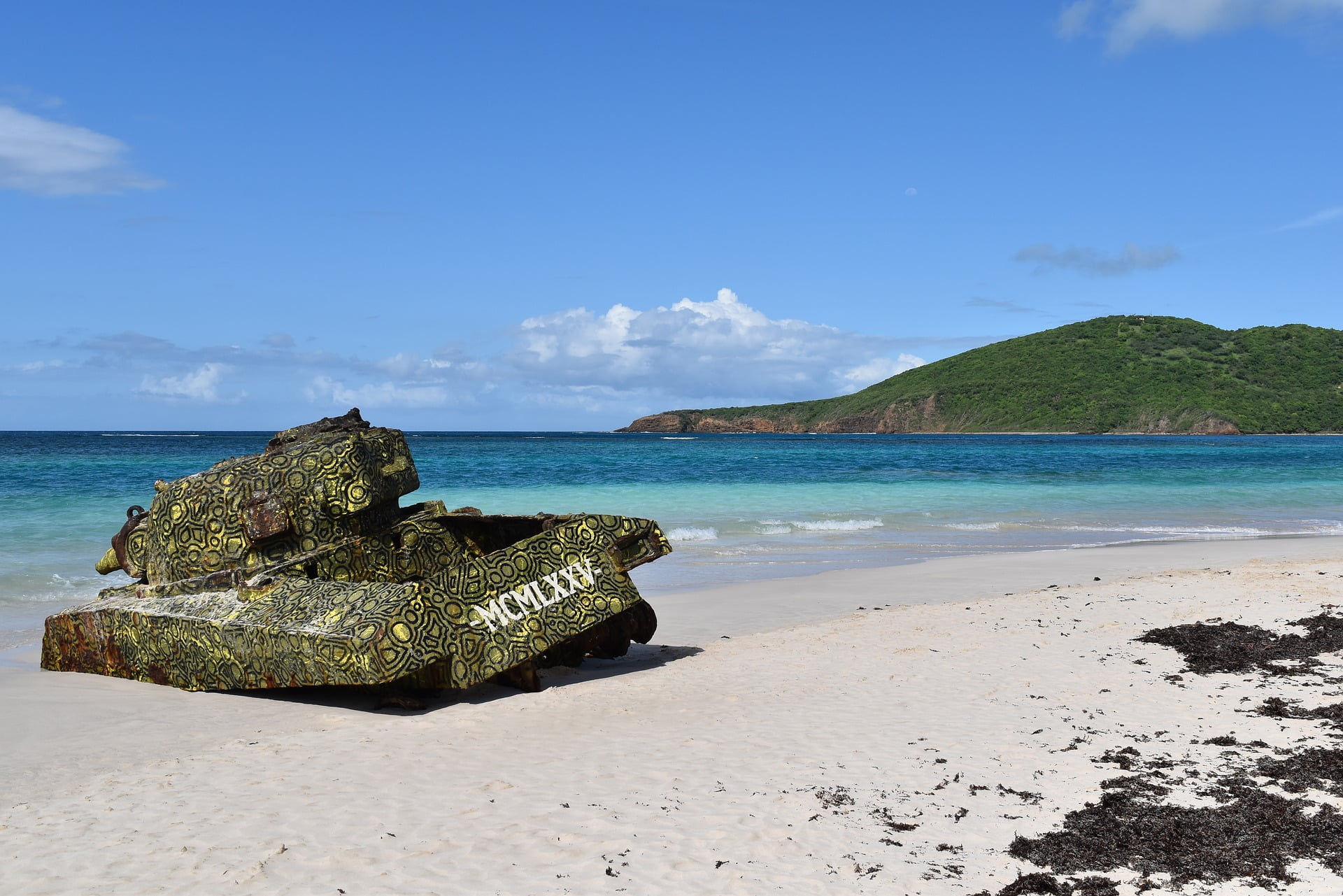 23. Cala Goloroitze, Italy
Located on the Sardinian coast, this beautiful beach makes the hour walk well worth it. The water is incredibly turquoise and crystal clear. You can find good snorkeling at Cala Fuili and Cala Luna, and there are fascinating archaeological traces nearby of Sardinia's prehistoric Nuraghic civilization.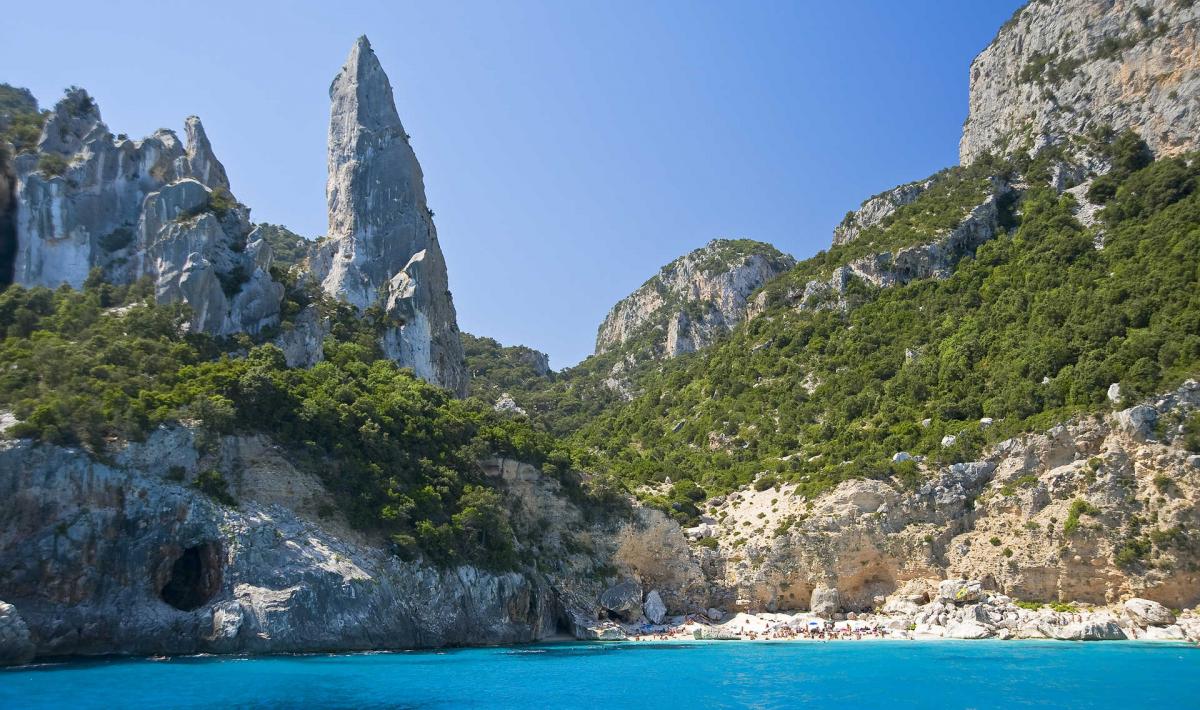 24. Champagne Beach, Vanuatu
Located in the South Pacific, Champagne Beach is on the largest island of Vanuatu, Espiritu Santo. It´s about an hour-long trip up the island's sealed road from the main township of Luganville.  It gets its name thanks to volcanic activity below the pristine water.  Gas escapes from volcanic rocks and at low tide, this gas becomes bubbles as in fizzy champagne. This unique characteristic alone qualifies this beach to be one of the best beaches on the planet!
25. Matira Beach, Bora Bora, French Polynesia
Matira Beach is actually the only public beach on the main island that is worth a visit. There is a fun atmosphere that offers natural shade from palm trees, safe swimming and easy snorkeling. If you get bored sunbathing and snorkeling, you can hike up the walking trail on the eastern side of the beach.  From here, you will have a stunning view across the lagoon to Mt. Otemanu and Motu Toopua.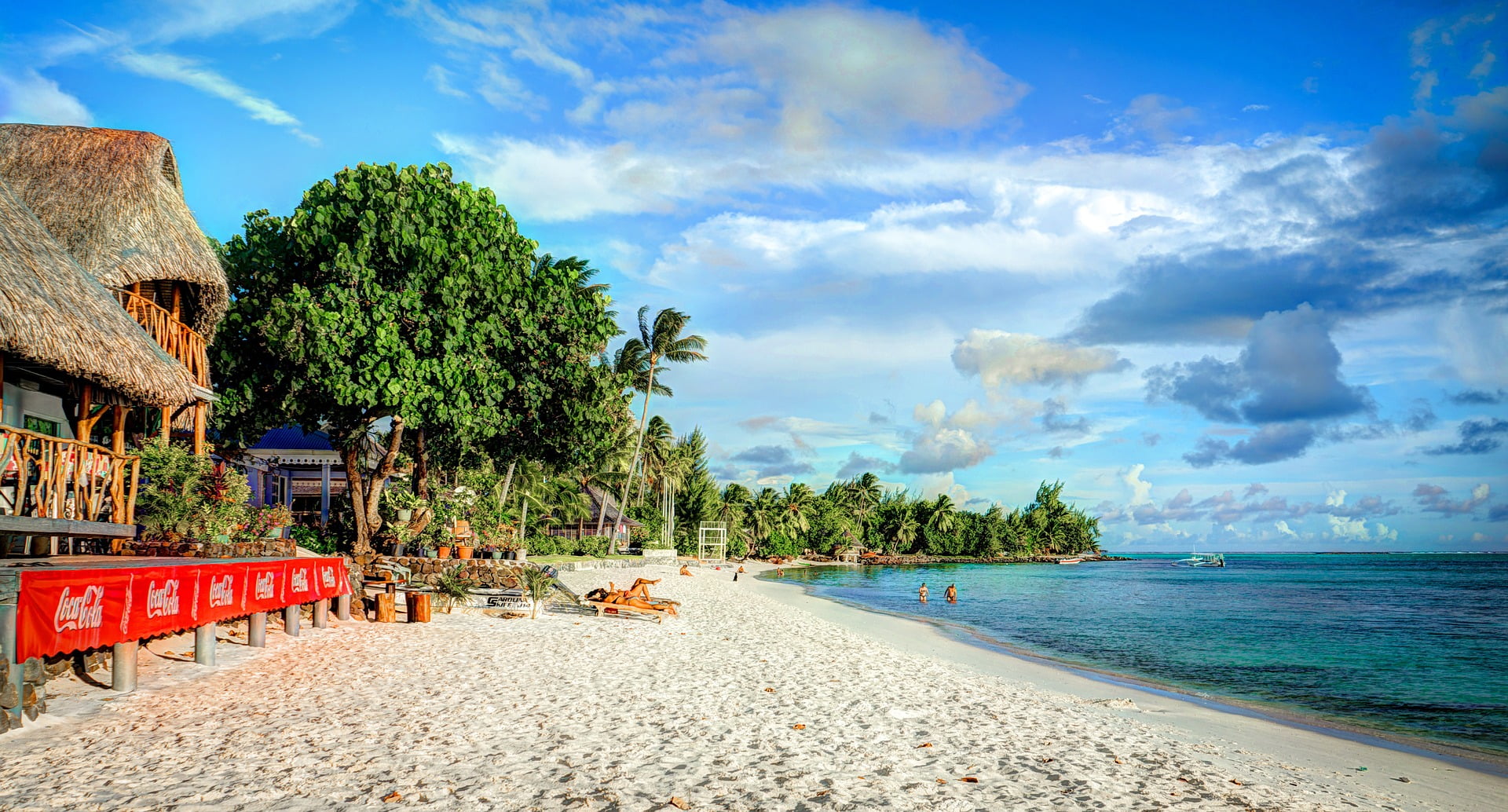 26. Galapagos Beach, Tortuga Bay, Ecuador
Known mainly for it's wildlife expeditions, Tortuga Bay in the Galapagos Islands rightfully earns it's place on the best beaches of the world list. Kayaking or paddling will get you up close with some of the marine life living off the island. If you time your visit between December to April, you could witness the hatching of the giant tortoise's eggs .
27. Lapas Rojas, Drake Bay, Costa Rica
My favorite beach in Costa Rica.  This beach is only accessible via boat, or a 45 minute walk from the Drake beach. Since walking 45 minutes prevents the masses from coming, there are high probabilities that you will have this beach all to yourself.  Make sure to come equipped with food, water and cold beers.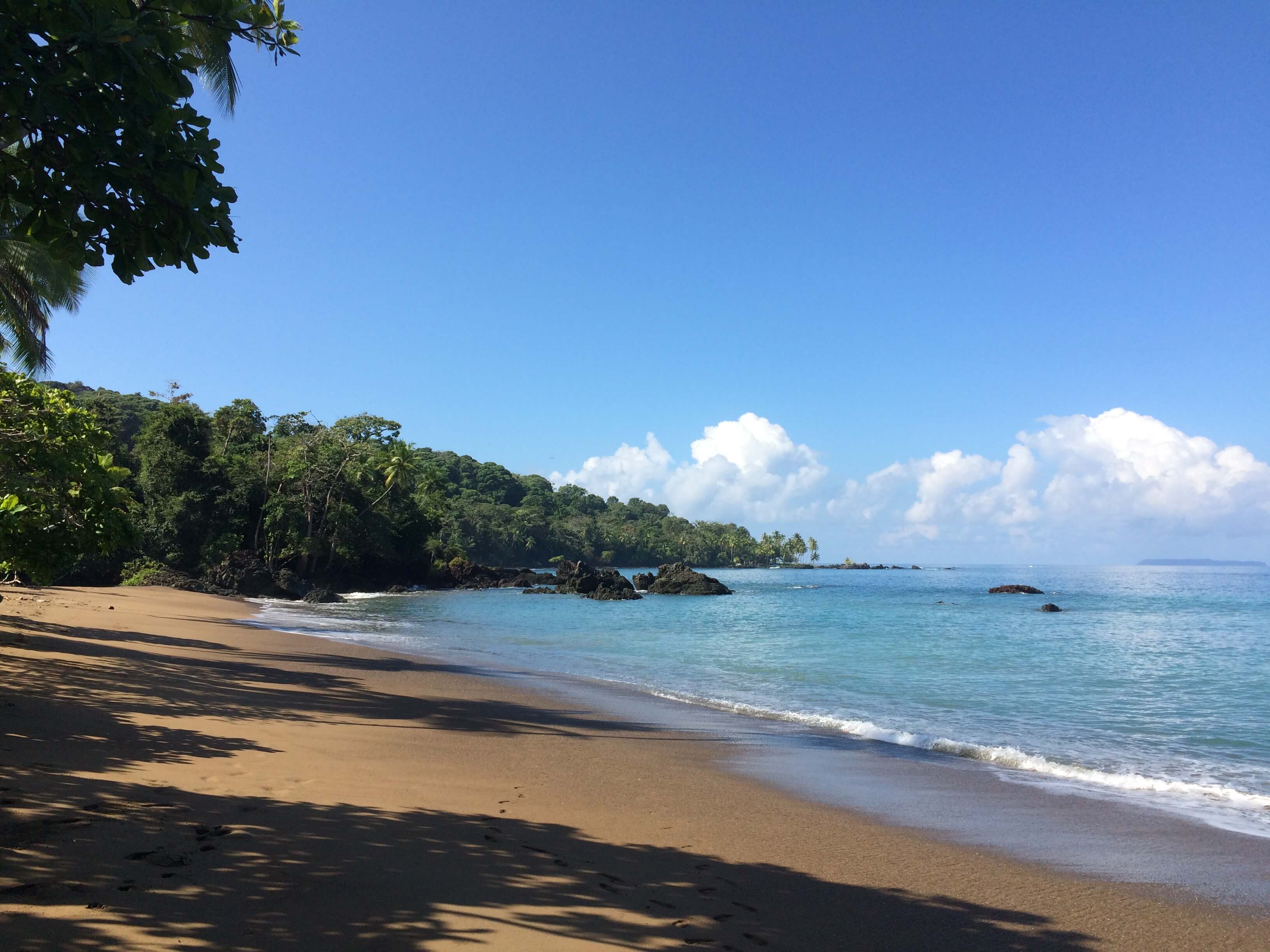 28. Île aux Cerfs, Mauritius
Ile Aux Cerfs is famous for its sandy beaches, beautiful lagoon and big selection of activities and facilities. In Ile Aux Cerfs you are sure to have a day of relaxation and fun on one of the picture-postcard beaches, and to enjoy a swim and snorkeling in the lagoon. It is also home to one of the most beautiful golf courses in the world, the Ile aux Cerfs Golf Club.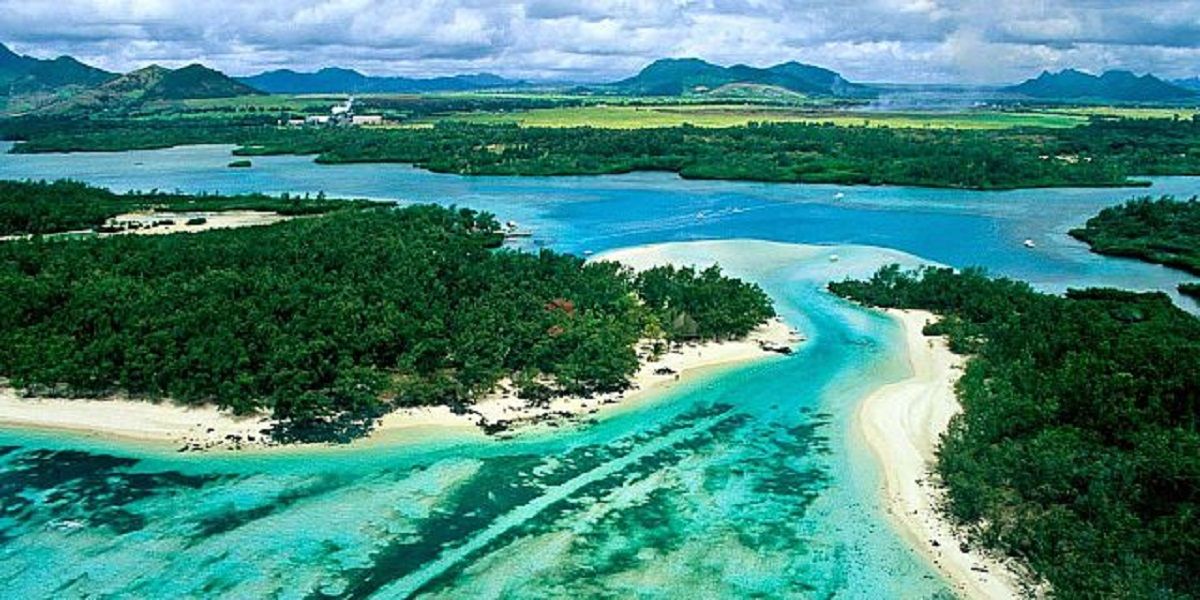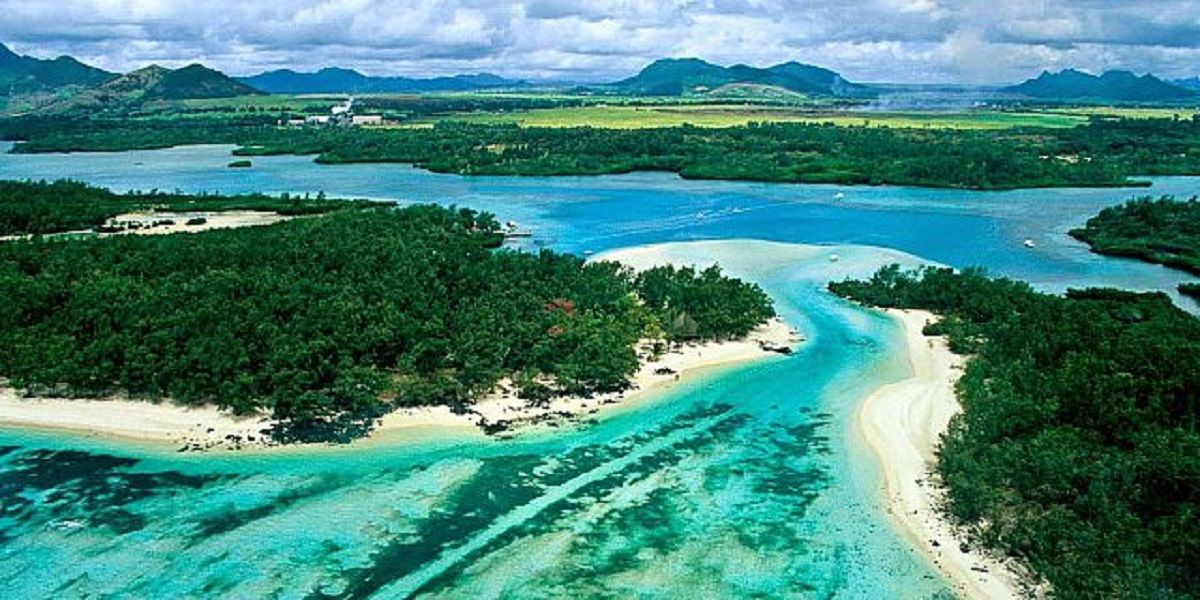 29. Île aux Nattes, Madagascar
Île aux Nattes is a tropical island, with white beaches and palms, a turquoise sea with waves breaking over the reef and a lush green interior – what´s there not to love? There isn't too much to do on this paradise island but the beach is world class and snorkeling is great in the crystal clear water.  Whale watching is a popular activity here during the month of September. You can easily walk around the whole island in about 2 hours.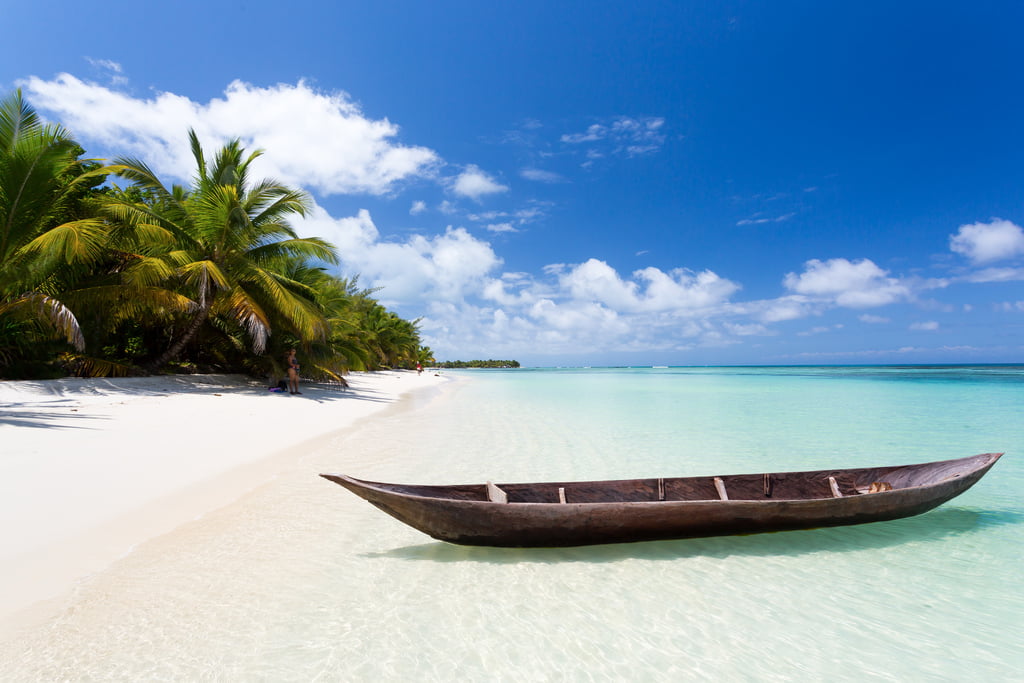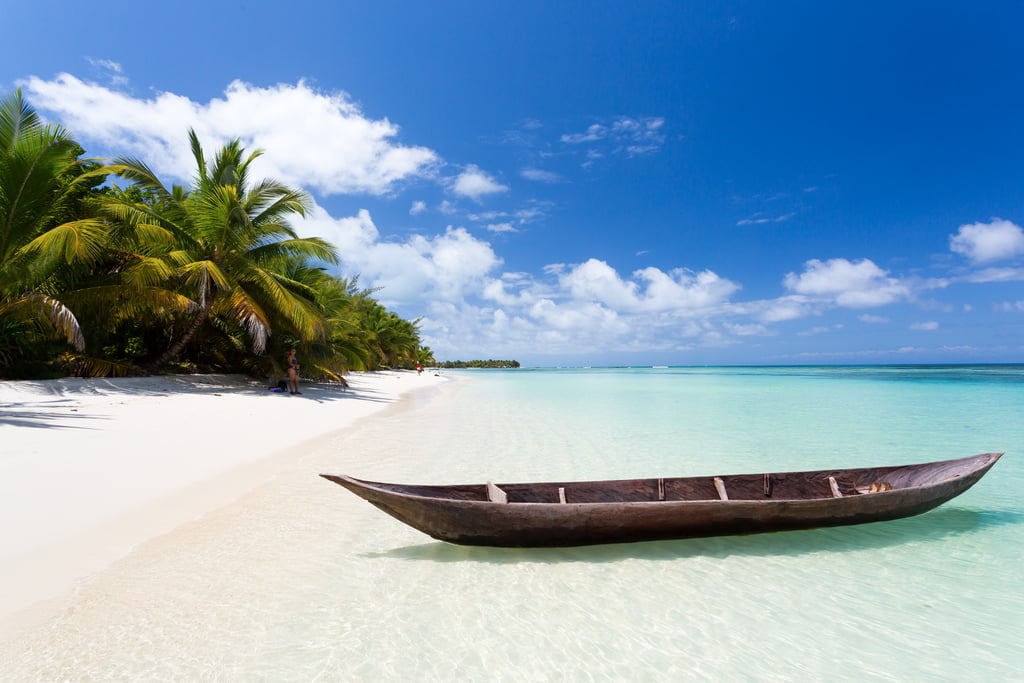 30. White Beach, Borocay, Phillippines
The Island of Boracay is located about 300 km south of Manila.  White powdery sand and crystal-clear water – that is what attract tourists by the masses to one of Phillippines best beaches.  White Beach offers excellent conditions for swimming and snorkeling in shallow water. Boracay offers many opportunities to practice water sport activities. The vast majority of service providers in that range are located along White Beach.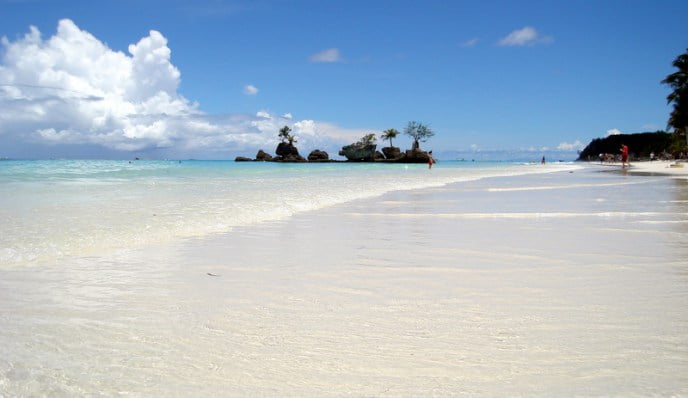 31. Treasure Beach, Jamaica
Treasue beach offers a variety of cool activities to do, both in the sea and on land. Treasure beach is more about the relaxed Jamaica "No Problem" vibe than perhaps anywhere else on the island. Whether you feel like visiting waterfalls, rum factory tours or mineral baths, or prefer going on fishing excursions or boat trips or visiting to Bob Marley's birthplace? They're all just a day trip away.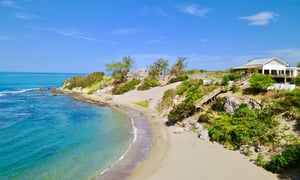 32. Punta Uva, Limon, Costa Rica
Situated between the two more popular beaches in the area, Puerto Viejo and Manzanillo, Punta Uva is a gem which hopefully will not get discovered by the masses anytime soon.  It´s one of the few beaches in the area that offers golden sand (as opposed to the black volcanic sand from neighboring Puerto Viejo), shallow rock-less waters and shade.  Caribbean beaches along with Caribbean rice and beans will assure your having a laid back, tasty vacation.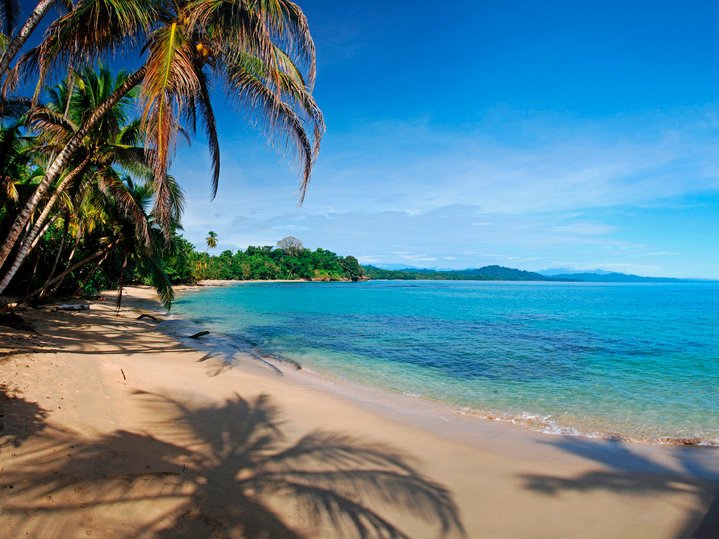 33. Cala Mitjana, Spain
On the southern side of the island in between Cala Galdana and Cala Trebalúger. Considered one of Menorca's most beautiful beaches, Cala Mitjana is an open clear blue cove with high cliffs on either side offering a fantastic view.  A popular beach during the summer for locals and tourists. Access to Cala Mitjaneta is on the western side of the beach via a short track or swimming!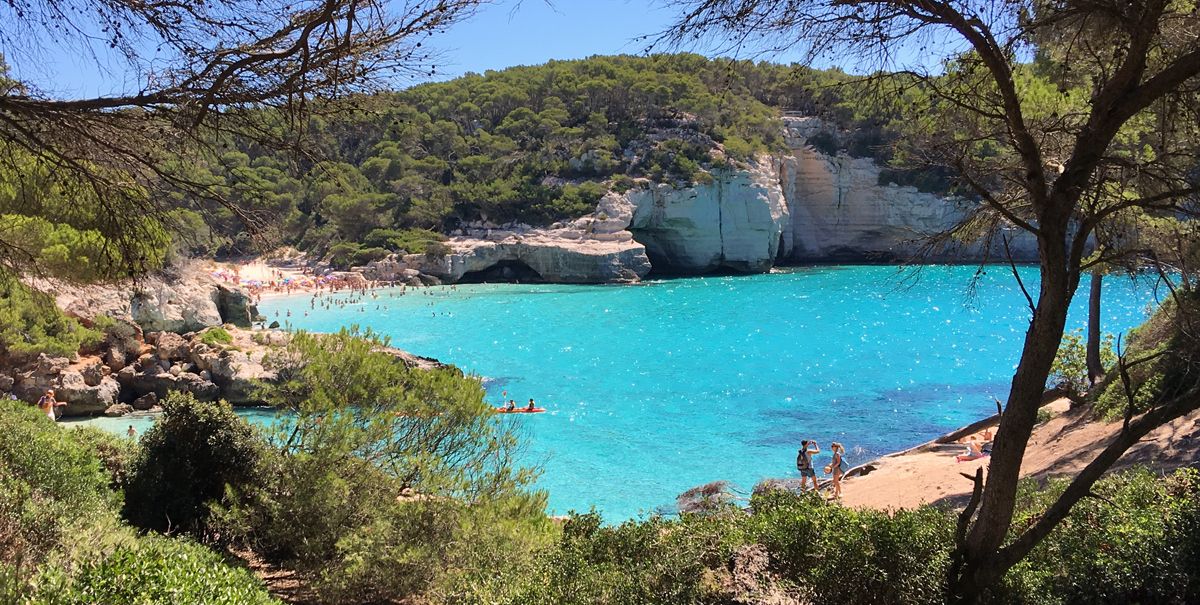 34. Pig Beach, Exumas, Bahamas
Not only one of the best beaches on the planet, but probably the only beach where you can swim with cute little pigs. The pigs live on Big Major Cay, one of the over 365 islands in Exuma, a district of the Bahamas.  There are now about 20 pigs and piglets on Pig Beach.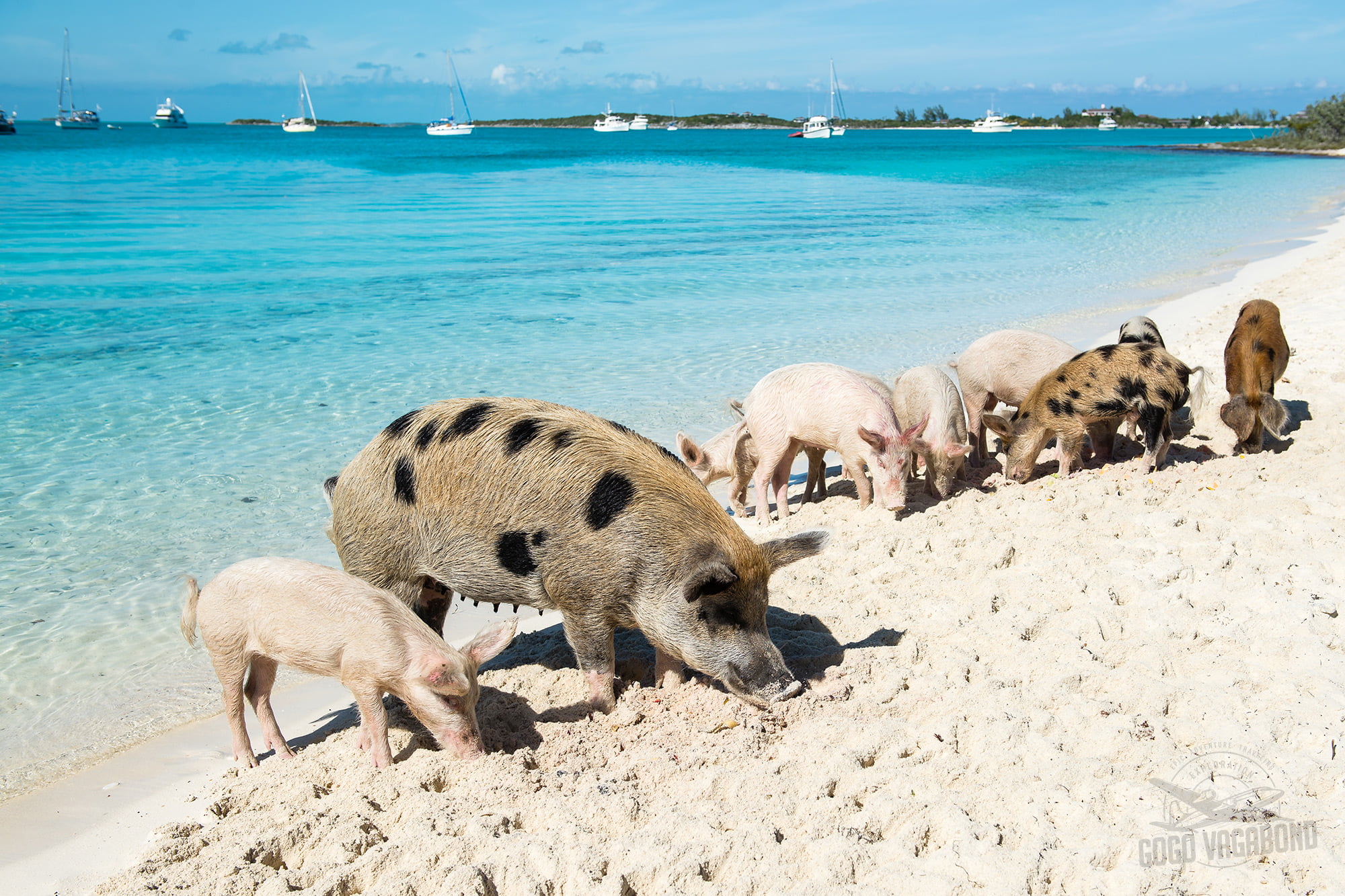 35. Dreamland Beach, Bali
Dreamland Beach is among the collection of 'hidden' beaches of Bali: stretches of white sand secluded by limestone cliffs that line the rugged coastline of the southern Bukit Peninsula. This white sand beach stretches 100 meters and leans on a steep white stone cliff overlooking the  Indian Ocean. Make sure to enjoy a $6 massage on the beach.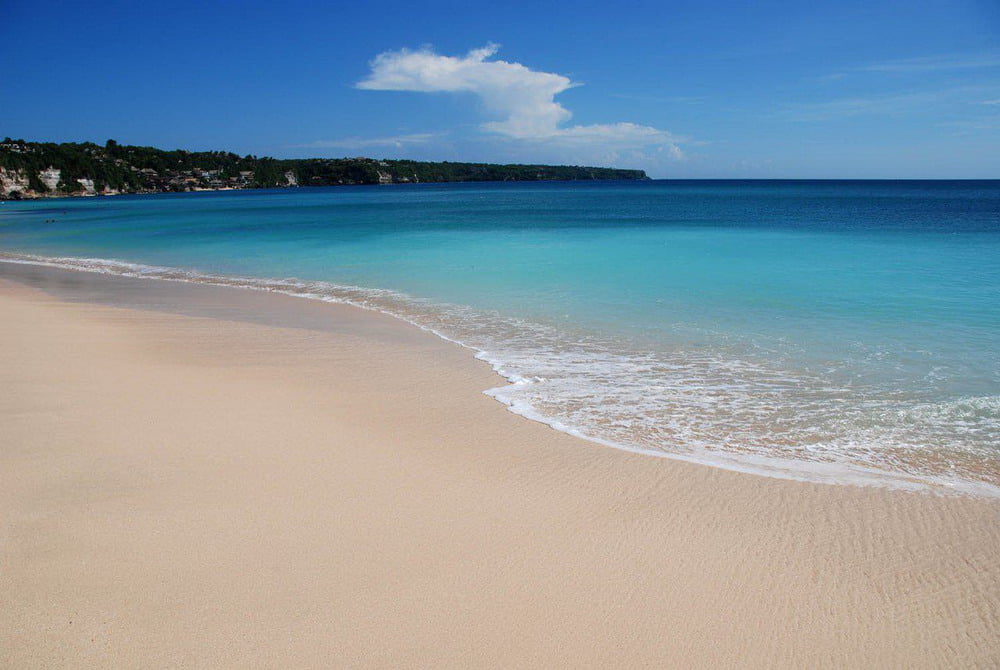 36. Trunk Bay, St. John, US Virgin Islands
Trunk Bay is by far St. John´s most popular and most photographed beach. Trunk Bay's clear, warm waters and silky coral sands draw tourists by the masses. Its well-maintained facilities include chair and snorkel equipment rentals and showers. Tourists looking for more active pursuits than sunbathing and snorkeling can opt to explore the park, which consists of hiking trails, and the ruins of historic sugar plantations,
37. Lindquist Beach, St. Thomas
Lindquist Beach is one of St. Thomas' best beaches.  Swim in the diamond waters, snorkel the nearby reefs, or just sit back on the beach and let time go by. The sand is soft and perfect for a game of Frisbee, building sand castles, strolling along the shore or just sitting back and enjoying the fantastic view of St. John and the British Virgin Islands.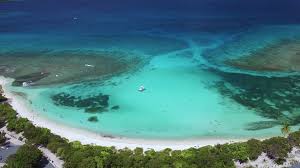 38. Lucky Bay, Australia
Located with the Cape Le Grand National Park, Lucky Bay is rated one of the country's best beaches for its pure white sand, clear turquoise water and perfect swimming conditions. So beautiful is Lucky Bay that even the kangaroos laze on the beach.  The beach is a popular fishing spot and a great place to see migrating whales.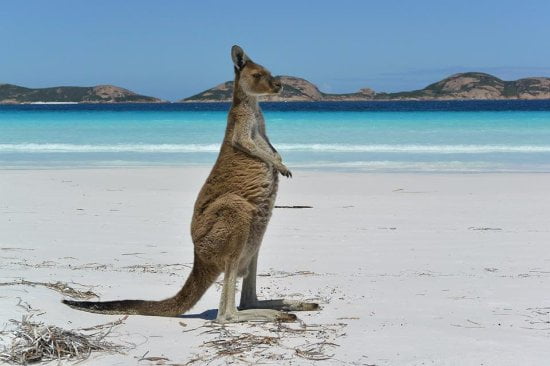 39. One Foot Island, Cook Islands
From an aerial view "One Foot Island" resembles a left foot.  Located off the Aitutaki lagoon in the Cook Islands, once you arrive to this enchanted island, you will wish your vacation days will be eternal. One of the most interesting aspects of your travels to the Cook Islands will be your encounters with the culture and traditions of our people.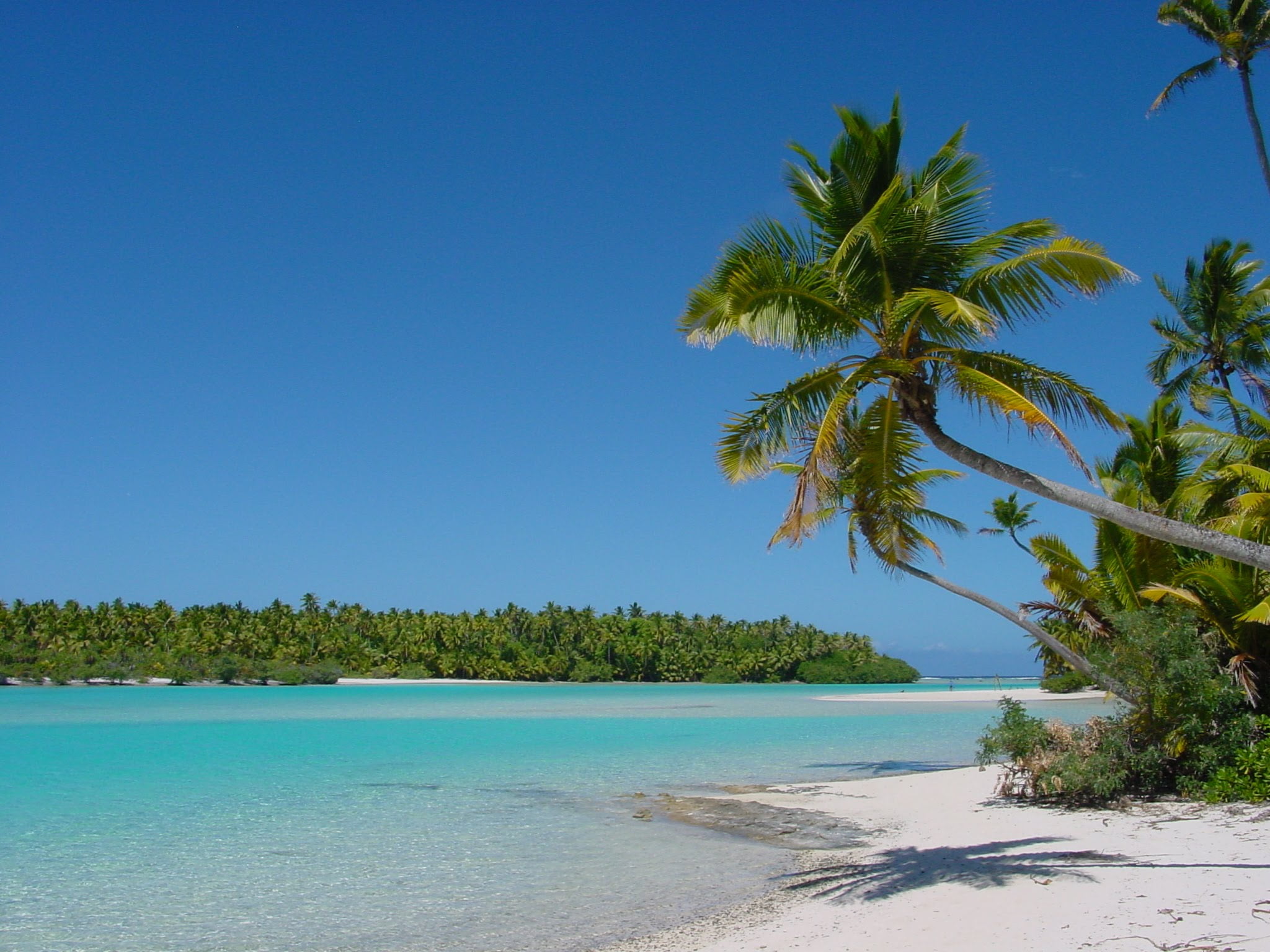 40. Shoal Bay, Anguilla
Though Shoal Bay is Anguilla´s "busiest" and best beach, this small piece of paradise never gets crowded.  You can walk across Shoal Bay´s 3km beach front, and visit a variety of bars and restaurants along the shore.  It is also the site of many peaceful water sports, including snorkeling, kayaking, diving, and distance swimming.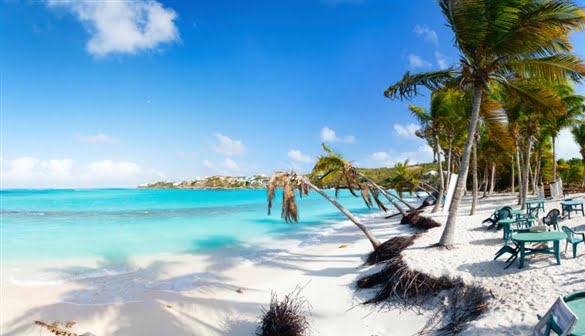 41. Seven Mile Beach, Grand Cayman, Cayman Islands
Seven Mile Beach is among the many reasons why Cayman is considered the ultimate destination.  The expansive waterfront here is open to the public.  Walking along the shore, you'll stumble on restaurants at the resorts and several beach bars. Some of the best parasailing on the island can be done at this beach.

42. Nungwi Beach, Tanzania
This is one of the best beaches, not only for relaxing, but for deep sea fishing. Fishing tours usually catch the likes of kingfish, dorado, yellowfin tuna and enormous striped marlin from the Indian Ocean. Nungwi Beach attracts both the likes of backpackers and luxury travelers staying at 5 star resorts.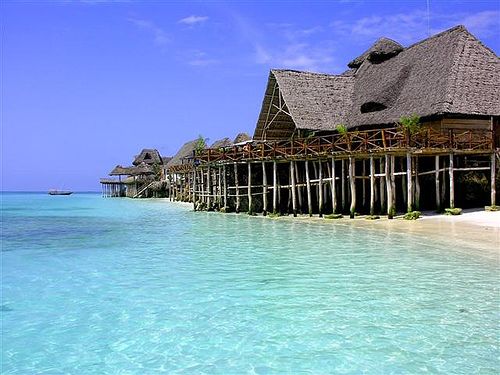 43. Grace Bay, Turks and Caicos
Grace Bay Beach in the Turks and Caicos Islands has been named by multiple experts as one of the best beaches on the planet.  Tucked away in the Caribbean and boasting some of the clearest waters and baby powder soft white sand you're likely to come across, it´s easy to understand why.

44. Half Moon Bay, Antigua
Located about a five minute drive from Freetown village on the southeast coast of Antigua, during the weekdays you will find this to be a picture of serenity as you descend from the hilltop down to white sands and translucent waters.  If you prefer to avoid Antigua's quiet, secluded beaches, but also want to be able to claim a spot without any trouble, Half Moon Bay Beach offers a good middle ground.

45. Whitehaven Beach, Whitsunday Islands, Australia
Whitehaven Beach is not only considered one of the best beaches worldwide, but happens to be known as having the whitest sand of ANY beach in the world. That soft brilliant white sand which makes your feet squeak on is made from quartz, and can only be found at Whitehaven Beach on Whitsunday Island. Besides the bright white sand and plenty of natural shade, this makes for an excellent beach to camp at (legally permitted)

46. Horseshoe Bay, Bermuda
One of Bermuda´s landmarks, Horseshoe Bay is famous for it´s pink sand. That rosy shade results from a blend of crushed shells, coral and calcium carbonate.  If you snorkel here, you can see variety of colorful fish like parrot fish, angel fish, wrasse, sergeant majors, snappers and more. This is a great destination for families, since kids can enjoy boogie boarding, beach volleyball, splashing around and sandcastle building.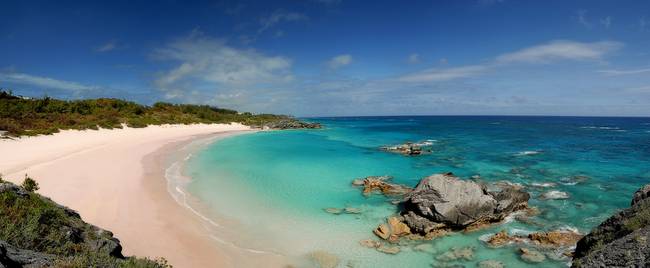 47. Dhigurah Island, Maldives
One of the more popular things to do on the island is go on a whale shark safari. Once spotting a whale shark (harmless to humans as they only eat plants and algae), your guide will give the order to jump in and swim next to this giant creature. This island has a unique landscape, being 3km long but only 250 meters wide.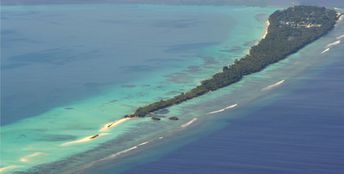 48. Hidden Beach, Islas Marietas, Mexico
Playa del Amor, more commonly known as the Hidden Beach, is a landmark of one of the Marieta Islands, located west of Puerto Vallarta, Mexico.  The islands are an archipelago, a chain of land formations formed by underwater volcano eruptions. It is rumored that the hole that created the Hidden Beach was a result of deliberate bombings.The Hidden Beach is invisible from the outside, and is only accessible through a long water tunnel that links the beach to the Pacific Ocean.

If you haven´t already asked your boss for vacation time, we hope this list of best beaches inspires you to do so immediately. Now, all that's left to do is decide which beach to go to, find a cheap flight, and book a great hotel at a discount.
Safe travels!