You have probably noticed by now that good things are happening in the travel industry. A few years ago, it was unheard of to book a flight from the US to Europe for less than $700. Nowadays, thanks to the impact low-cost airlines have had on the entire industry, you can regularly find great deals to Europe for under $500 and to Asia for less than $800.
A similar decrease in price is occurring also in the car rental industry. In most places, you can rent a car for around $30/day. Hell, if you are flexible, you can even rent a car or RV for $1 a day.
But what about the hotel industry? Why is it that we still tend to overpay for hotels, regardless of the destination? Sure, Airbnb and Couchsurfing offer an alternative, but the majority of people (me included), prefer to sleep in a hotel, rather than in someone´s house. Why is it that the low-cost revolution has not impacted the hotel industry yet? More people are flying and they are doing so more often, that´s a fact. However, since Priceline and Expedia pretty much control the rate parity in the hotel market (or in more simple terms, thanks to this complete control of the market, we, the consumers tend to overpay for hotels), it´s tougher to get great deals on hotels….that is……until reading this article.
Though we can´t make hotels cheap (yet), these tips will not only make your hotel stays cheaper, but will assure you NEVER AGAIN overpay for hotels. Here are a few tips:
Book in advance
In general, the best time to book a hotel is as soon as you know your destination and dates. Hotel prices tend to fluctuate A LOT. If you book a free cancellation reservation as soon as you decide upon your destination, dates and desired hotel, you can at least assure that you won´t overpay for hotels, or at least, you won´t pay more than the price published at the moment of purchase. Later on, I will explain what to do if the price drops after you book.
Book multiple hotels for the same destination
Booking 2-3 hotels (always with free cancellation) in the same destination will give you greater probability to save money in case one of them experience a price drop after you book. Price drop?
Manually track price drops
Prices drop after booking all the time, both for flights and hotels. The problem with flights, is that you can only alter your booking 24 hours after purchase (unless you pay a gazillion dollars more for a flexible rate). With hotels, it´s different. On average, prices tend to drop 42% of the time, and can reach up to 72% off the total reservation amount. Imagine discovering you just unnecessarily overpaid 72% for your hotel reservation. Travelers who are not aware of these price drops will most likely unnecessarily overpay for hotels.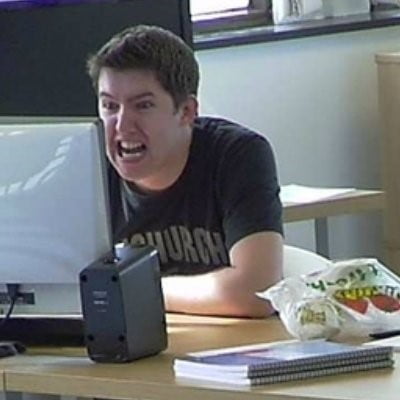 If you have (tons) of free time, you can manually track a handful of websites daily or weekly (like I did prior to my honeymoon in 2016) and see if you can find these price drops yourself.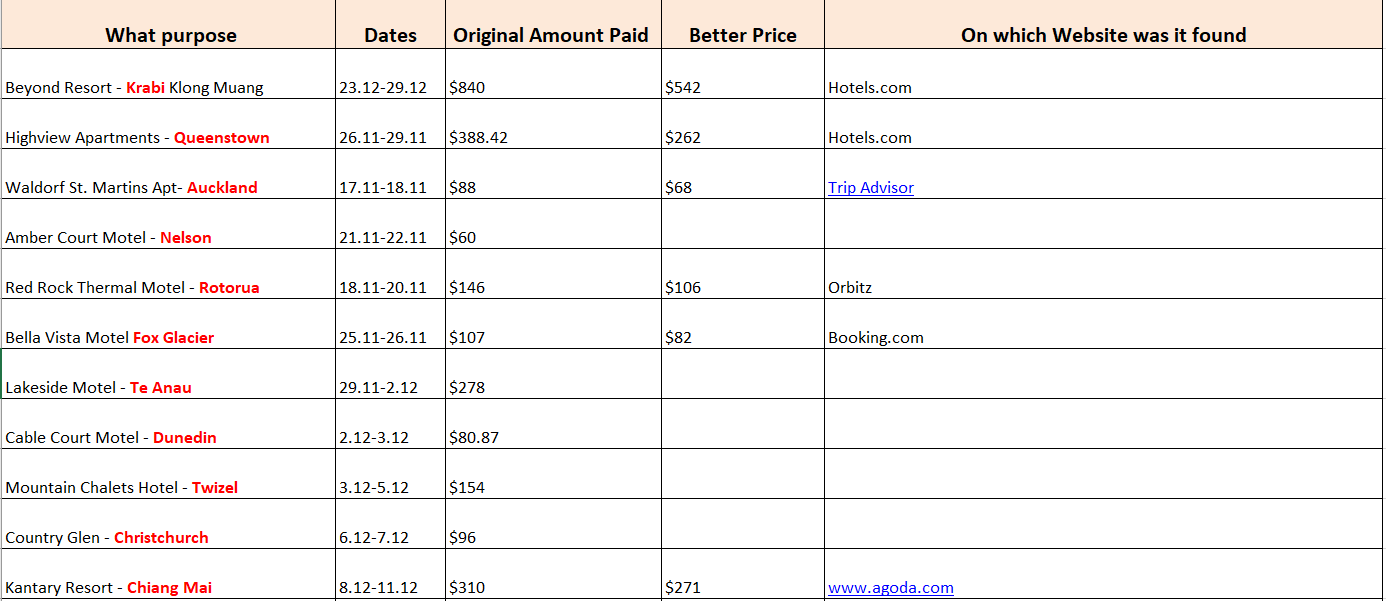 As you can see, I saved quite a lot of money by finding these price drops. The problem was, I spent HOURS weekly searching for these price drops. One of the reasons it took me so long, is because I would track 6 online booking engines + hotel direct website. As you can see, the better prices were found on different websites, hence, there isn´t really such a thing as "the cheapest website to book your hotel". Today the better price can be found on Booking.com, tomorrow it can be found on Expedia, the following day on Agoda etc. After this experience, I figured there has to be a better way to automate this tedious, manual process…and finally….I discovered there was a better way.
4. Pruvo your hotel reservations
Instead of manually searching for price drops, just let Pruvo do it for you. Pruvo´s free service will automatically track price drops to your existing hotel reservation and notify you once there is a better price for the exact same room with the exact same perks.
There are 2 ways you can use Pruvo´s free service:
You can forward your existing hotel reservation confirmation emails to save@pruvo.com . If you currently don´t have an existing hotel reservation, you can download for free Pruvo´s Chrome Extension. This Chrome extension will automatically start tracking price drops when you make hotel reservations online. That way, even if you forget about Pruvo, Pruvo won´t forget about you.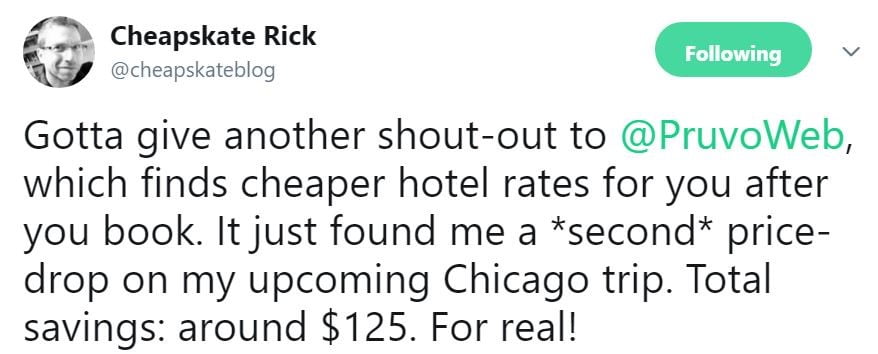 Pruvo can process hotel reservations made on any (really..ANY) website. Pruvo will alert you if there is a better price, but you need to rebook the hotel, and you need to cancel the original, more expensive reservation. So, there is no risk at all in using Pruvo. If the price drops, you save money. If not, at least you know you didn´t overpay for your hotel.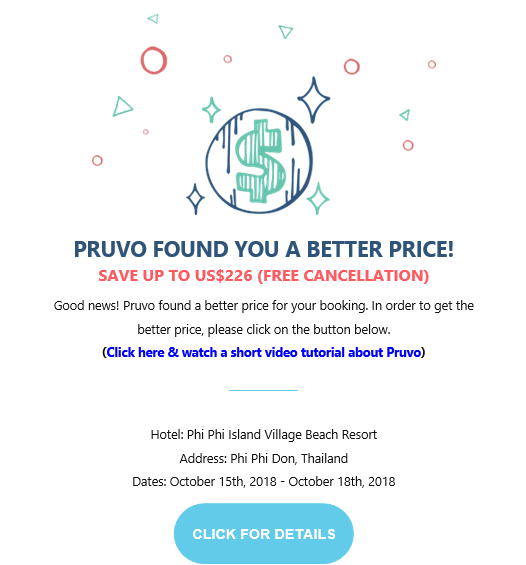 Pruvo´s only requirement is that the hotel reservation be a free cancellation reservation. Remember that price drops don´t occur 100% of the time, but at least with Pruvo, you can rest assure that your back is covered and that you will never again overpay for hotels, regardless of your destination.
Safe travels!