Unless you have been living with an Indian tribe in the Amazon jungle over the past few weeks, you´ve probably seen how ChatGPT is going to completely change our lives. Seriously, everywhere I look, all I see is ChatGPT. My Youtube and Linkedin feeds are filled with ChatGPT videos, prompts to use etc. But, I have yet to see 1 video or article on how to use ChatGPT to plan your vacation and save money on your travel plans. Here are 7 ways to use ChatGPT to plan your vacation & save money in the process.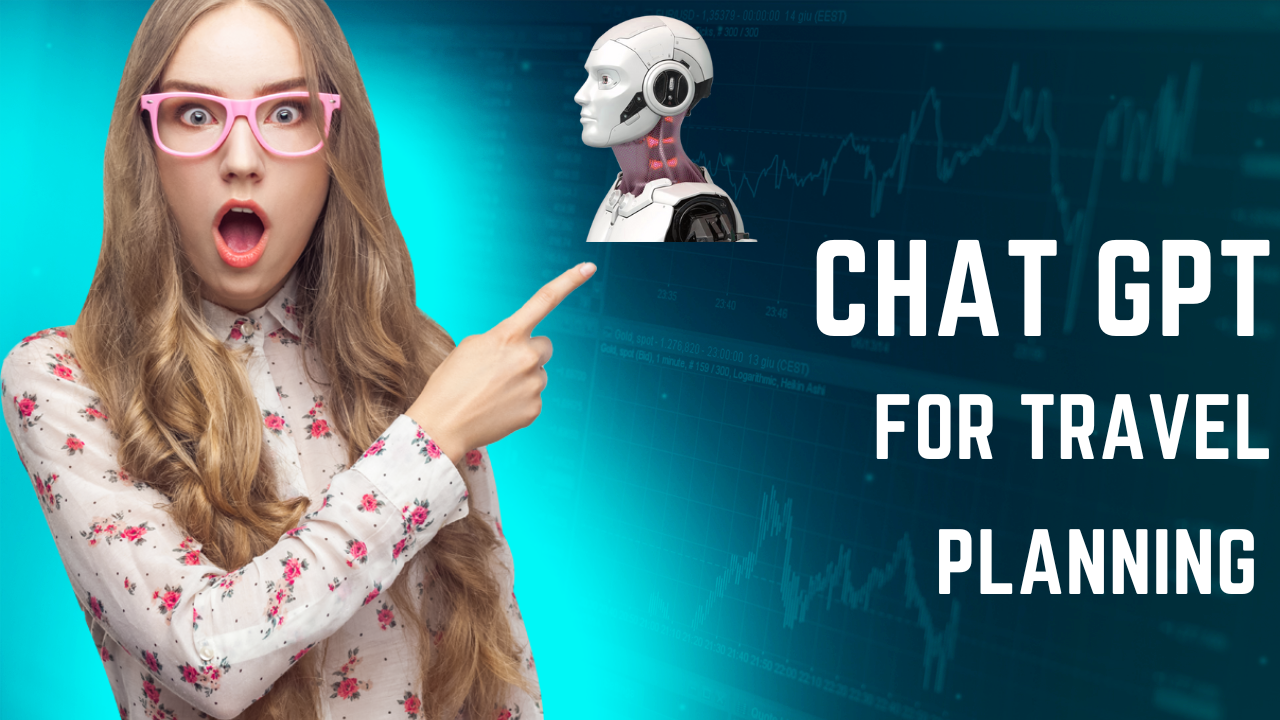 What is ChatGPT?
The official definition of ChatGPT is a language model developed by OpenAI. It has the ability to generate human-like text based on a given prompt. Or in other words, it´s an A.I-driven chat bot that allows you to ask it questions and it gives you an answer that the vast majority of the time is accurate or at least very helpful. It´s a chatbot that basically "learned the entire internet" (up till 2021) and answers your questions (or even tells jokes).

What travel questions should I ask ChatGPT?
In order to get the best answers to your questions, you want to ask very detailed questions. The more detail, the more helpful the answer you will receive. Below you will find 7 ways to use ChatGPT to plan your vacation & save money:
Research destination options: ChatGPT can help you explore different vacation destinations and provide information on things to do, weather, and costs
Create an itinerary: ChatGPT can help you plan a detailed itinerary for your vacation, including recommendations for activities, restaurants, and transportation.
Figure out the best possible route: If you are visiting a city with multiple airports and methods of transportation in order to reach that destination, ChatGPT can help you figure out the best route.
Local customs: If you want to know if tipping is accustomed in a certain destination and how much you should tip, ask ChatGPT.
Hotel recommendation based on proximity: Want to beat the lines and arrive first to an attraction? Ask ChatGPT for the best 4-star hotels near a certain attraction.
Finding activities and tours: ChatGPT can help you discover and book activities and tours at your vacation destination, such as hiking, sightseeing, or wine tasting.
Provide personalized recommendations: Let ChatGPT know your preferences, budget and travel style and it will tailor its suggestions to you.
Let´s see ChatGPT in action!
I love to hike in areas that have snowy peaks in the landscape. I asked ChatGPT for potential destinations that offer that landscape in June: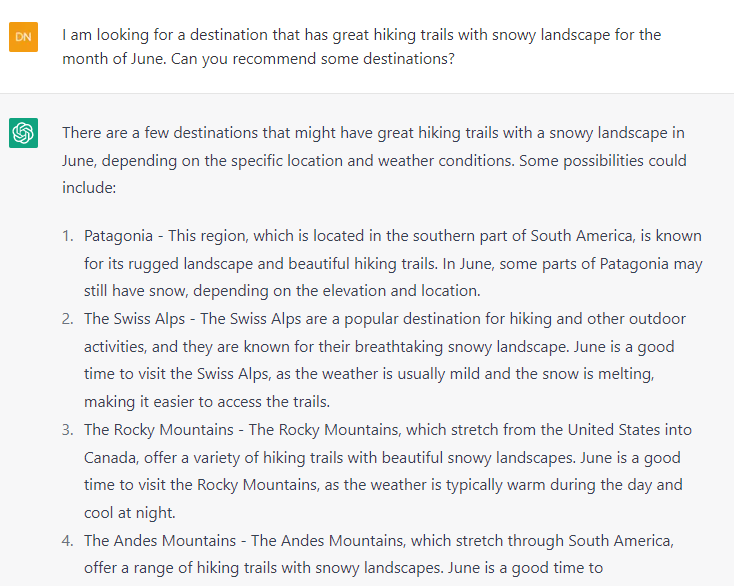 Let´s see its taste in tourist attractions in London for a 3-day itinerary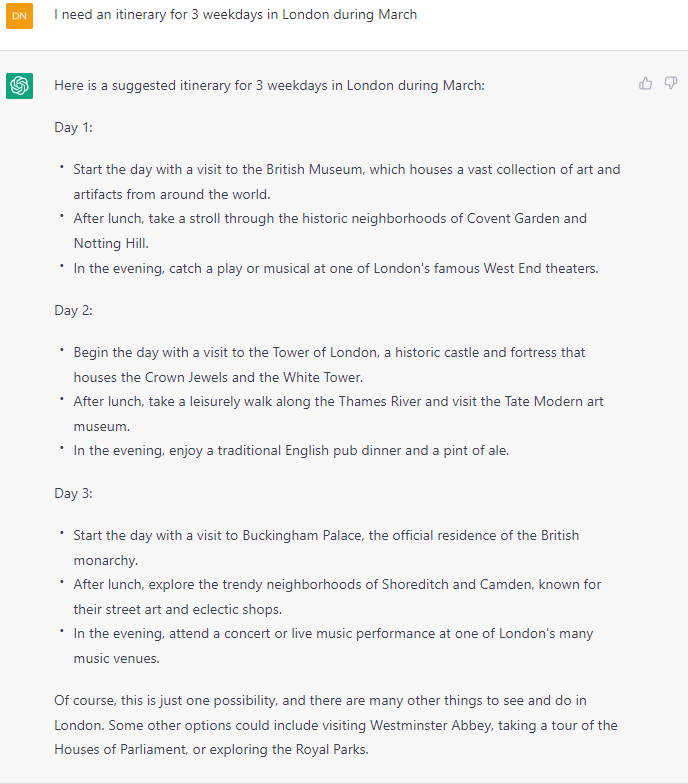 Easy on the alcohol ChatGPT, 1 pint of ale for me is a ton!
How about hotel recommendations based on proximity to a tourist attraction?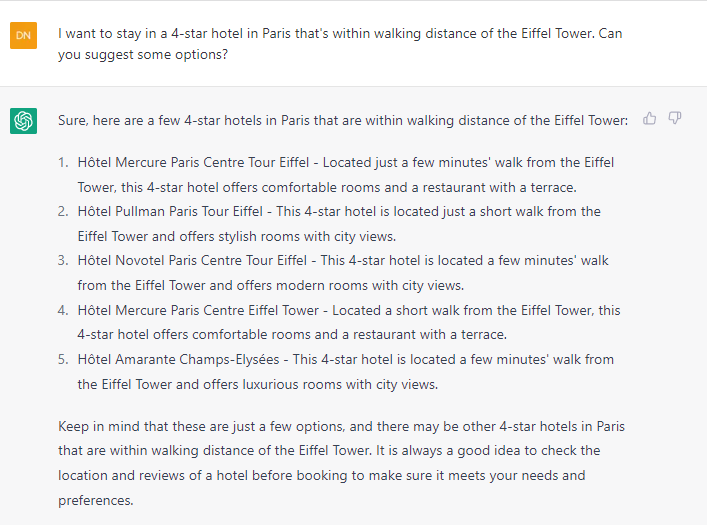 Last, let´s see if ChatGPT can help me save money on my trip. I asked about tipping in Guatemalan restaurants.

Which ways should you not use ChatGPT?
One aspect of ChatGPT that is still lagging is that its database of information is updated up until 2021. Rest assured that in the very near future, it will have real-time data that will be extremely useful. Until then, refrain from asking ChatGPT questions such as:

· cheapest flight options to a certain destination
· cheapest hotel in a certain destination
· current exchange rate in a certain country
· if it´s safe to visit a certain country
· Covid policies in a certain country


Conclusion
ChatGPT is in no way a substitute for Google for planning a trip as of now. However, if you want to get precise answers to questions regarding planning your vacation & saving money in the process without having to read multiple blogs, ChatGPT can be a great tool that will save you time.