Iceland used to be a small, rarely visited island, next to Greenland. Less than 500K tourists would visit Iceland yearly. Then…Eyjafjallajökull (try saying that 5 times after drinking 5 beers) erupted, and Iceland was on the map.
Since then, Iceland has become one of the most popular tourist destinations in the world.  Every year the amount of tourists who visit Iceland increases tremendously.  In April 2018, my wife and I decided to visit Iceland..and we were enchanted!
I wanted to share with you our 14 day itinerary in case you decide to visit Iceland in the near future. This itinerary was created based on this blog post, which I found to be the most informative regarding places to see when you visit Iceland.
Before I go into the itinerary, I wanted to share some money saving tips. We decided to travel during the shoulder season, right before peak summer season began.  There were two reasons for that.  First, we love snow landscape, and we were worried that if we decided to visit Iceland in the summer (winter was not an option since we wanted longer days), the snow would have melted by then.  The other main reasons is that flights, car rentals, hotels and activities are a bit cheaper in the shoulder season.  For that reason, the places I will share with you might or might not be adequate for visitation if you decide to visit Iceland during a different period.
We knew ahead of time that we wanted to do lots of activities. However, we also knew that they were expensive.  So when crunching the numbers, we decided to save money on food.  Instead of eating out, we would just cook our own meals and rely on sandwiches with beans, tuna and avocado.  Yummy.  Since our we had 1.5 days in NYC prior to arriving to Iceland, we stocked up on 10kgs of food.  This was a very smart idea, since altogether, we spent only US$210 on food for 14 days in Iceland for 2 people.
Now let´s dive into the top places to see when you visit in Iceland.
Day 1 
We arrived to the KEF airport at 6:30am.  After picking up our car, we headed to the geothermal fields of Setun, which is less than 40 minutes from the airport, heading towards Reykjavik.  This was a great place to start off our visit to Iceland and smell the sulfur from the volcanic fields, something Iceland is covered with.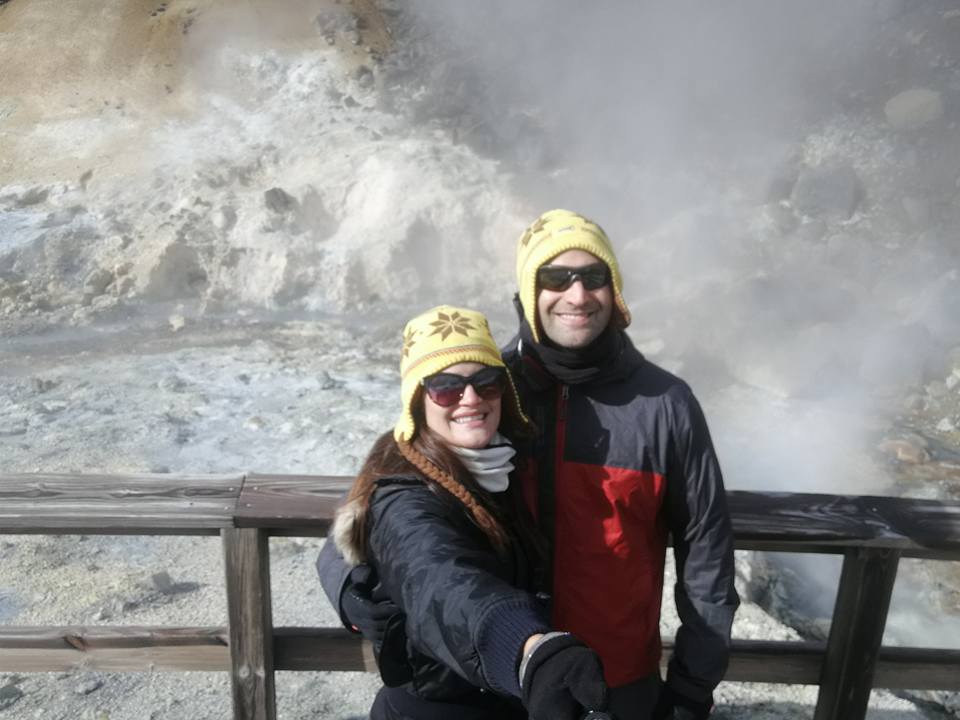 From there we decided to skip walking up Mt. Esja (knee problems) and we drove straight to Þórufoss. Since it was our first "foss" (waterfall in Icelandic), we were very excited to arrive.  Before calling it a day (we had daylight usually till 11pm), we also did a short hike in Glymur, which happens to be Iceland´s second highest waterfall.
Day 2
We headed towards the Snaefellsnes peninsula. It´s an absolute beautiful drive, especially when there is fresh snow!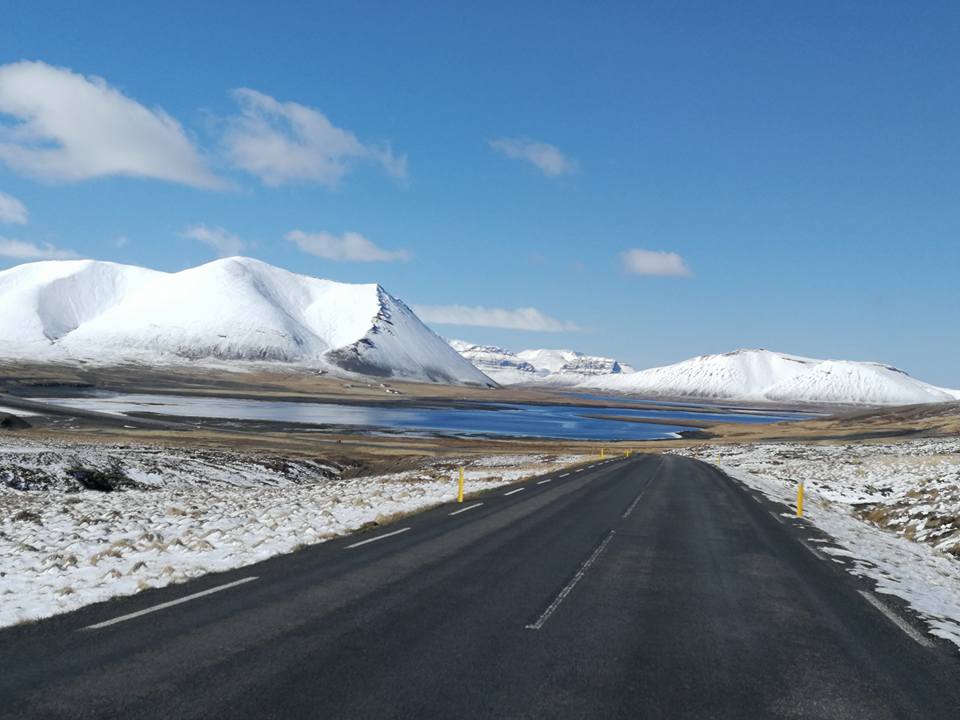 We arrived to Kirkjufell around 9:30am and we were just so lucky to have such great weather that day! Though not everyone makes it out to the Snaefellsnes peninsula, I believe it should be a must for anyone who decides to visit Iceland.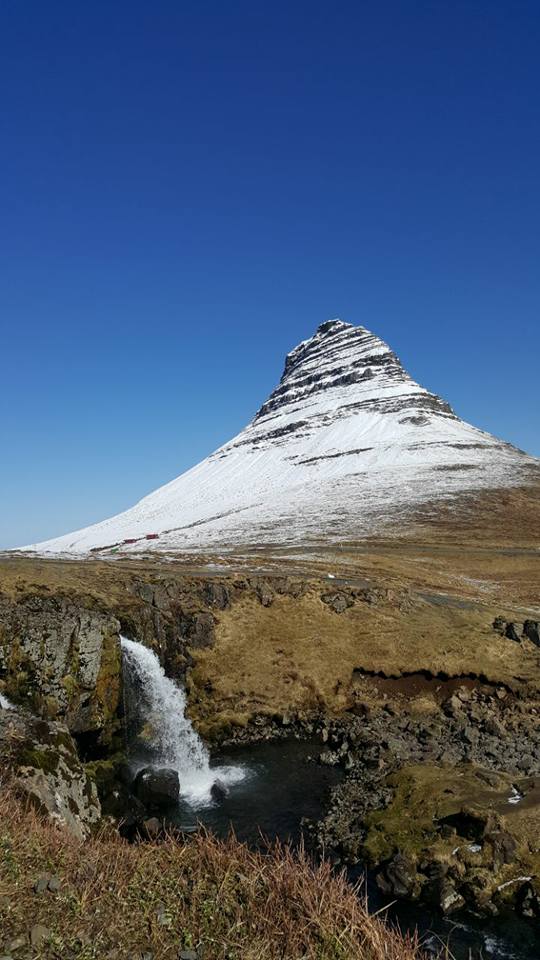 From there, we headed towards Snæfellsjökull Glacier. After a nice lunch, we parked and started walking.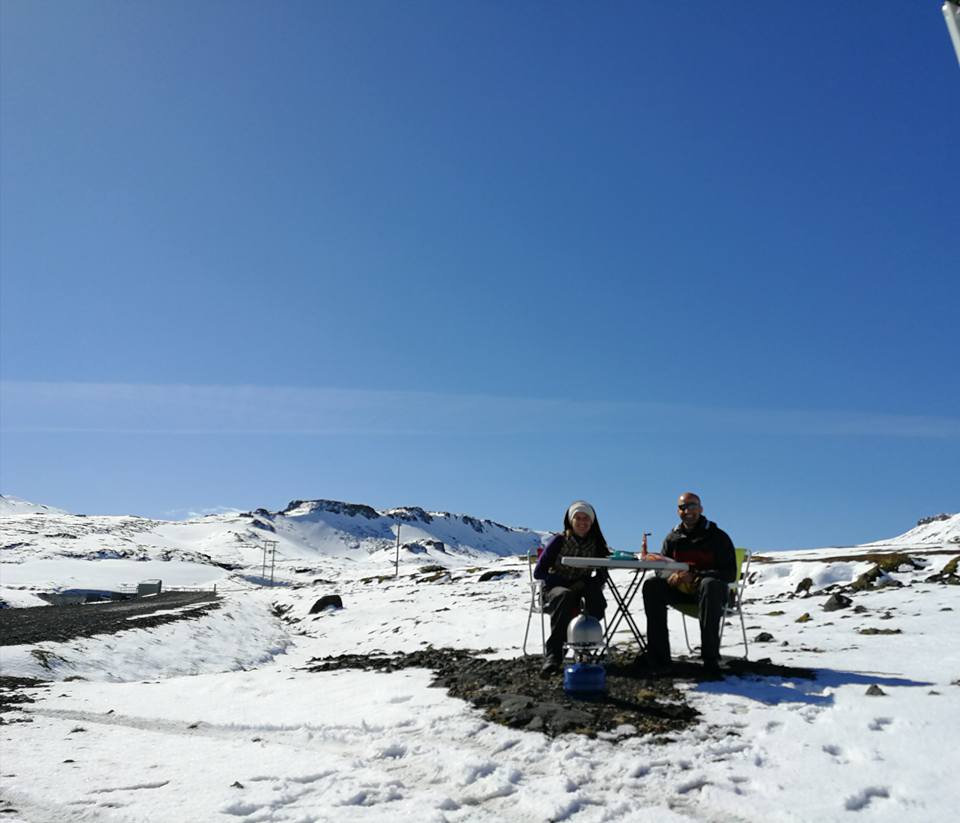 You can drive the car towards the glacier up to a certain point (depending on the season), and from there, we walked for about 8km back and forth (till my knees started to hurt).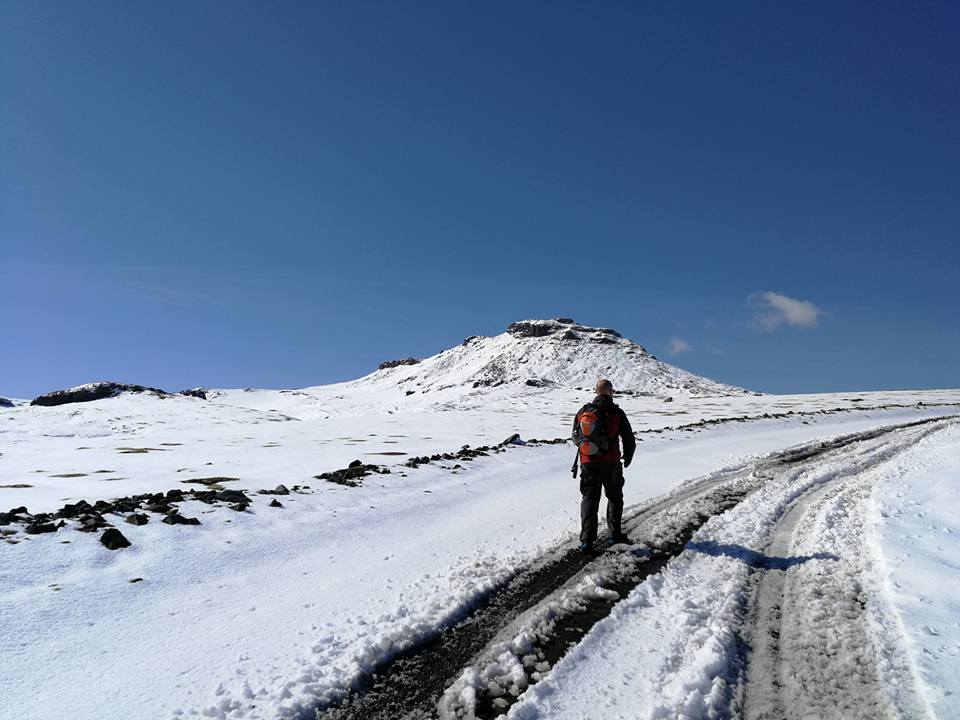 This was by far one of the most fun days we had on our visit to Iceland.  Not only were we blessed to have amazing weather that day, but this hike towards Snæfellsjökull Glacier was extremely solitary. In 5 hours we saw 6 other people.  Amazing.
Day 3
We had a long drive that day.  We also added a drive around the Trollaskagi area and basically arrived to Akureyri just to rest that day.
Loved the frozen ocean!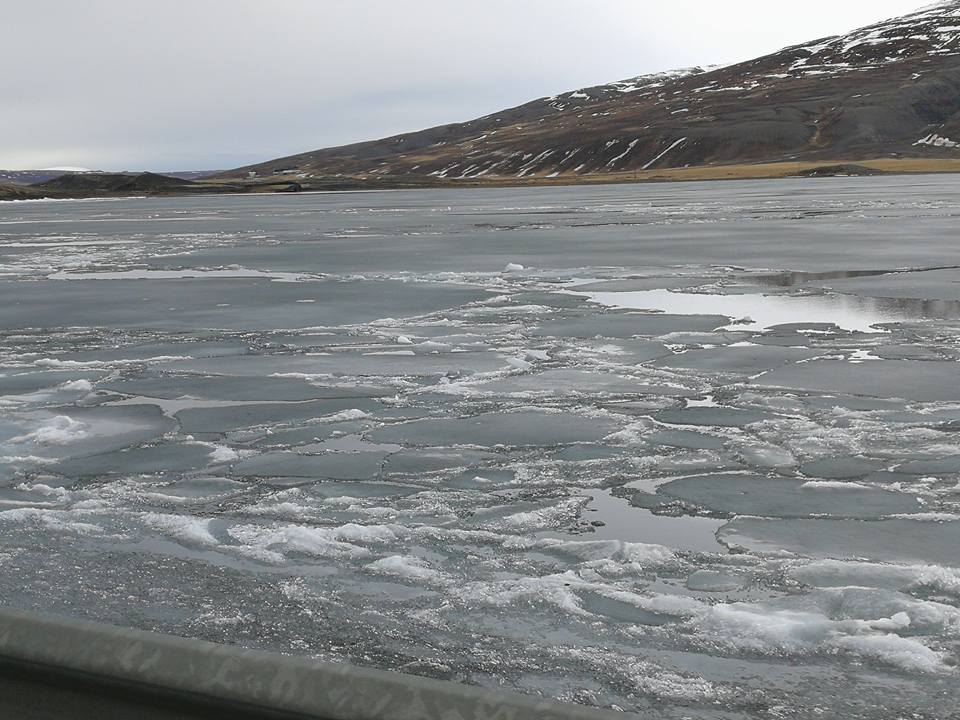 Day 4
We woke up early to do the 7:30am whale watching tour. We saw tons of humpbacks , but unfortunately, no breaching
After a nice whale tour, we visited GoÐafoss, which is a beautiful waterfall and very popular one for those who visit Iceland and do the ring road.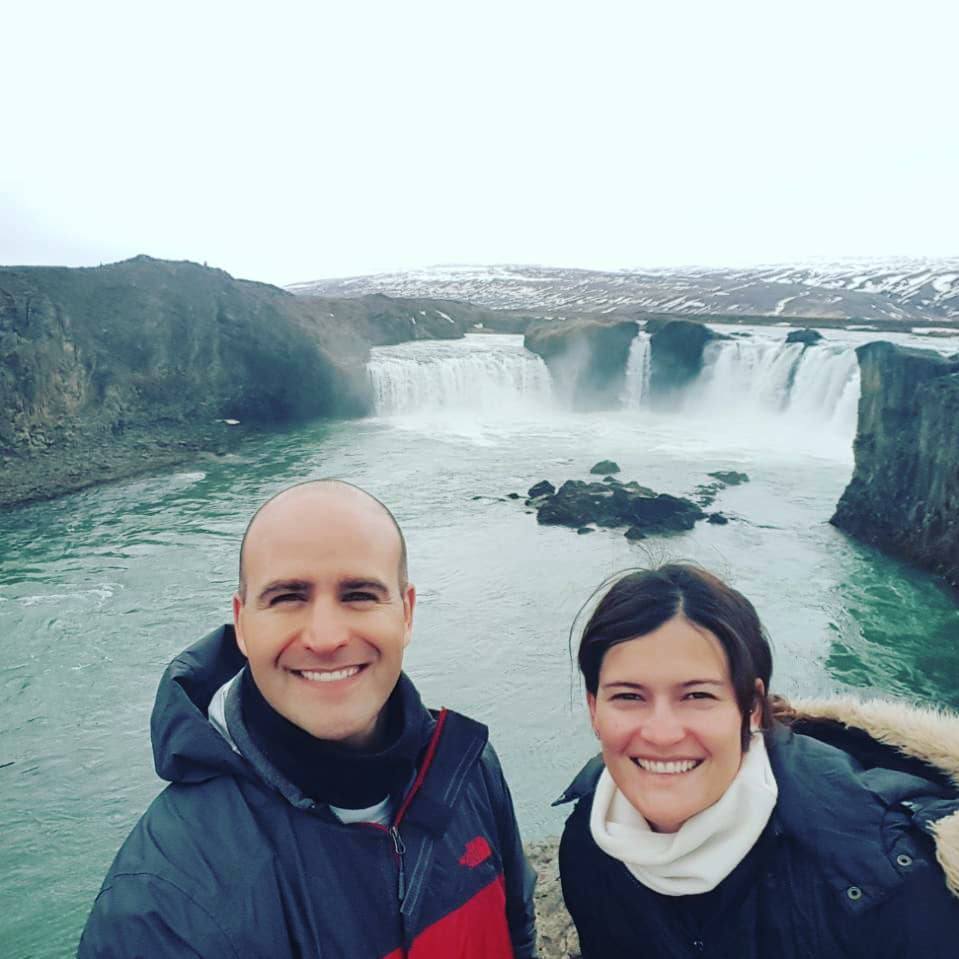 From there, we headed towards the Myvatn area.  First, we walked around Dimmuborgir  Rock Formations .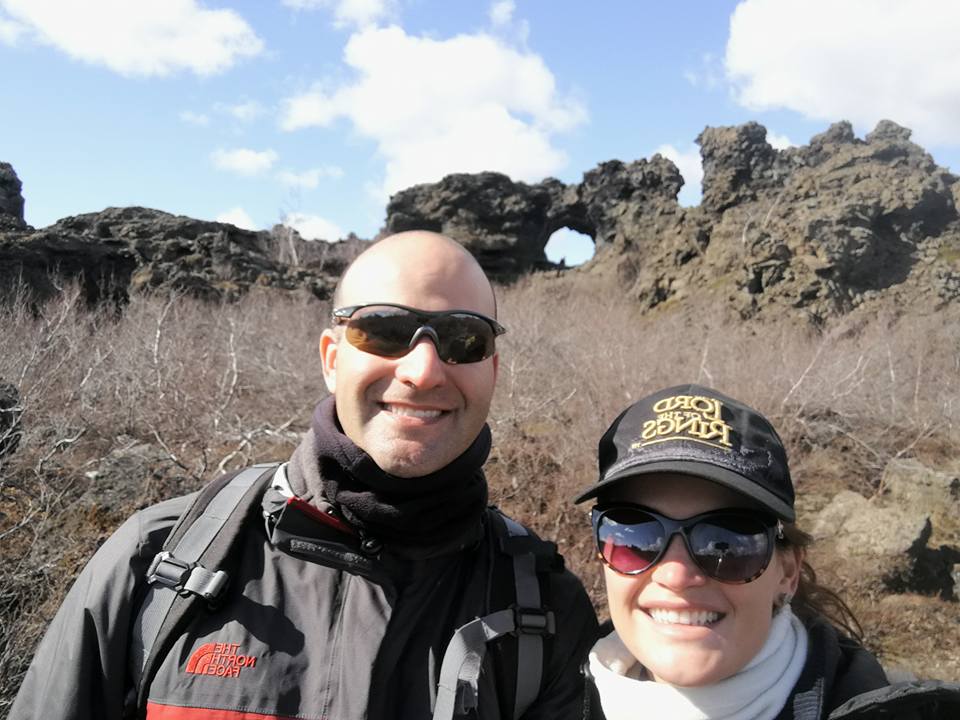 After that, we visited a phenomenal geothermal field called Hverir.  Once there, you truly understand that Iceland is sitting on top of hundreds of volcanoes which can easily erupt at any given time.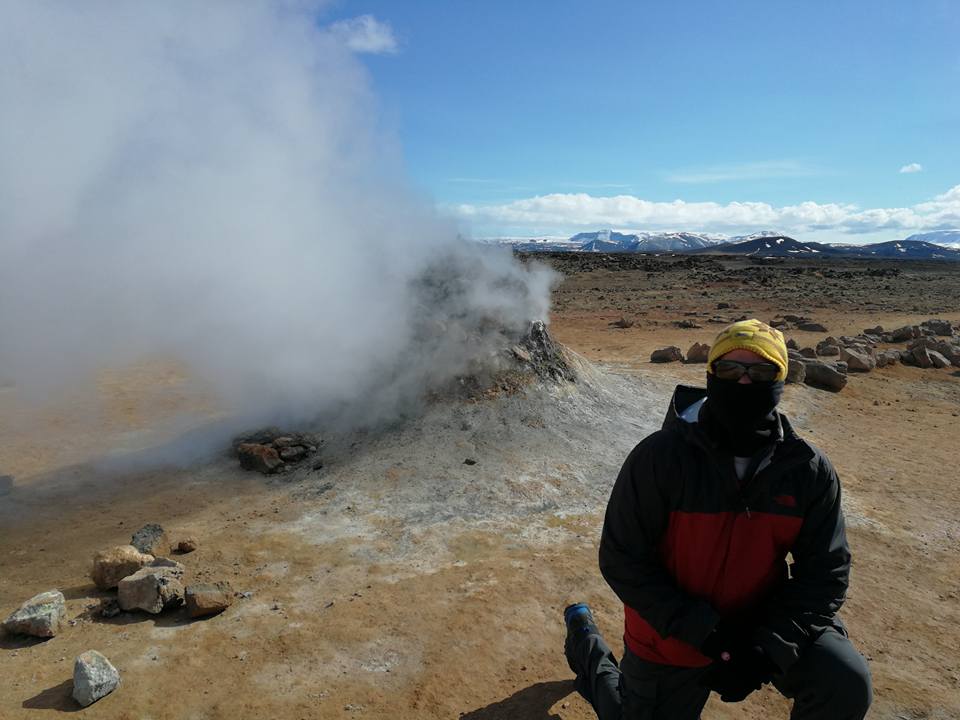 We finished our long, activity filled day at the Myvatn Nature Baths. Besides the pools, you can also soak up the heat in their volcanic-powered sauna.  This was a fantastic experience and we spent a few good hours relaxing our muscles there.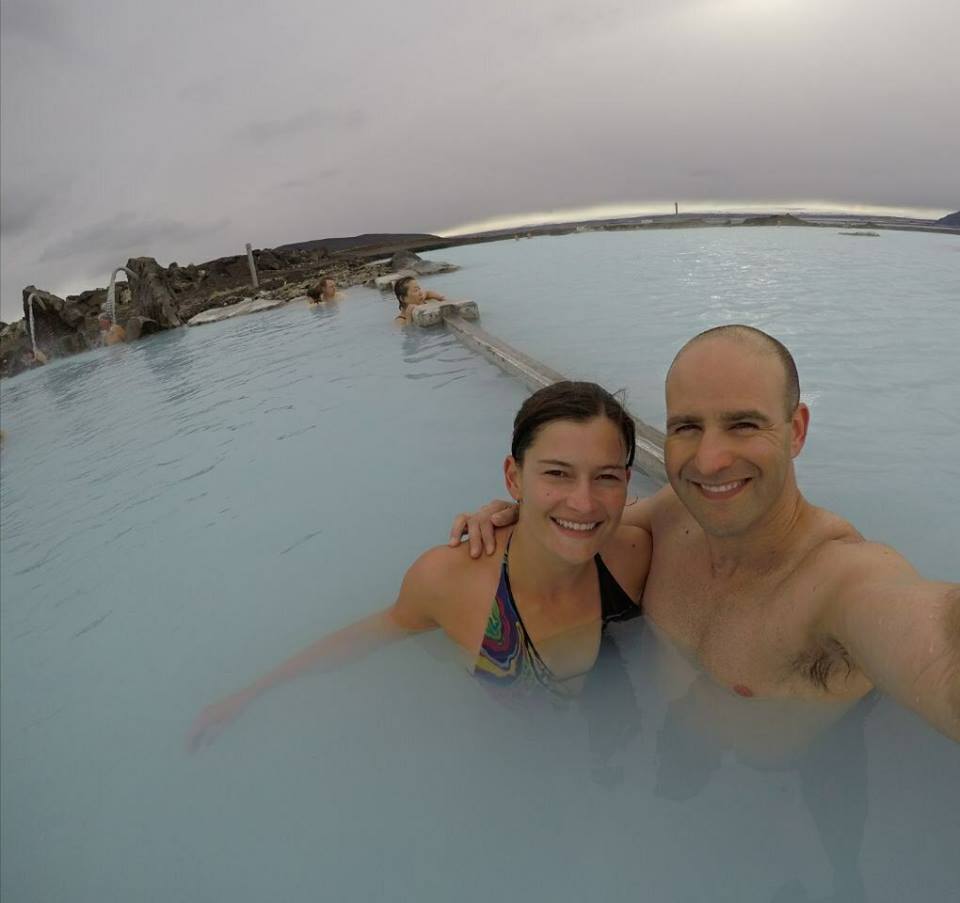 Day 5
Remaining in the Myvatn area, we started the day climbing the dormant volcano Hverfjall. There are different trails based on difficulty. The crater is huge, so it took us about 1 hour to walk around it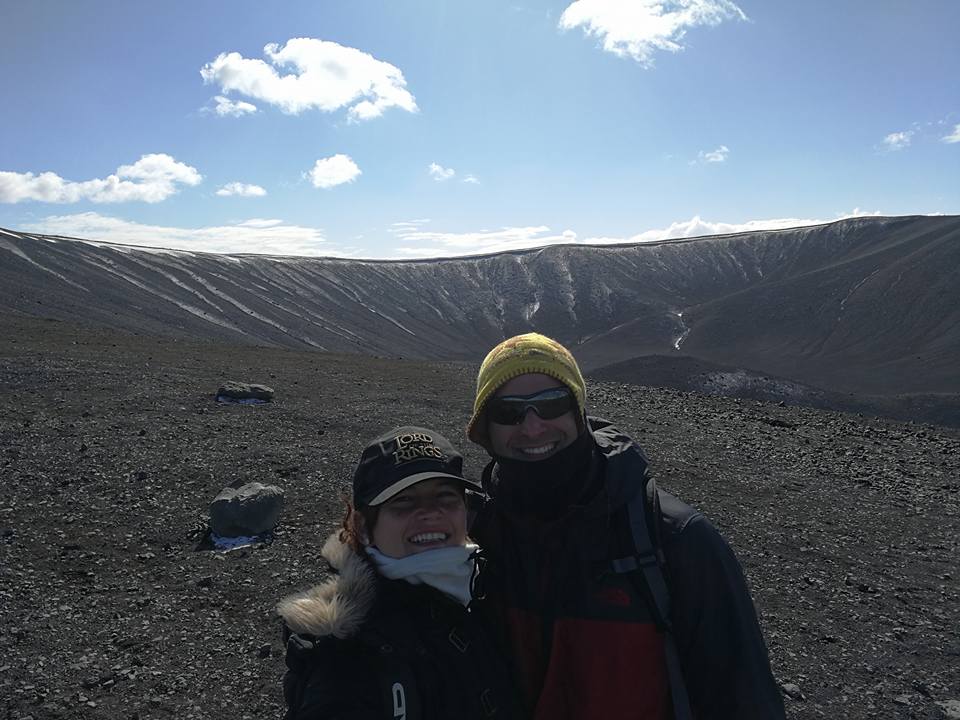 After coming down, we made a quick stop at Grjotagja, which are hot springs inside a cave!  How cool is that!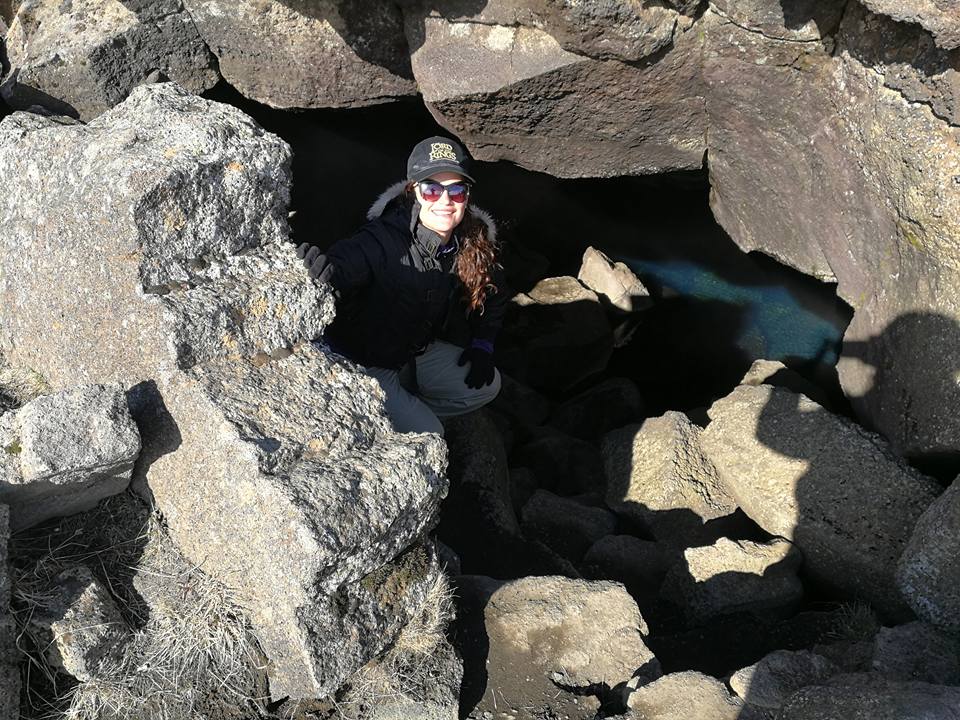 From there, we had a pretty long drive to Egilsstaðir. On the way, we planned to detour to see Dettifoss.  We were lucky that road 862 to Dettifoss was open and in good driving conditions.  I say lucky because this was one of our 3 favorite waterfalls in all of Iceland.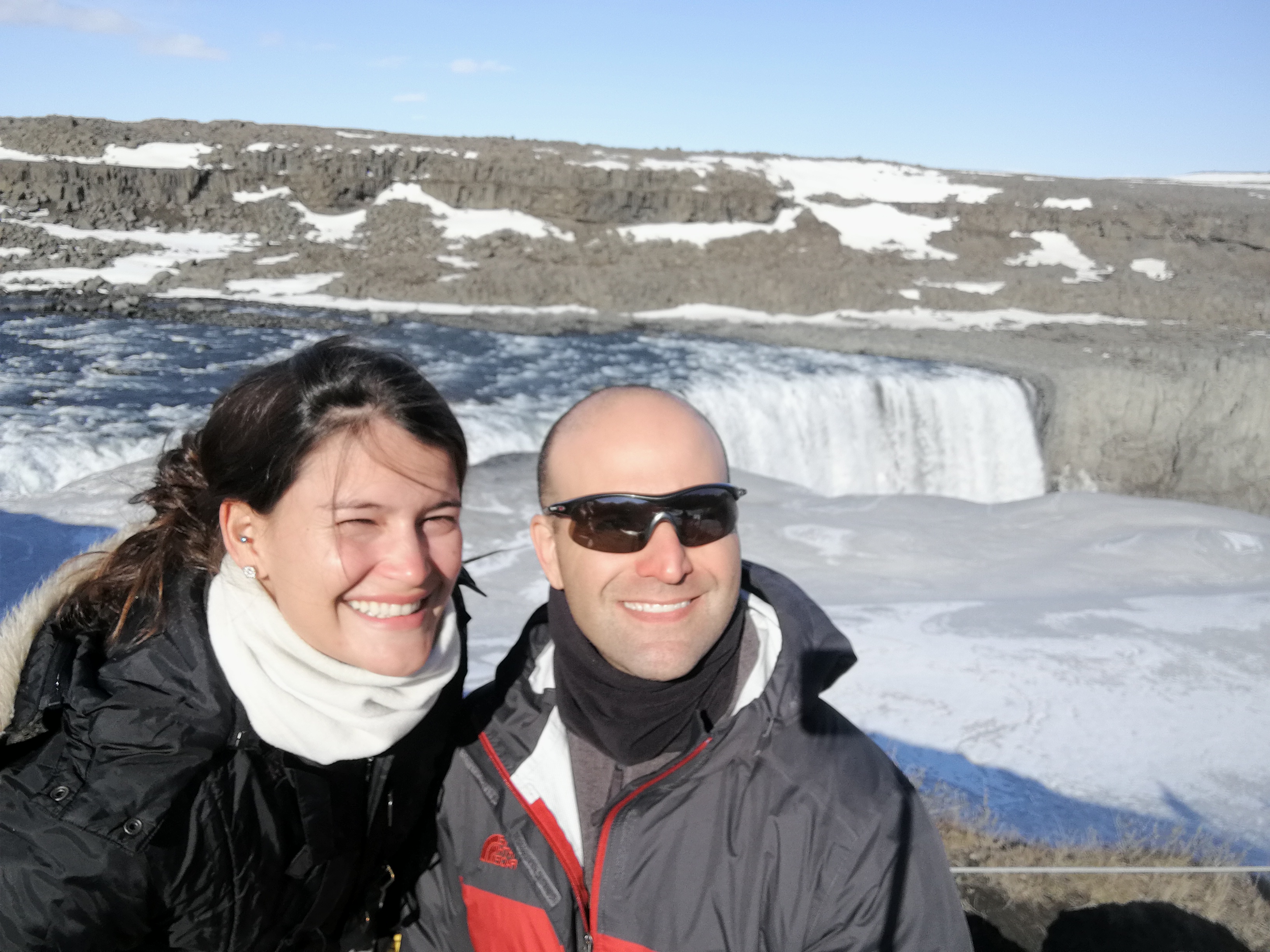 In Egilsstaðir, we stocked up at the Bonus Supermarkets and spent the night.  If you are not familiar with Bonus yet, it is a low cost supermarket chain.  They have a fantastic variety, high quality good and at decent prices.
Day 6
This day was dedicated to exploring the Eastern fjords, along with visiting some of the waterfalls in this area, mainly Gufufoss, Hengifoss, and Litlanefoss.  As you can see, our "good fortune" of amazing weather ended that day.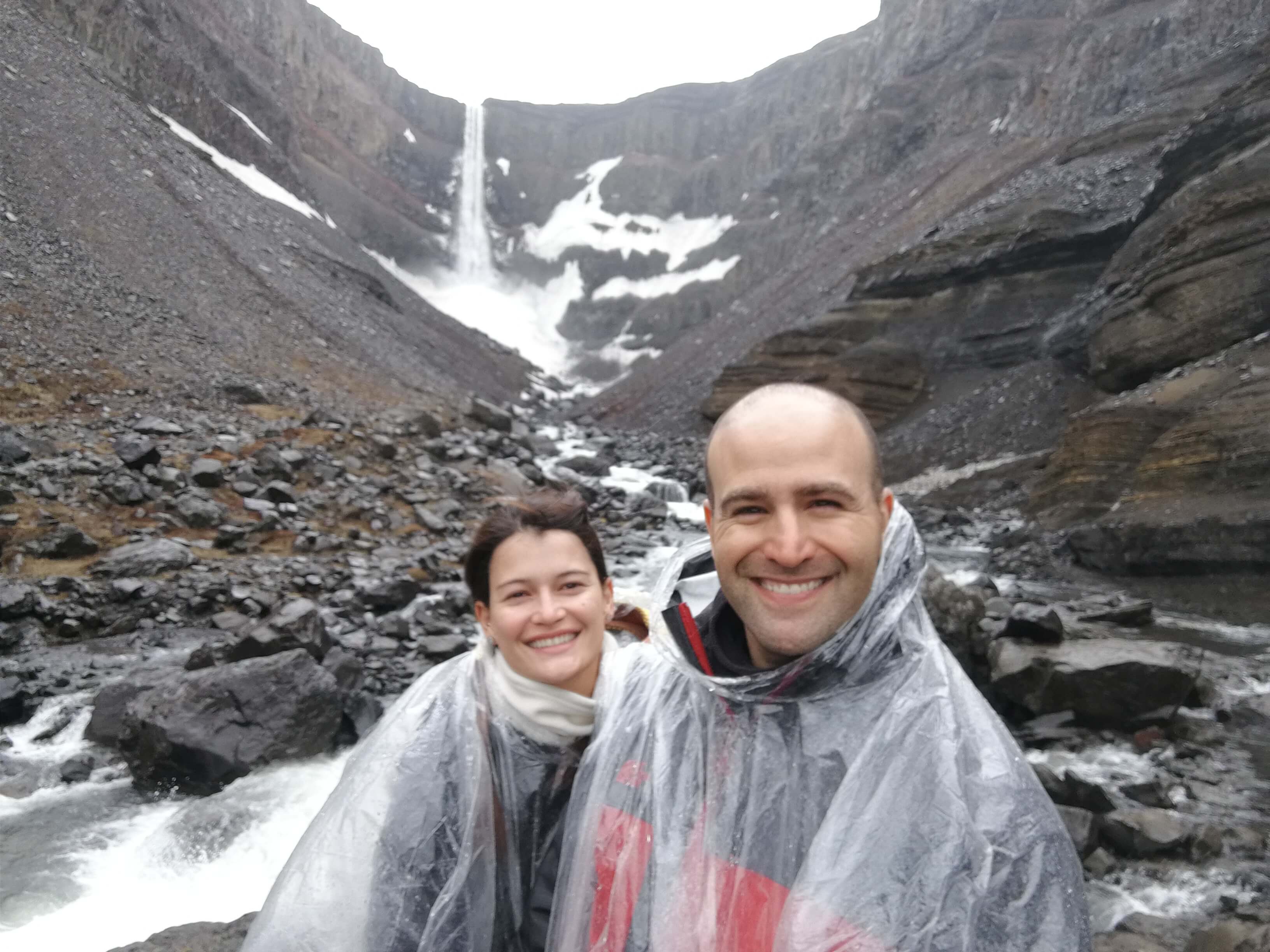 But bad weather can also mean incredible winter landscape.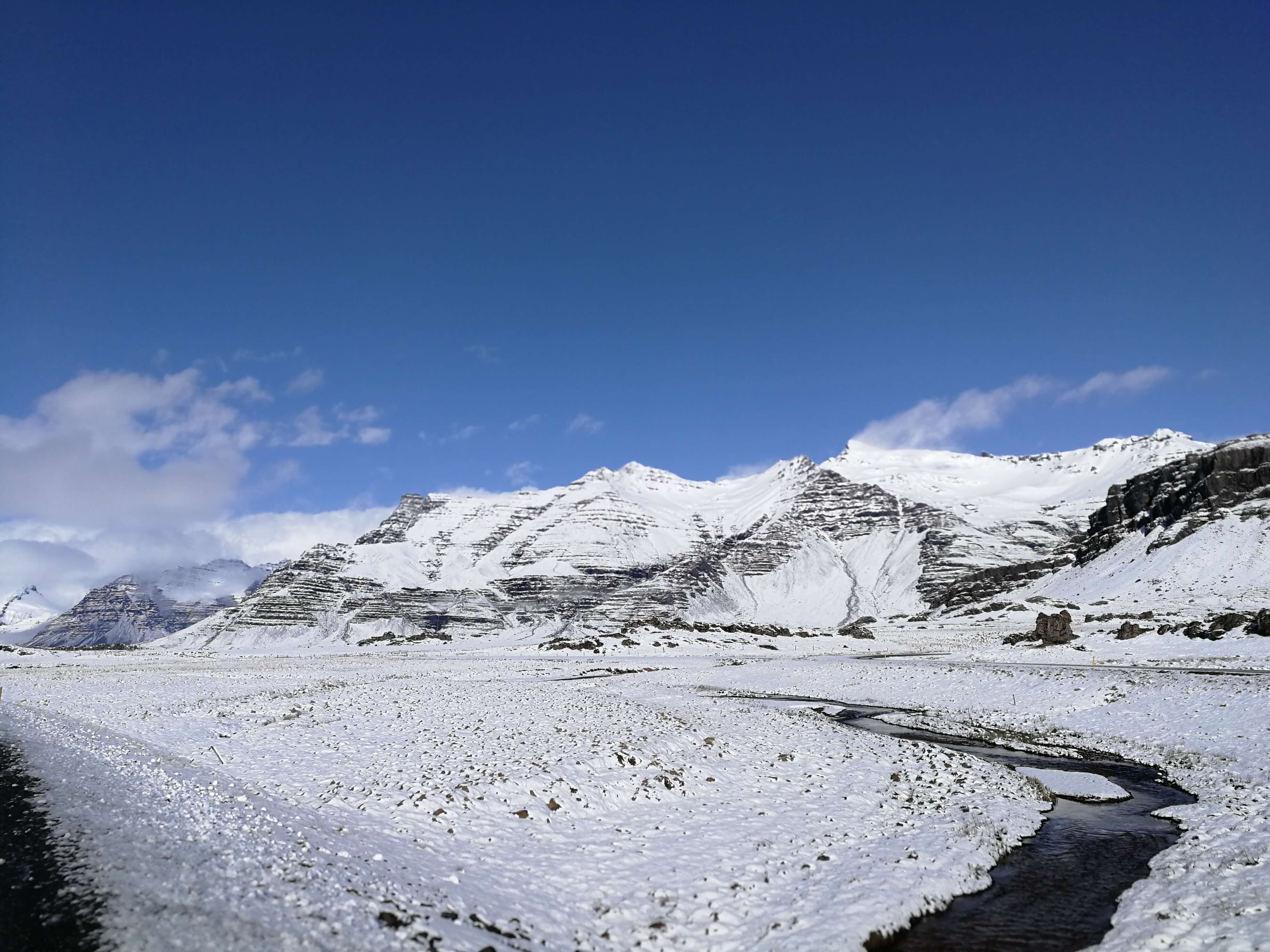 Though Google Maps shows it´s only a 3 hour drive from Egilsstaðir to Höfn, Iceland, in reality, it took us much longer due to road conditions and a few short hikes along the way. We spent the night in Höfn.
Day 7
Day 7 was one of the highlights of our visit to Iceland! We drove a bit more than an hour to Diamond Beach and Jökulsárlón Lagoon.  Both were BREATHTAKING!  The only thing that could have made our visit there even better would have been a bit more sunlight.  Nonetheless, the photos came out spectacular!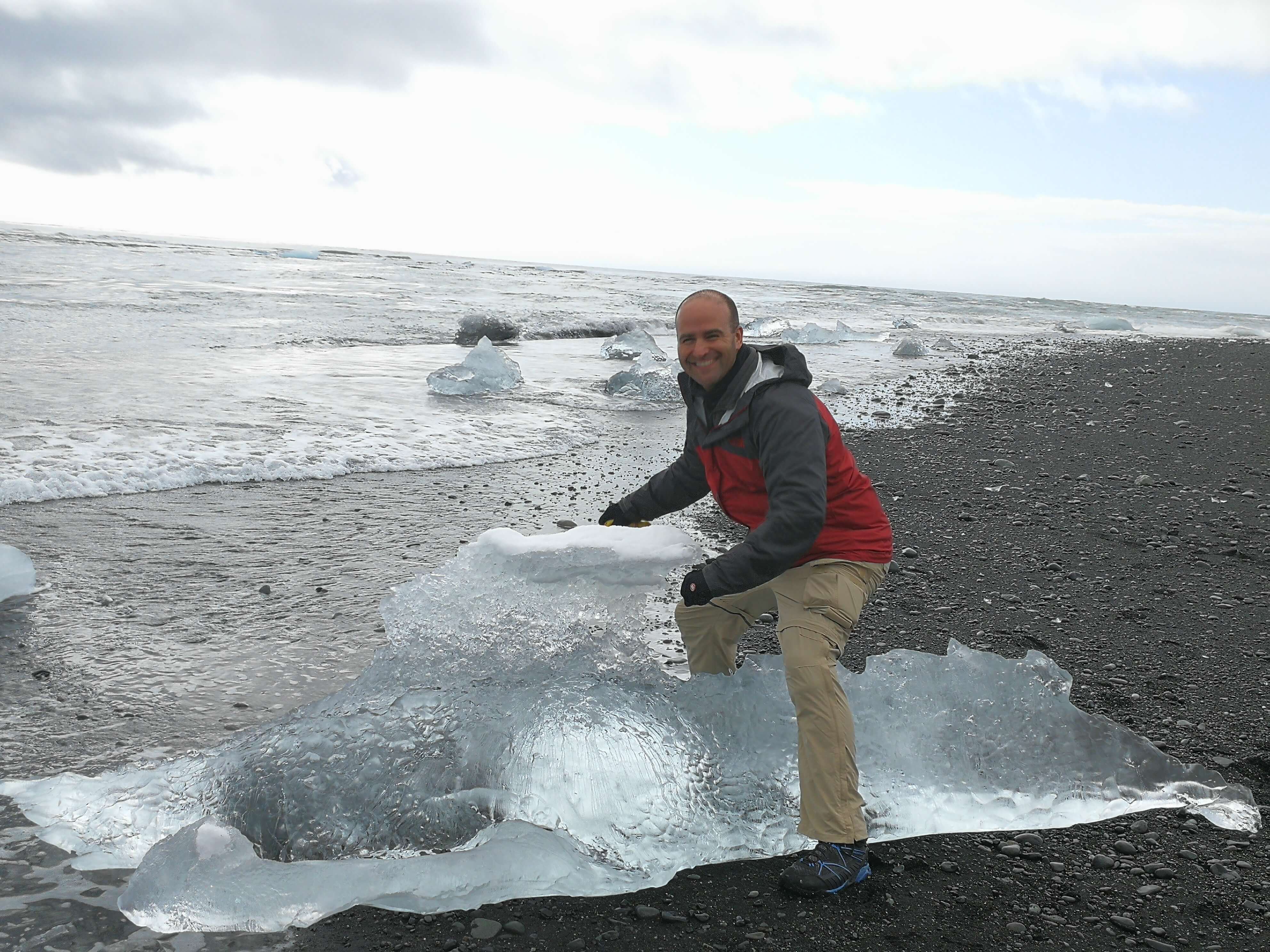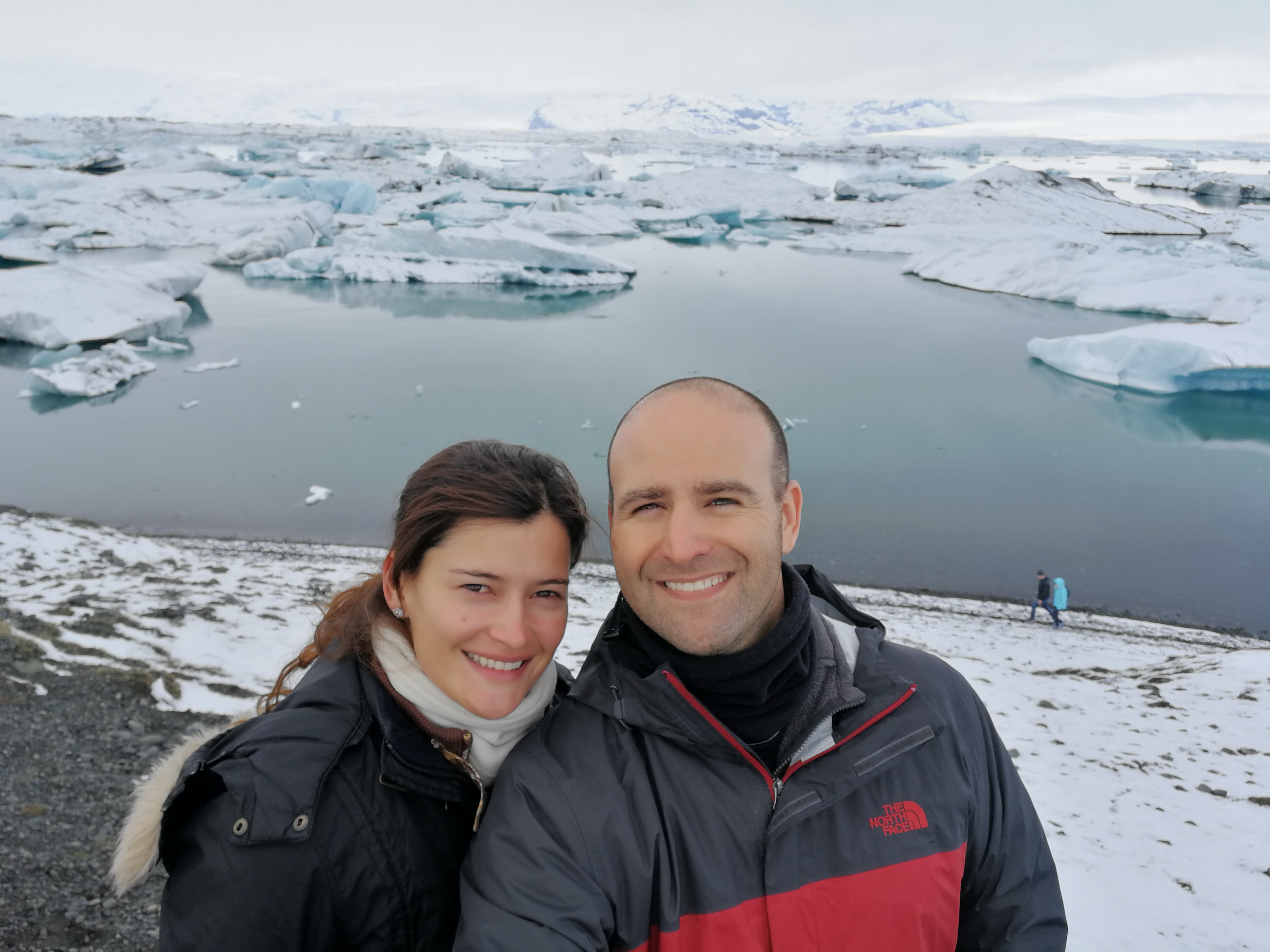 From there, he drove to Vatnajökull Glacier where we contracted a ice climbing tour by Troll Expeditions.
Regardless of your fitness level, I HIGHLY recommend you do this.  It cost us about US$150 per person for 4 hours on the ice in total.  We found it to be relatively reasonably priced.  The experience was incredible and this should definitely be on your list of things to do when you visit Iceland.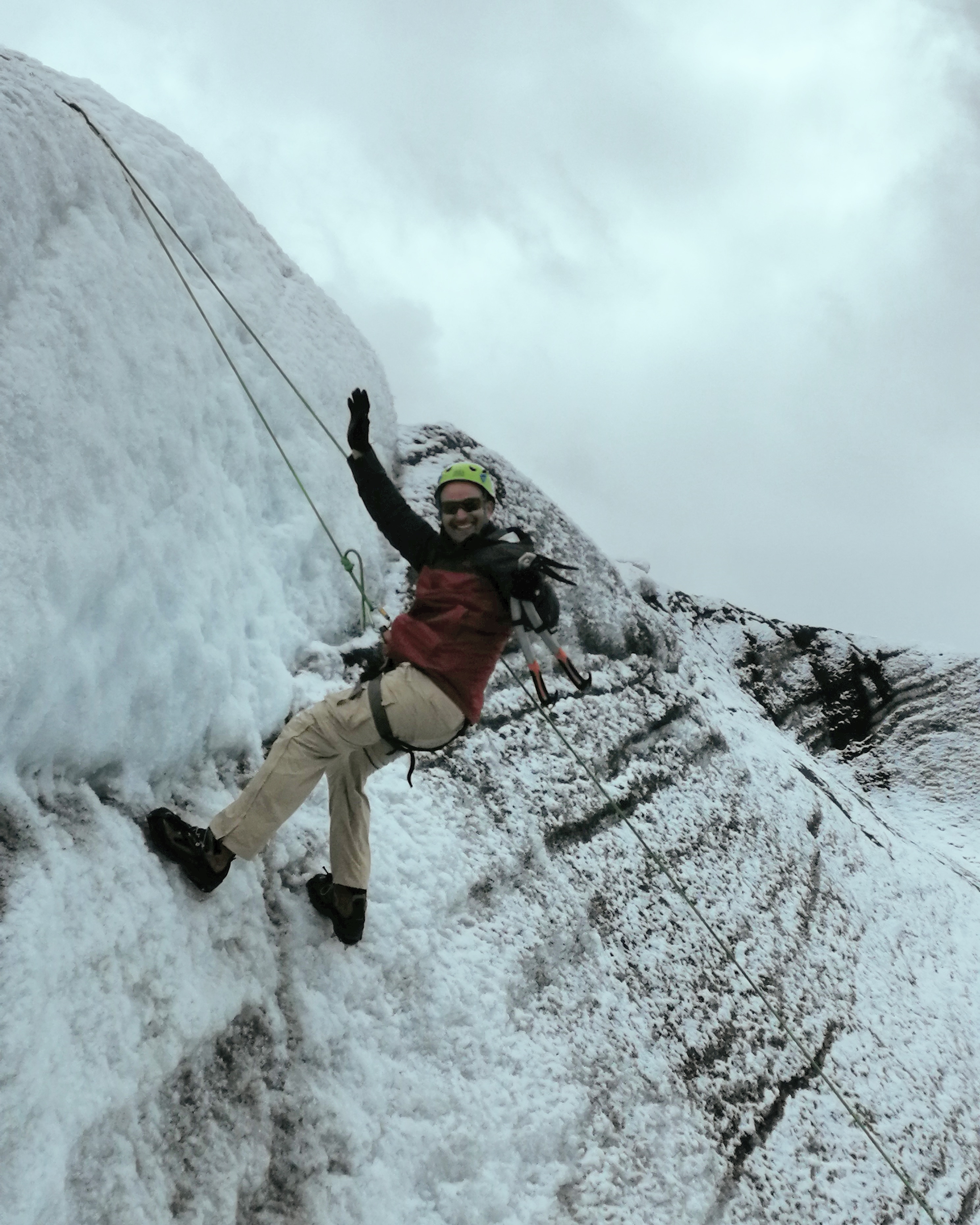 The drive west is a spectacular drive, with glaciers on your right, and black beaches and ocean to your left.  We love glaciers, so any chance we had to stop and take a photo near one, we did.
Unfortunately, the road to Fjaðrárgljúfur was closed.  If weather permits it, make sure not to skip this hike.  It seems amazing! We spent the night in Vik.
Day 8
This was a very relaxed day, with the only highlight being our visit to Skogafoss, which is another one of Iceland´s landmark waterfalls.  There is a pleasant, easy walk above the waterfall (if you are brave enough to climb the 300+ stairs).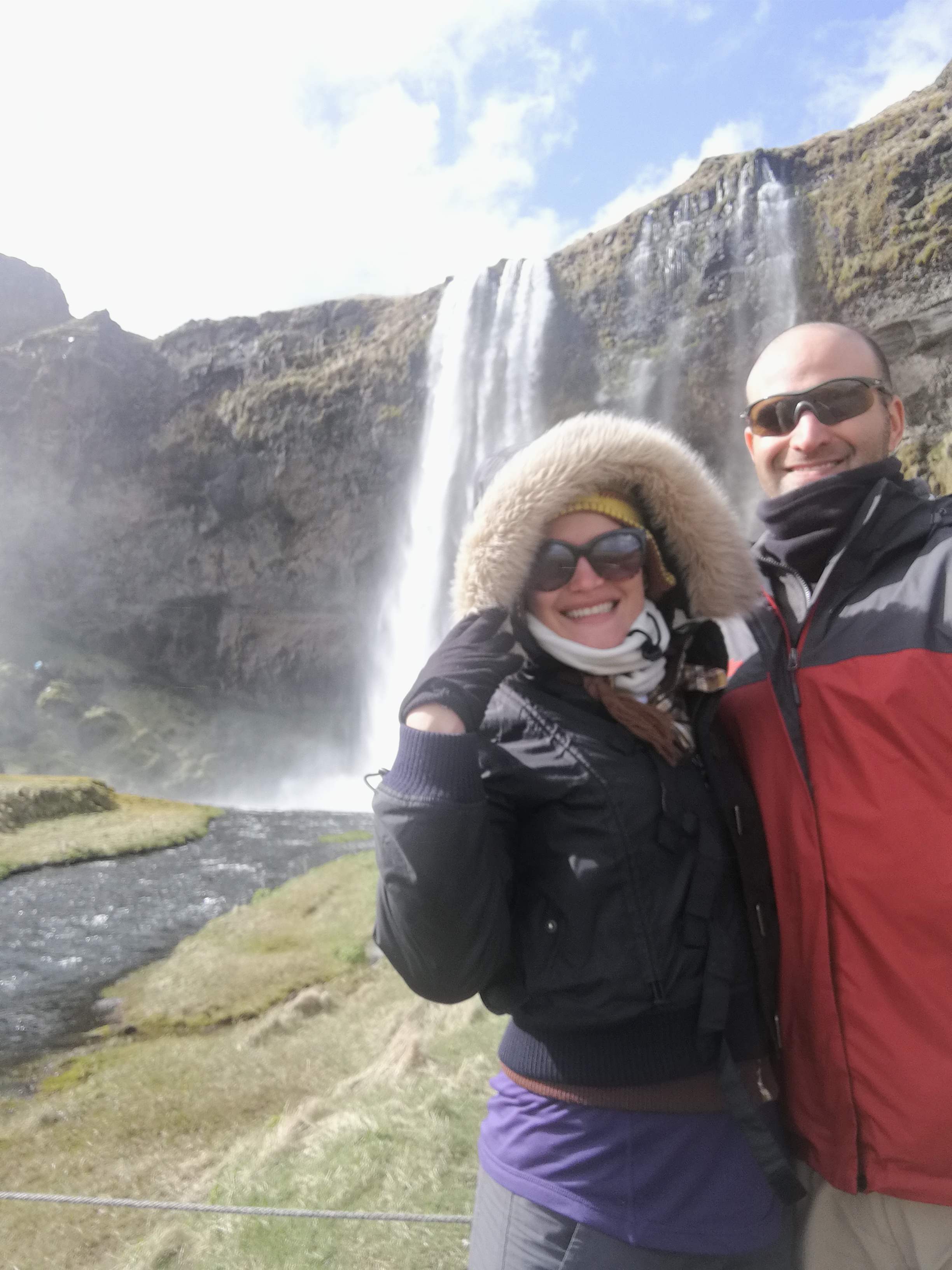 East of Skogafoss, behind the cultural center, there is a 15 minute easy walk to Kvernufoss waterfall.  For us, this was an incredible experience, mainly because there was NO ONE there!  One of the cool things about Kvernufoss is that you can walk behind the waterfall itself.  Don´t skip this waterfall, I promise you will love it.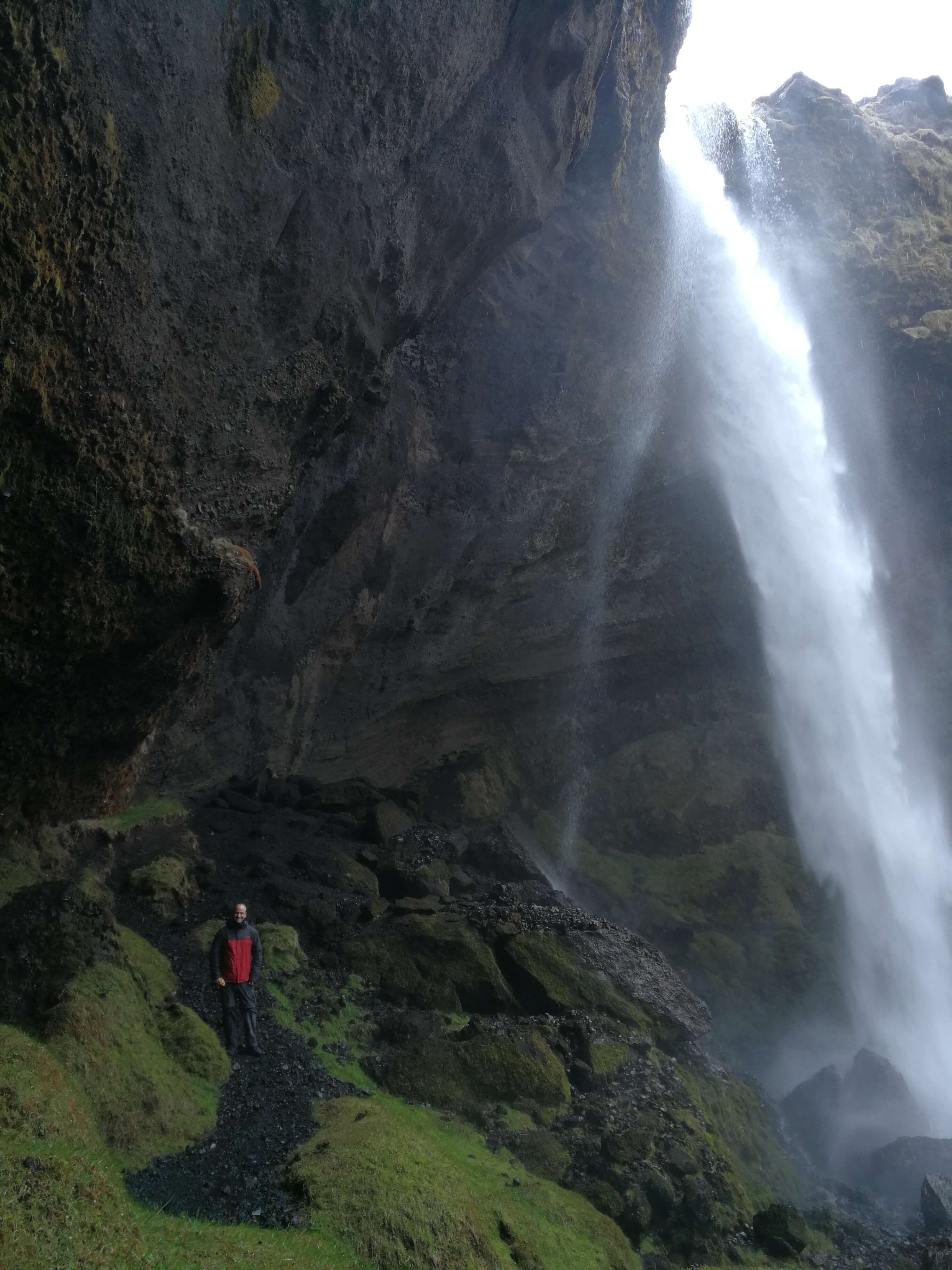 After lunch (you guessed it, tuna and refried bean sandwich with avocado), we headed towards Seljavallalaug.  Since the water wasn´t that warm, we decided not to go in.  However, there is a really nice hike if you go past the pool itself.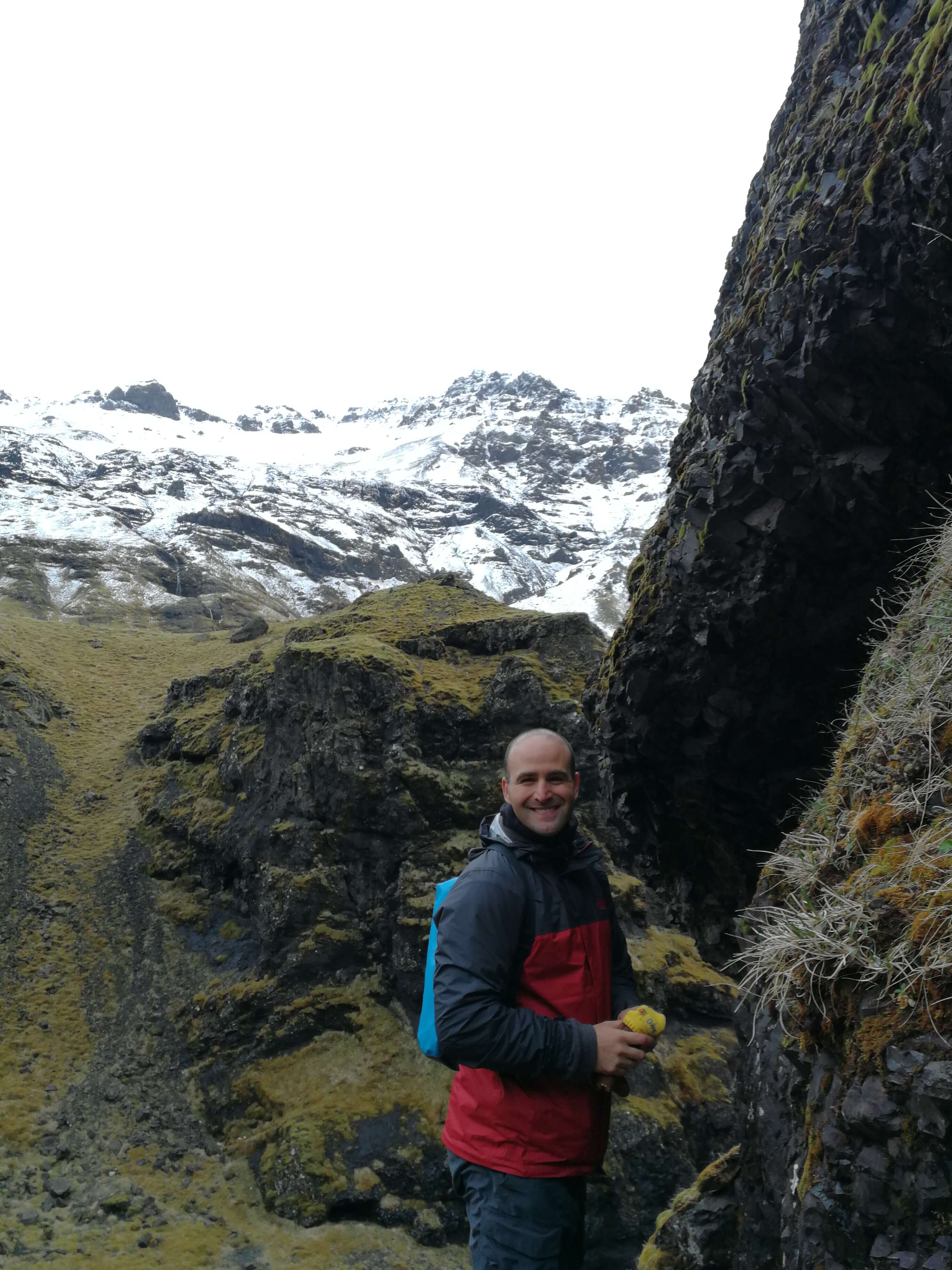 After that, we just called it a day and spent the night near Seljalandsfoss.
Day 9 and Day 10
After 8 days of a lot of driving, we decided to take it easy and relax.  On day 9, all we did was visit Seljalandsfoss which was stunning (I discovered I really enjoy waterfalls you can walk behind).  About 300mts from Seljalandsfoss is Gljúfrafoss, which if you don´t mind getting drenched, can be a very cool experience.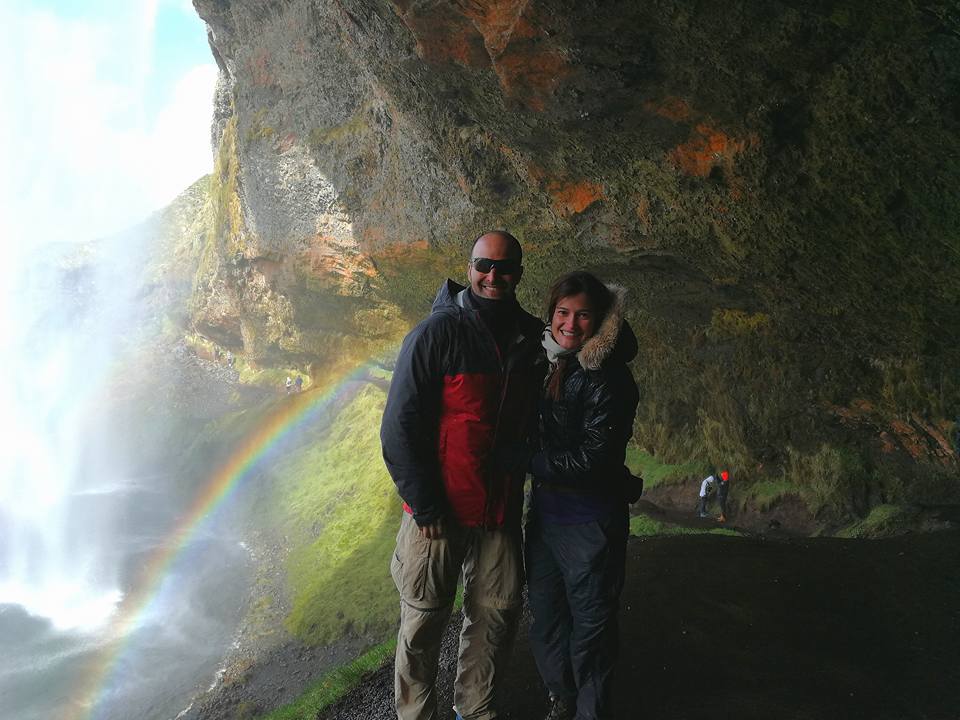 Day 11
Unfortunately, weather wasn´t good this day.  We planned 6 stops off road 26 and road 32, however a few of these places did not have viable access to them that day. We stopped briefly at Þjófafoss and Hjalparfoss, but unfortunately missed out on Gjain and Haifoss.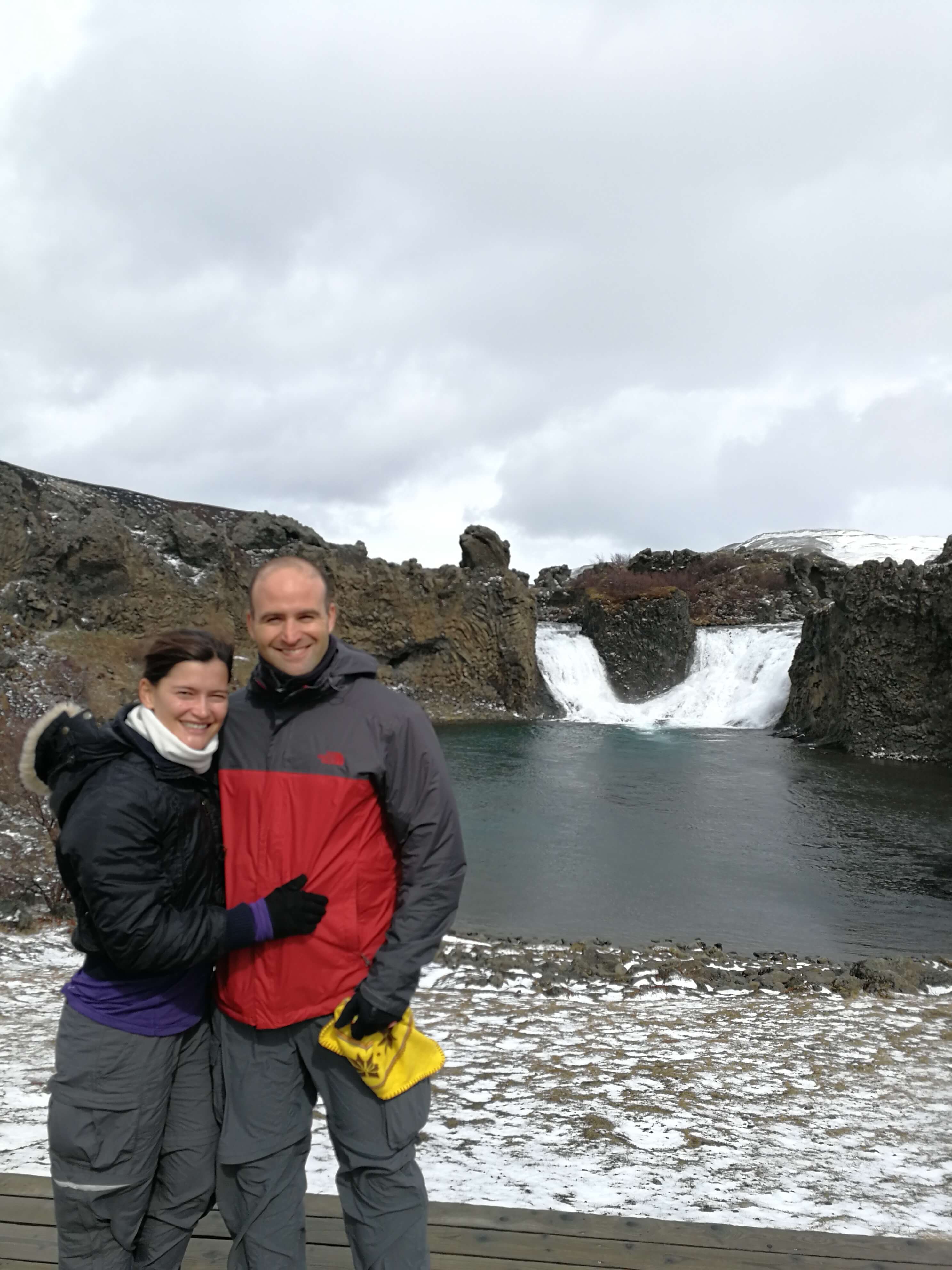 Quite disappointed that the weather gods messed up our day, we arrived early to Fludir and spent the night.
Day 12
Staying in the area of the Golden Circle, we had a mellow day where we hiked for about 1 hour to see Bruarfoss Waterfall.  One a clear, dry day, this is a gorgeous waterfall with a bright turquoise color.  Unfortunately, we had crappy weather that day, but it was still worth the hike (and getting wet).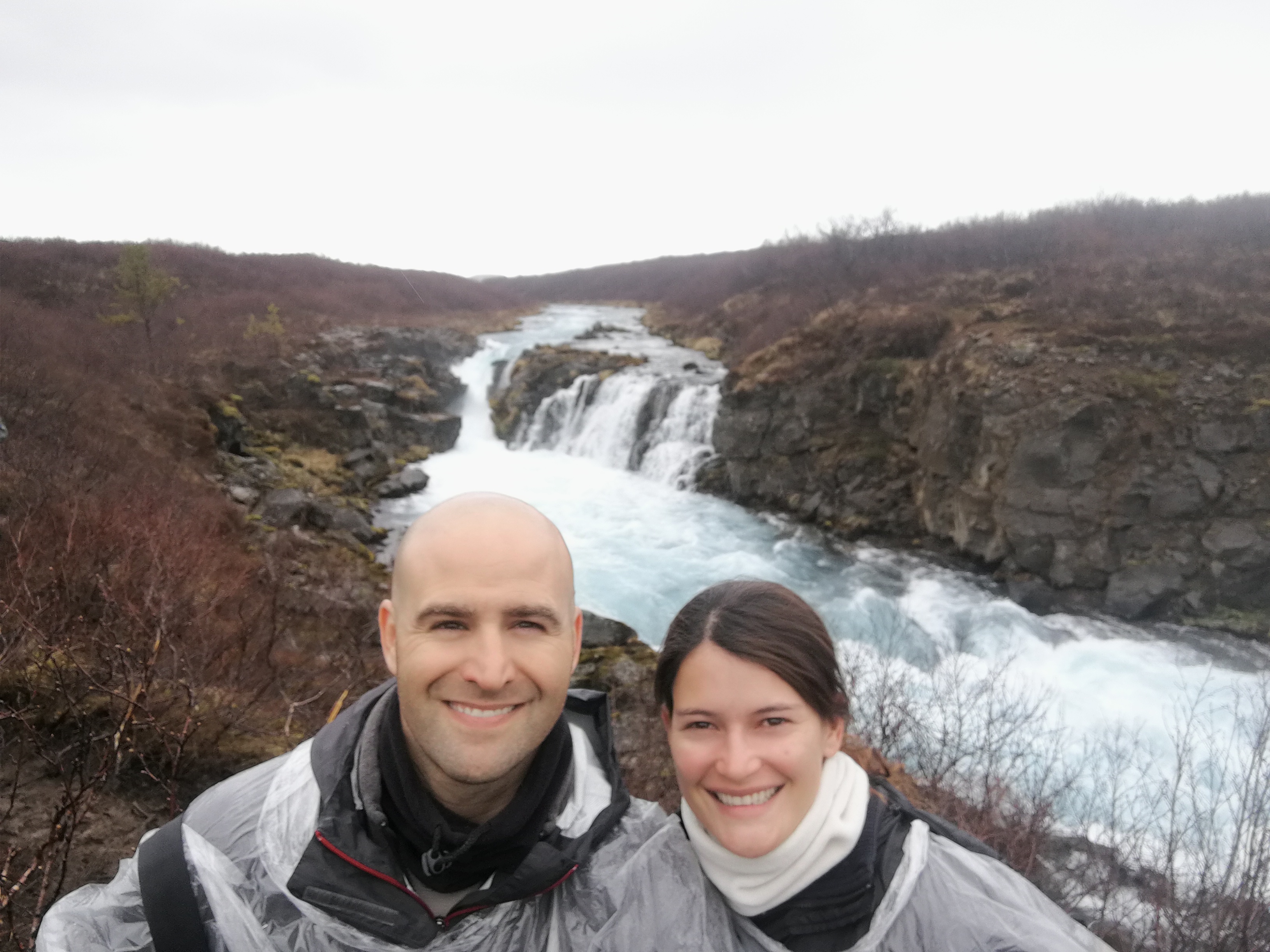 From there we continued to Geysir and Stokkur, which we enjoyed so much we stayed almost an hour to watch multiple eruptions.
Day 13
This day included one of the most fun activities we did on our visit to Iceland.  Since we saved so much money on food, we decided to treat ourselves to a snowmobile + ice cave tour on Langjökull glacier.  Thus, we started our day visiting another landmark waterfall, Gullfoss and then were picked up in the parking lot by the tour guide.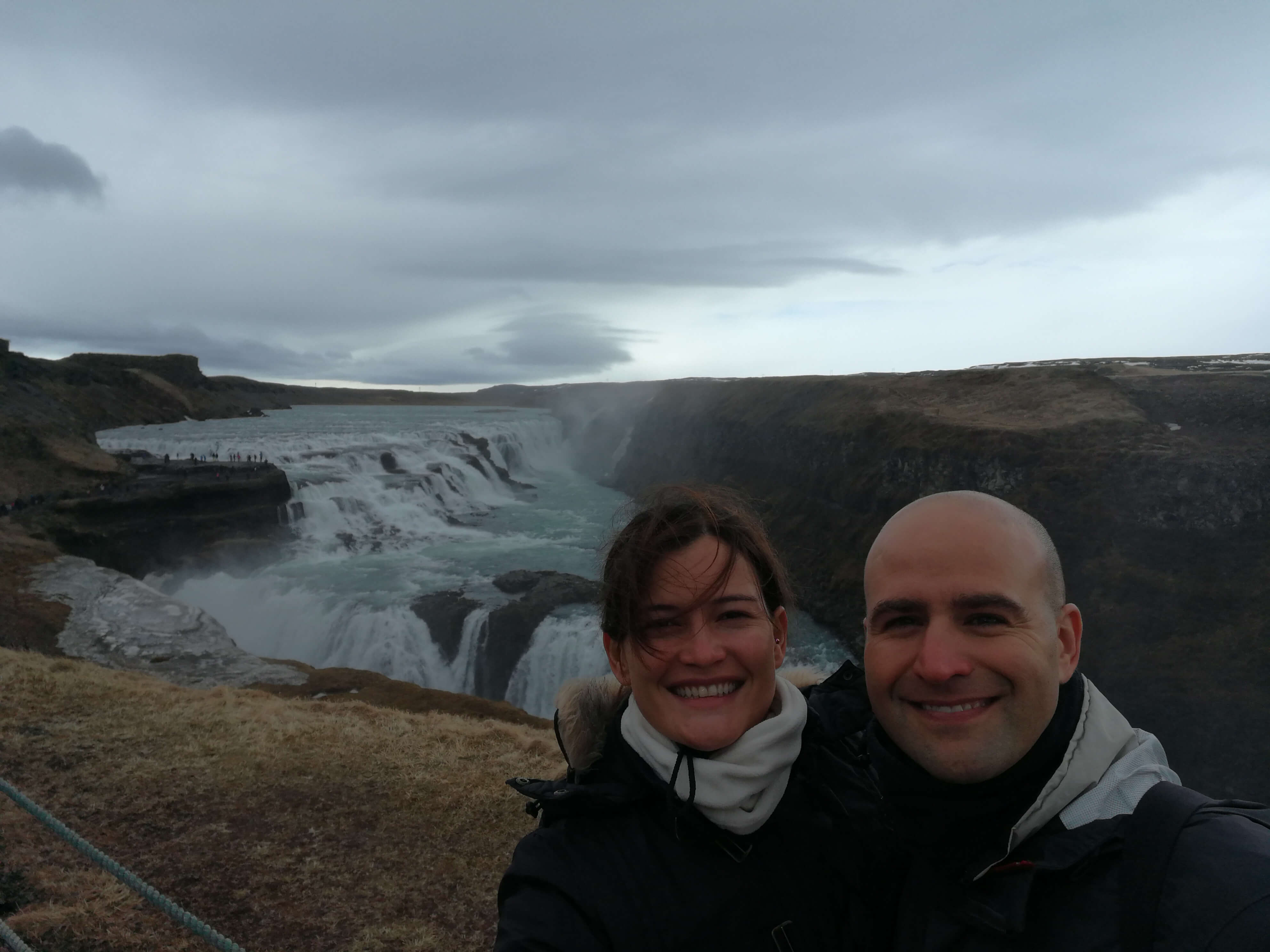 Our snowmobile and ice cave tour was a 4 hour unforgettable experience.  It starts off with a 45 minute ride on a massive snow truck which takes you to the base camp on the glacier.  Once you get suited up, you receive a snowmobile (1 per couple) and ride at about 45km/h for about 30 minutes to the site of the ice cave.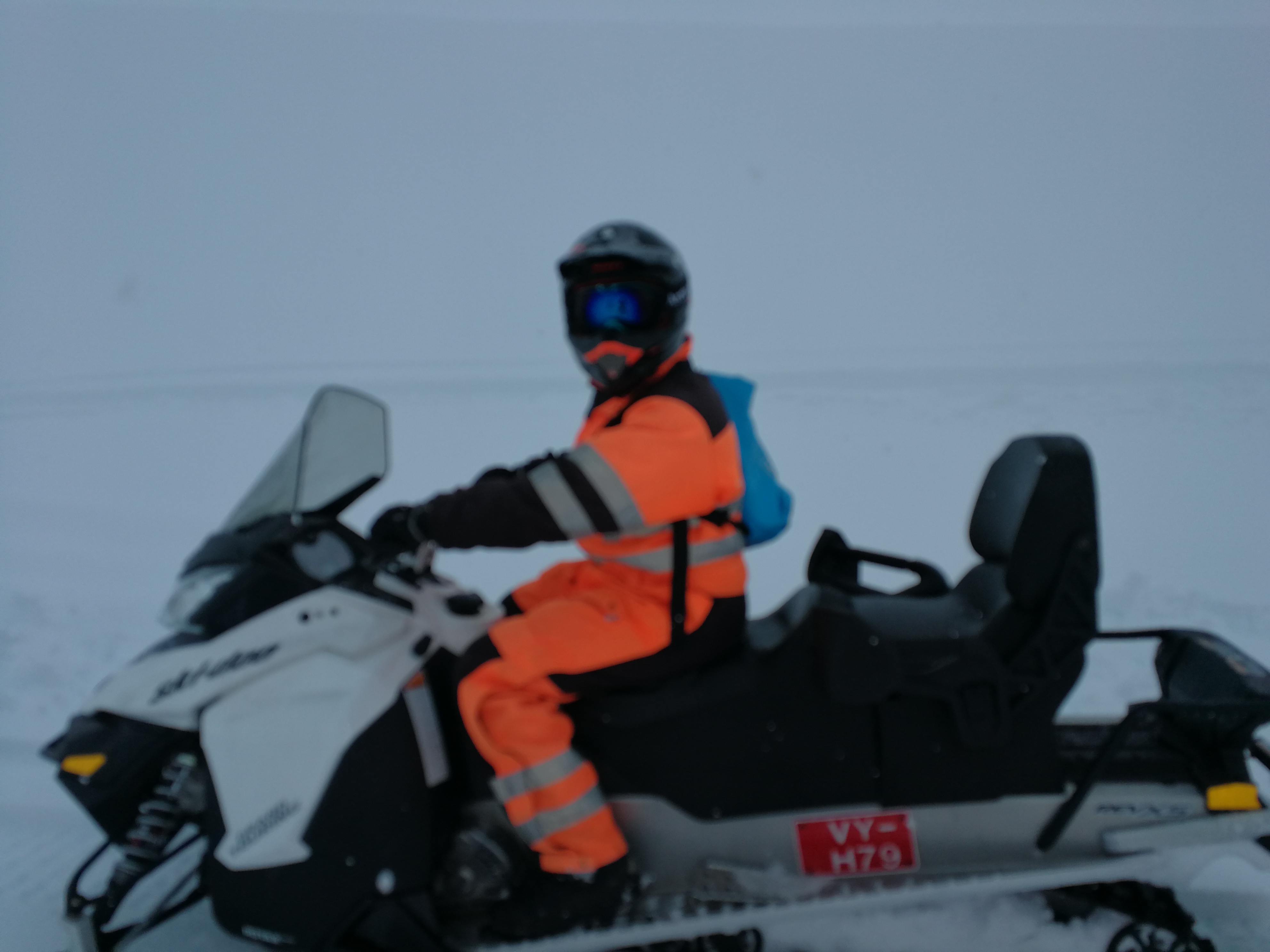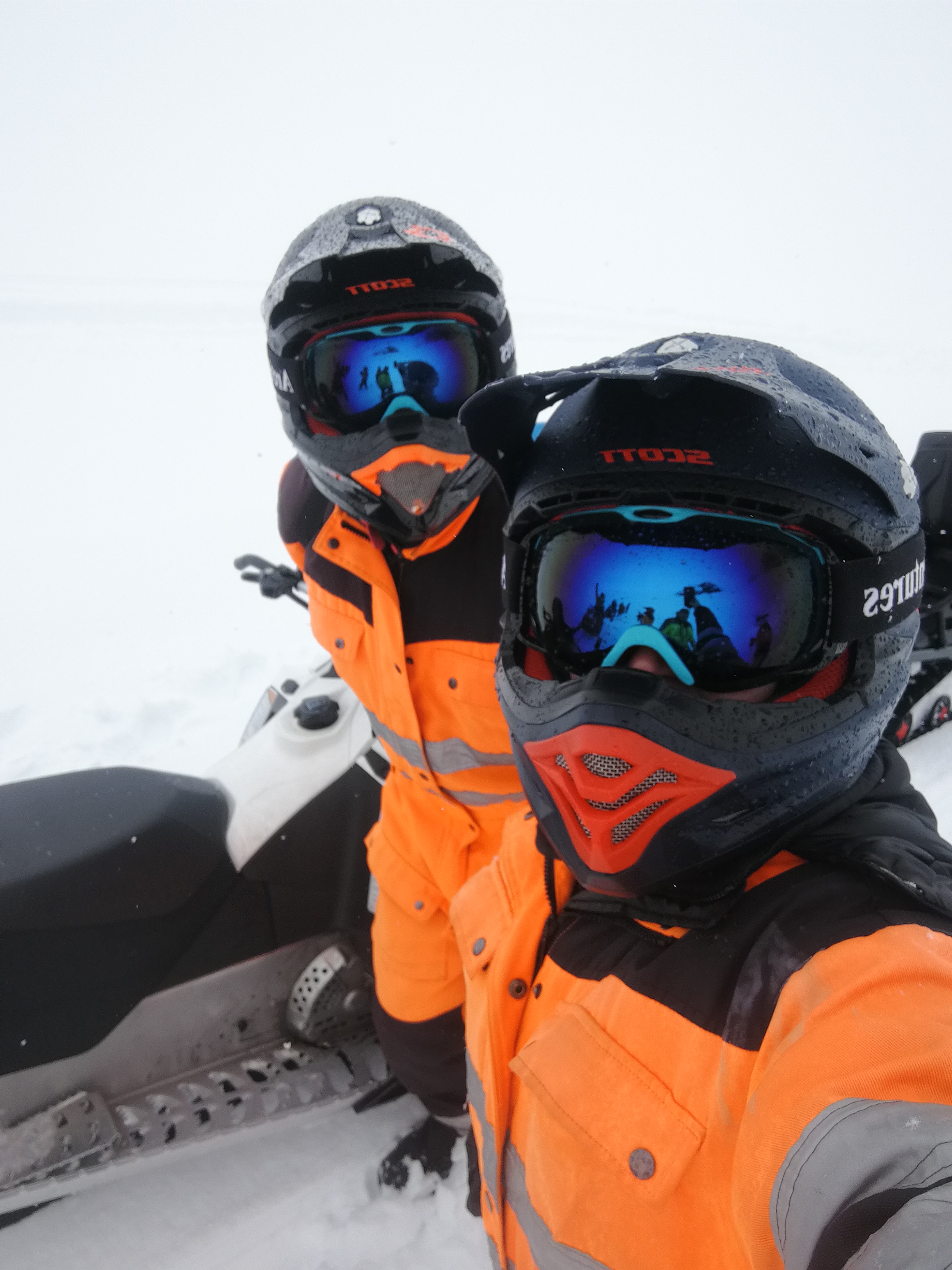 The snow caves are seasonal and change location every year. It depends on where they actually find them.  But basically, you are walking beneath the glacier.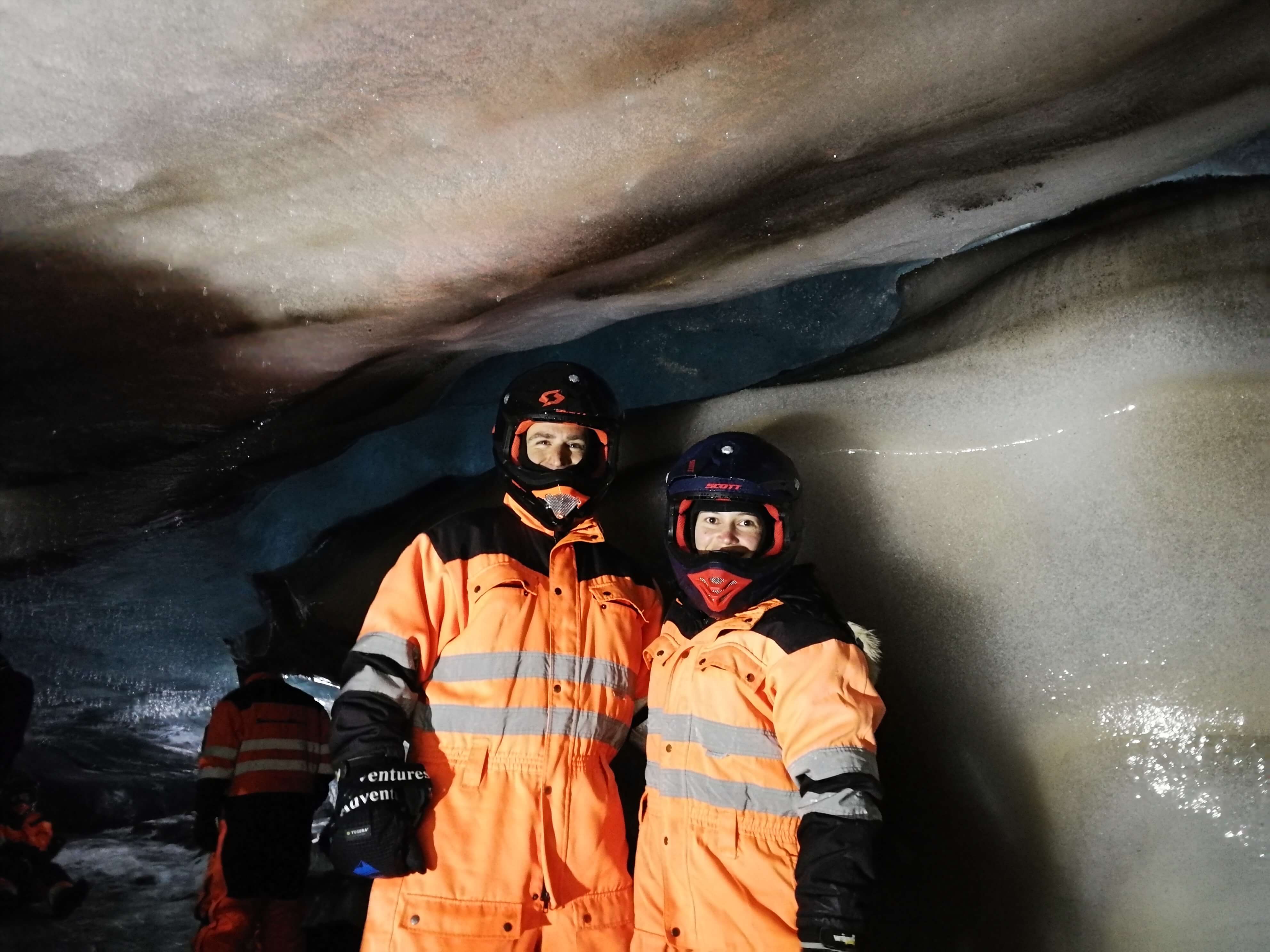 After the ice cave visit, we rode back to base camp, had some delicious hot coffee and cookies and rode back to the Gullfoss parking lot. We spent the night in the area.
Day 14
We got an early start that day to walk around Thingvellir National Park prior to our snorkeling tour of Silfra.  Silfra is the only place on earth that you can snorkel or scuba dive between 2 tectonic plates!  The water is around 2 degrees celcius, thus, all activities are done in drysuites.  It is a short swim of about 20 minutes (it took longer to dress up), but well worth it.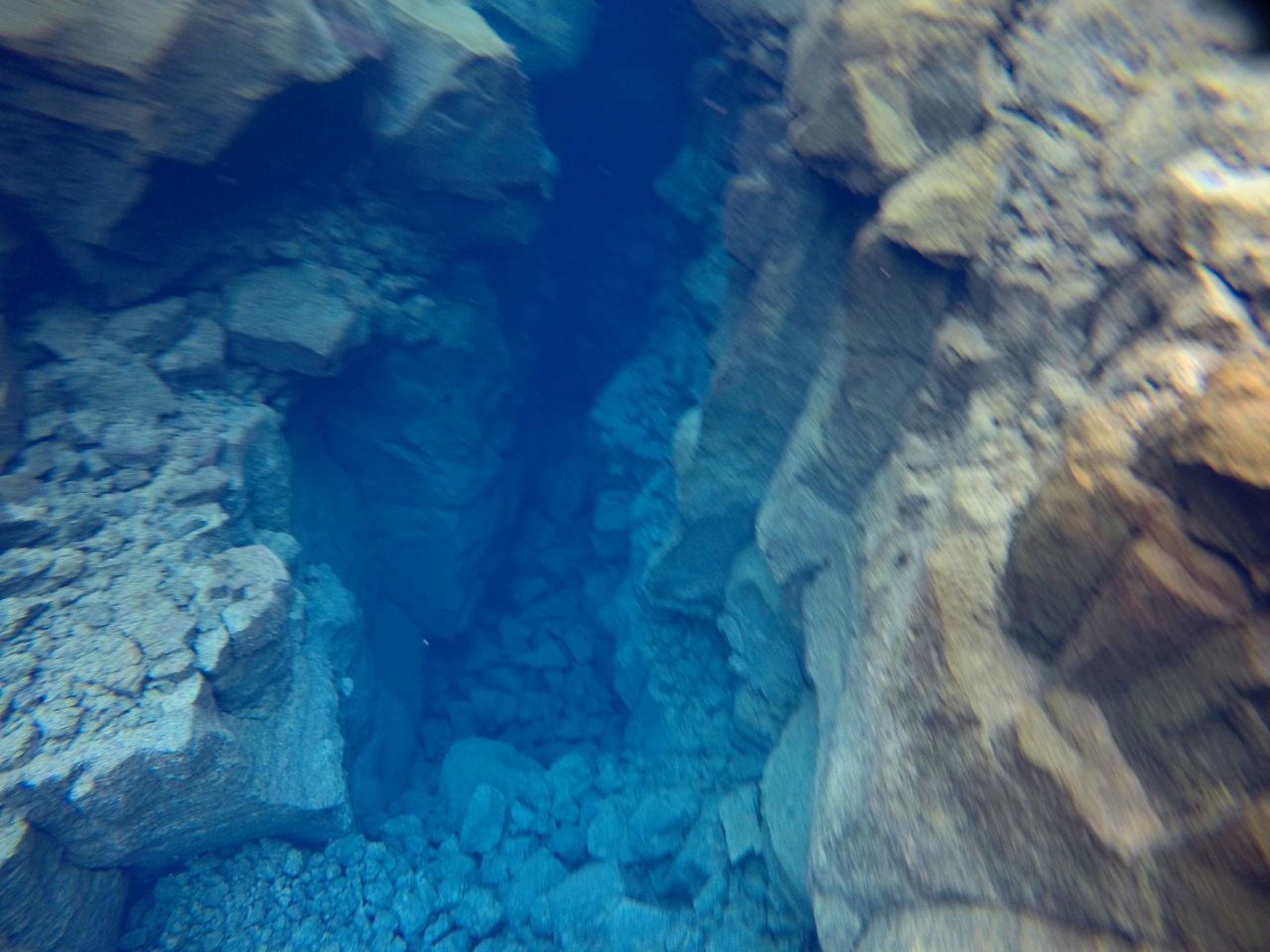 We finished up around 3pm, and drove towards Reykjavik.  Since we had sunlight till late, we went walking around the city a bit and wrapped up an amazing 14 days in Iceland (as our flight left early the next morning).
Our visit to Iceland was magical.  The scenery and landscape of Iceland is like no other. If you are a nature lover or adventure lover, I highly recommend you visit Iceland.  Research more about the seasons so that you can choose which season is right for your type of travel.  Yes, Iceland is expensive, but I promise that once you complete your visit, you won´t care how much it cost you.
Now that you are excited and have decided to visit Iceland soon, here are some articles that will help you lower the costs of getting there and accommodation costs while there.
Safe travels!