One of the biggest barriers to travel is cost and one of the most expensive parts of travel is flying. Those of you who try to save money on flights know that booking online tends to be cheaper than booking through a travel agent.  However, booking online requires time and knowledge of how and where to search/book in order to truly save money on flights.  Then, there is the hassle-free option of letting a travel agent book for you. Very convenient, but usually more expensive. But what if I told you that there are 2 cheap and convenient options even for those of you who are lazy (but still interested to save money on flights)? You would probably be more inclined to take that Caribbean vacation you've been planning for so long.
2 Tools That Save Money on Flights
Well, luckily for you, flying has recently gotten much more affordable thanks to Flystein and Scotts Cheap Flights.

Flystein is a "human-powered flight search" that tracks down the lowest fare flights for you. I see it as a hybrid solution of having the convenience of a travel agent, while obtaining the best online prices. It has two options: Build My Trip and Beat My Price.
If you choose "Beat My Price", then you can have Flystein find you a cheaper flight than the one you already found (found, not booked). If you choose this option, Flystein will assign you a personal travel expert who will update you when he/she finds a better flight deal after you fill out some information about the flight you already found and about your trip in general.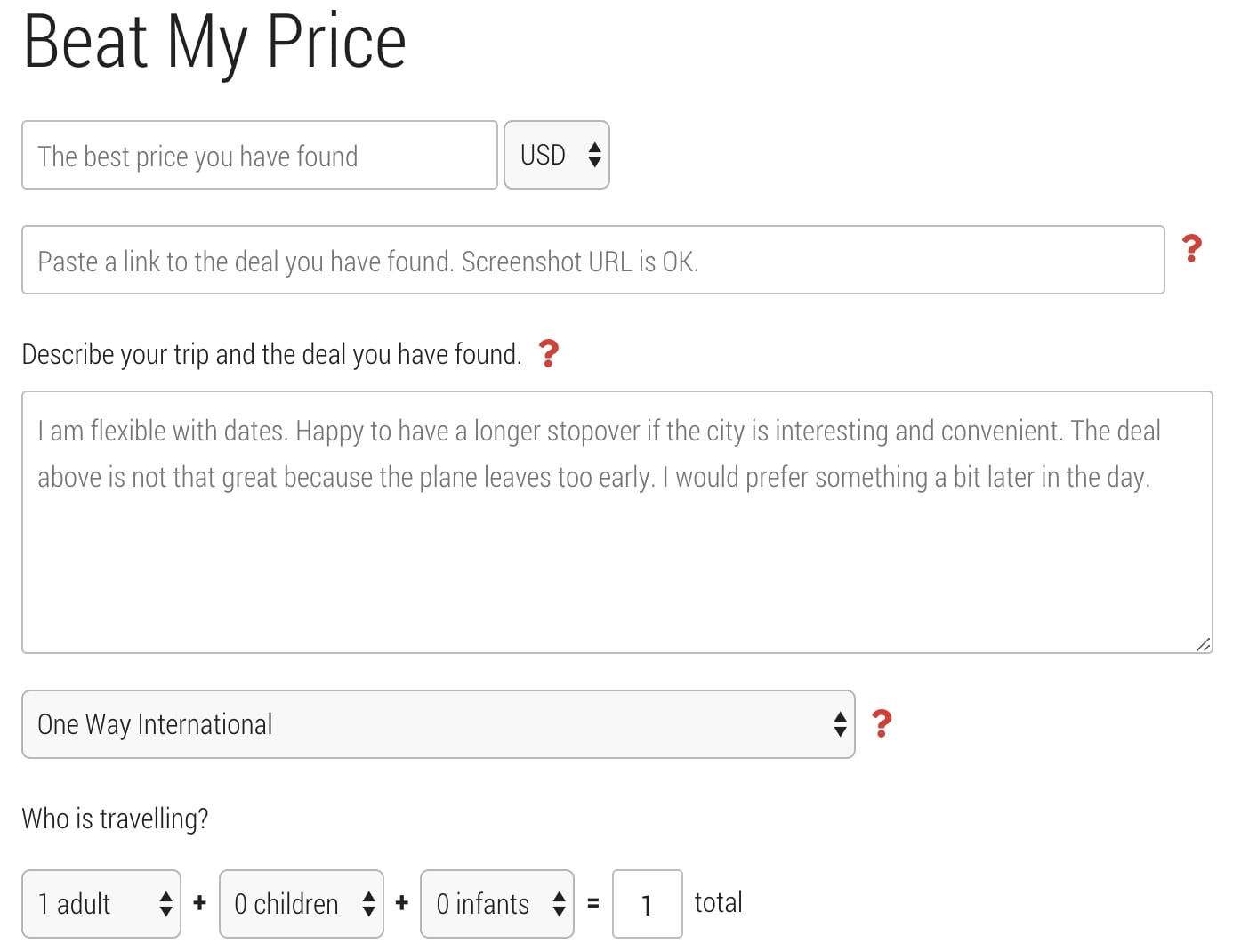 The US$49 fee (for most trips) you have to pay for the service is totally worth it if your flight is above the US$600 range. Most of the time the savings will be much larger so it will definitely payoff. Plus, Flystein will not charge your credit card unless the Flight Expert finds you a flight that is significantly cheaper and is greater than the $49 fee. There really is nothing to lose by using this service.
OR, you can have Flystein find you a cheap flight without having to do any of your own research by choosing the "Build my Trip" option. For a fee starting at US$49 for a round trip, Flystein will assign you a travel expert who will find you the best flight deals. As you can see from the picture below, the only thing you need to do is enter in your travel information and preferences.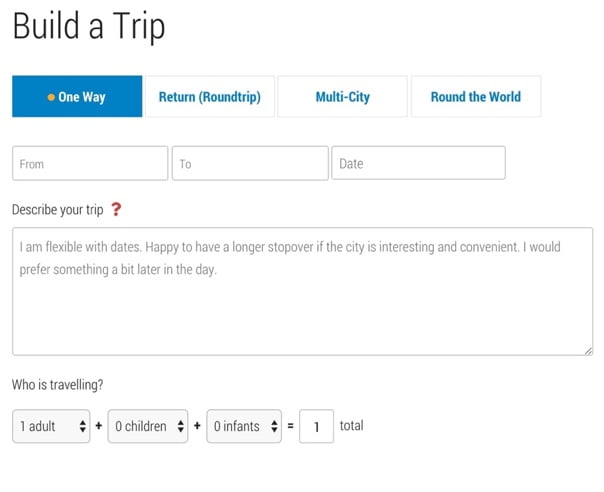 Be sure to tell Flystein about any airline loyalty programs you are part of and any miles that you want to use beforehand.
If you are not sure which option to choose, Flystein recommends using "Beat My Trip" for straightforward itineraries and "Build My Trip" for more complex ones.
Regardless of the option you choose, you are responsible for booking your own flights. Flystein will send you the best flight deal and website to book it on, but the rest of the process is your responsibility.  The Flight Experts will get in touch with you about four hours after you send in your request. So, be sure to be prepared because Flystein cannot predict how long the new fare will be available for. Flystein is a simple, hassle-free, risk-free tool that will allow you to save money on flights.

Scott's Cheap Flights takes advantage of the fact that airlines make mistakes and sometimes suddenly offer great deals will will save you money on flights. After you sign up by entering your email, Scott's Cheap Flights will begin to email you whenever one of these special deals becomes available. The email will tell you how to book in order to get the deal they found. Here is an example of some of the flight deals Scott's Cheap Flights has found recently.

What´s great about Scott´s service is that you can personalize the offers you receive based on your country/region of preference: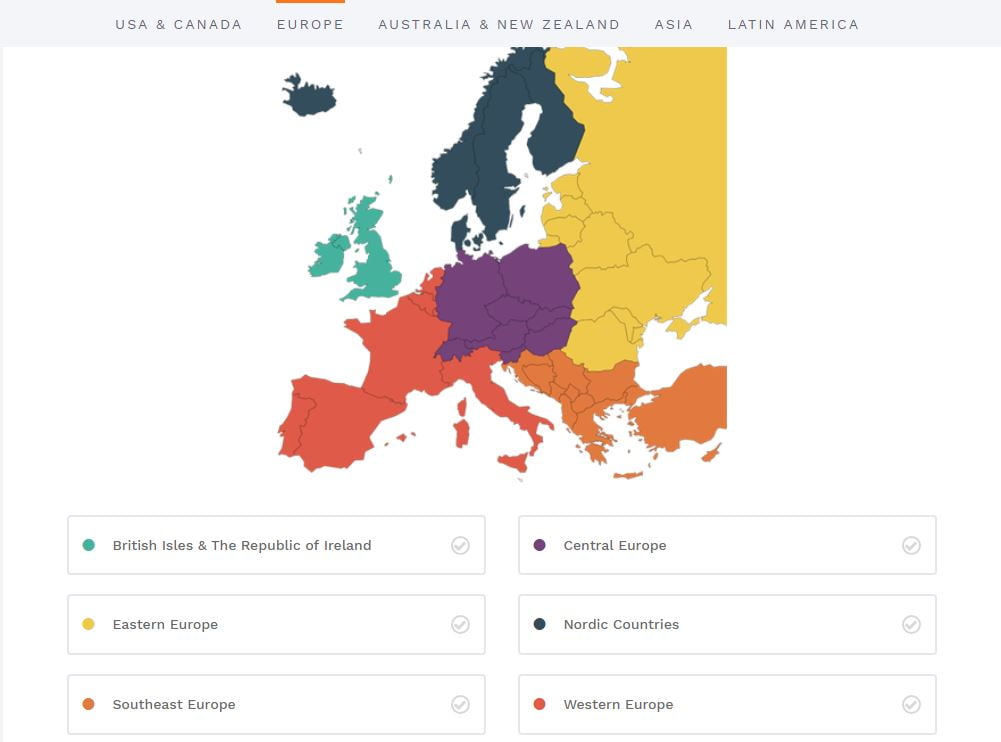 When you sign up, you can either choose to be a free member or a premium member. Premium members have to pay US$39/year but get a lot more benefits. These benefits include:
3x the amount of deals than a free member
Alerts for all mistake fares (sometimes even up to 90% off original price)
Deals ONLY from your favorite airport (otherwise you hear about all deals from the region you live in)
Priority access to the flight deals
Right now, Scott's Cheap Flights sends deals from the US, Canada, Australia, New Zealand, Europe, the UK, Asia, the Middle East, Latin America, the Caribbean, and Brazil for flights that are about 2-8 months in the future. Most of these deals are for international flights, but they might start sending out more domestic flights in the future. You can't specify where or when you want to travel, but this isn't a huge problem. Since Scott's Cheap Flights sends you so many deals that are available for a variety of dates, you will most likely be able to go on your on dream vacation.
The flight deals are not available for too long because most of them come from mistakes made my airlines, so be sure to actively check your emails and book immediately.
You really have nothing to lose by using either of these services as both of them offer full refunds if you're not satisified by what they offer.
Now that you learned how to save money on flights, it´s time to save money on your hotels.  With flights, there are error fares, and with hotels, there are (steep) price drops that occur after you book.  Hell, even Fox News wrote a whole article about how to save money on hotels by sending 1 email  .
Good travels!