If you're planning a trip to Tennessee's Great Smoky Mountains, you have good taste. These mountains have a lot to offer, from scenic views to cozy lodgings. But if it's your first time visiting, you'll need a comprehensive guide to know when to go, where to stay, what to see, and so on.
Luckily, we've got exactly what you need. A spontaneous trip to the Smoky Mountains can be super fun, but the best way to experience this place is by knowing exactly what to do, see, and eat. Keep reading for a complete and helpful guide for the perfect trip to the Smoky Mountains.
1. When to Go
The Smoky Mountains are always beautiful, but certain seasons bring out the best in this national park. It all depends on what you're hoping to see when you arrive. If you're in for a burst of vibrant colors in the form of wildflowers, we definitely recommend visiting in the spring. But the summertime is when the hiking trails are most accessible, and wildlife sightings are most common, making it the perfect season for outdoor enthusiasts. Wintertime in the Smoky Mountains is serene and quiet since most hiking trails are closed. Fall is the best time to visit, with red, orange, and gold foliage on the mountains for a photographer's paradise.
2. Where to Stay
The Smoky Mountains are home to diverse and beautiful lodgings, and most of them are surprisingly affordable! From luxury hotels to cozy Smoky Mountains chalets, there are lodgings for every type of traveler. You can also explore nearby cities like Gatlinburg, Pigeon Forge, and Townsend, where you'll find even more hotels and Airbnb rentals. To secure your ideal stay, book early, especially during peak seasons. We also recommend checking their websites for availability and guest reviews to get tons of insights into what to expect during your stay. Wherever you'll stay, you'll have wonderful views of the Smoky Mountains national park.
3. What to See
The Smoky Mountains have a plethora of iconic landmarks and scenic viewpoints. If you're ready to get awestruck, let us tell you exactly what you need to see in this national park. First, you can't miss Clingmans Dome, the highest peak in the park, for panoramic vistas. We also recommend Cades Cove for historic cabins and wildlife sightings. Hiking enthusiasts will enjoy the endless number of trails in this park, including Laurel Falls, Alum Cave Trail, and Mount LeConte. If you want to see waterfalls, then Abrams Falls, Rainbow Falls, and Clingmans Dome Observation Tower are just a few popular options.
4. How to Stay Safe
As a place of nature, the Smoky Mountains can also be pretty dangerous at times. You'll have to remember that, especially when exploring the many hiking trails in this national park. Don't forget to plan your routes, check weather forecasts, and inform someone about your itinerary. You must also carry essential supplies like water, snacks, a first aid kit, and navigation tools. To avoid overheating, dress appropriately for the weather and wear sturdy footwear while exploring the trails.
5. What to Pack
If this is your first time visiting a national park, you may be blanking on what to pack for such a trip. Luckily, we've got your back. First and foremost, you need to pack for the weather, which means lightweight and moisture-wicking clothing for warmer days, along with a sturdy pair of hiking boots or shoes. A few essentials to pack include a well-fitted backpack, a reliable map or GPS device, and a fully charged cell phone. You'll also need energy-rich snacks, a reusable bottle, a flashlight, a first-aid kit, and a lighter. Trips and falls are inevitable, so keep antiseptic wipes too.
6. What to Eat
The Smoky Mountains are more than just scenic views. It's a place packed with rich culture, delicious foods, and fun-filled eateries. The surrounding towns, including Gatlinburg and Pigeon Forge, are known for their comforting Southern cuisine. You can't leave your trip without trying out some delicious fried chicken! But if you want to savor your own packed lunch, you can even have a pick near the mountains in Cades Cove and Chimneys Picnic Area. Of course, you can't feed the wildlife, so pack your food in bear-proof containers and never leave it unattended.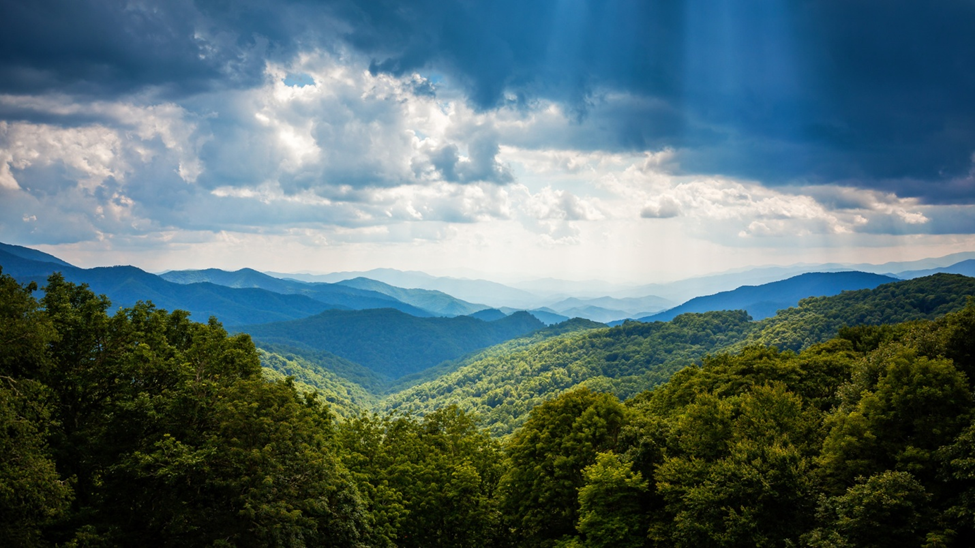 7.    How to Make it Family-Friendly
The Smoky Mountains make for a great adult-only trip, but it's also great for children. If you're looking for a family-friendly vacation destination, you've picked the right spot. The park offers captivating educational opportunities. You can visit the Sugarlands Visitor Center for interactive exhibits and ranger-led programs or stargaze at the International Dark Sky Park. If you want to take your kids on short and achievable hikes, we recommend Laurel Falls and Grotto Falls.
8.    What to Capture
The Smoky Mountains are a photographer's paradise. If you're visiting in the fall, the multi-colored foliage on the peaks will take your breath away, making for the perfect shot. Even the trails are beautiful, accompanied by breathtaking waterfalls and other scenic views. Golden hour is the ideal time to capture the orange-yellow sunset alongside the mighty peaks of the national park. When photographing wildlife, make sure to use a telephoto lens to maintain a safe distance and get the best shot. For landscapes, use a wide-angle lens to encompass the vastness of the scenery.
9.    How to Keep it Eco-Friendly
Last but most importantly, you'll need to respect the park and its wildlife. Sustainable tourism is vital for preserving the pristine beauty of national parks like The Smoky Mountains. To minimize environmental impact during your trip, make sure to adhere to Leave No Trace principles. That means properly disposing of waste and using designated restrooms. Stay on marked trails to avoid disturbing wildlife and plants.
Conclusion
The Smoky Mountains offer a slice of paradise for travelers seeking outdoor pursuits and cozy cabins. With this guide in hand, you can confidently plan a trip that caters to your interests. You deserve to have the most memorable trip to this beautiful national park! By knowing the best times to visit, where to stay, and which restaurants to try out, you'll be able to curate the ideal experience at the Smoky Mountains.