425.  That was the amount of Online Travel Agencies (OTAs) enlisted in 2014. We can assume that now in 2018, that number is higher.  On average, a consumer will visit 4.4 websites before making their purchase, mainly seeking the best price available.  The problem is, the vast majority of those websites offer exactly the same features.  In the past, I wrote about Skyscanner and their unique features. Today, I would like to teach you how to use my other favorite website for booking cheap flights, Kiwi.com.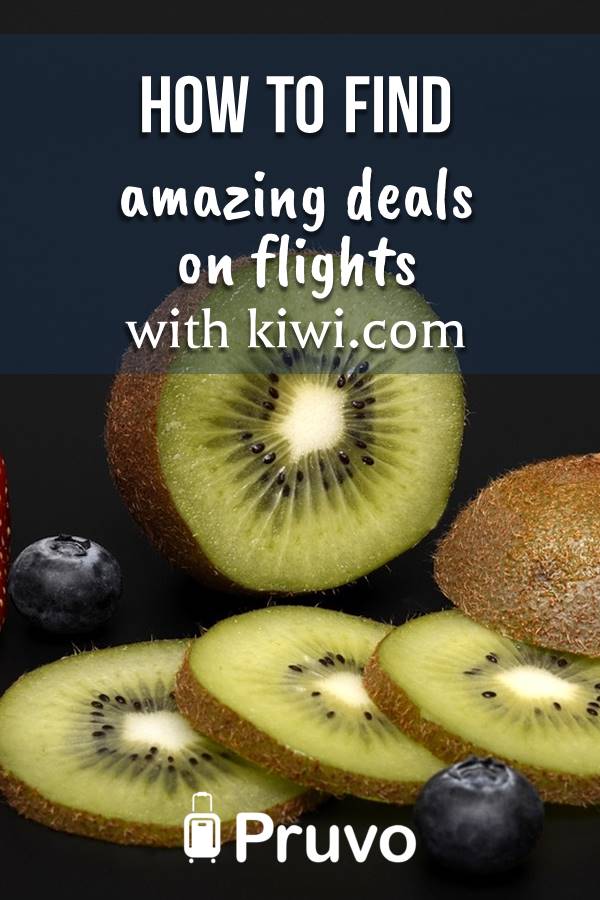 Kiwi.com (prior to 2016 was named Skypicker), offers a variety of unique features that help you find amazing deals on flights.  The majority of these features are not available on other websites besides Kiwi.com.  Here is a list of the unique features Kiwi.com offers:
Search Low Cost airlines.
Kiwi.com Guarantee for flights with connections.
Search by date range (not just +/- 3 days like most websites).
Search flights based on duration of stay (0-31 nights).
Combining flights with airlines from different alliances (though a few other websites started recently to do this as well).
Multiple Origins and Multiple Destinations (very different than multi city).
Interactive Map which allows to search for origins/destinations within certain radius.
Destination = Anywhere (just like Skyscanner´s Everywhere feature).
Just like any travel related expense, these features will work to their best depending on how flexible you are. Let´s evaluate each feature separately and learn how it works.
Kiwi.com Searches Low Cost Airline Deals
Nowadays, everyone is aware of the low cost airlines, which have revolutionized the industry.  Norwegian Airlines, Ryanair, Easyjet, AirAsia and Wow Air, to name a few, have allowed (basic) airfare to cost some times less than a train ticket.  Since these airlines operate on small margins, they usually do not appear (or only a few appear) on the major websites that compare flights. I am not sure why that is, but I am guessing because they do not offer a commission to these flight comparison websites, then there is no interest to show flights on those websites.  However, Kiwi.com does showcase these options upon doing a flight search.  This, of course, can save you a significant amount of money on your flights.  Just make sure to always read the baggage policy of the featured airline.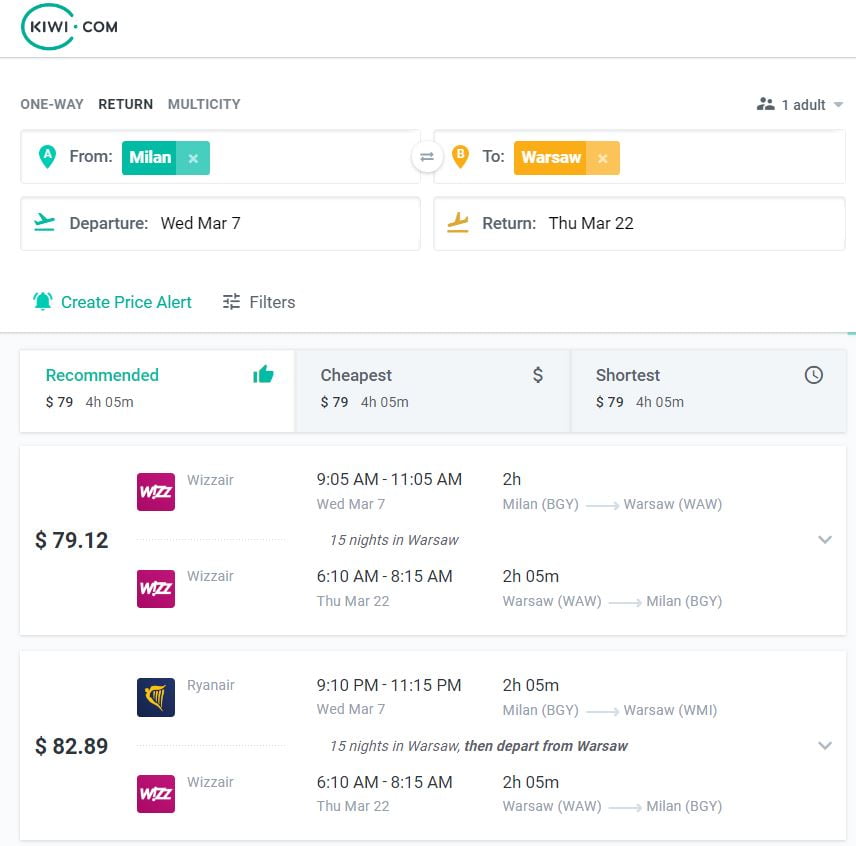 Kiwi.com Guarantee
When flying long distance, you may need to connect between two flights from two different airlines.  However, what happens if your first flight is late or cancelled and you miss your connecting flight?  Kiwi.com has you covered with their policy "Kiwi.com Guarantee". This policy (no extra charge!) will cover you in case of flight delays, cancellations or schedule changes, even if you purchased two separate tickets with two separate airlines.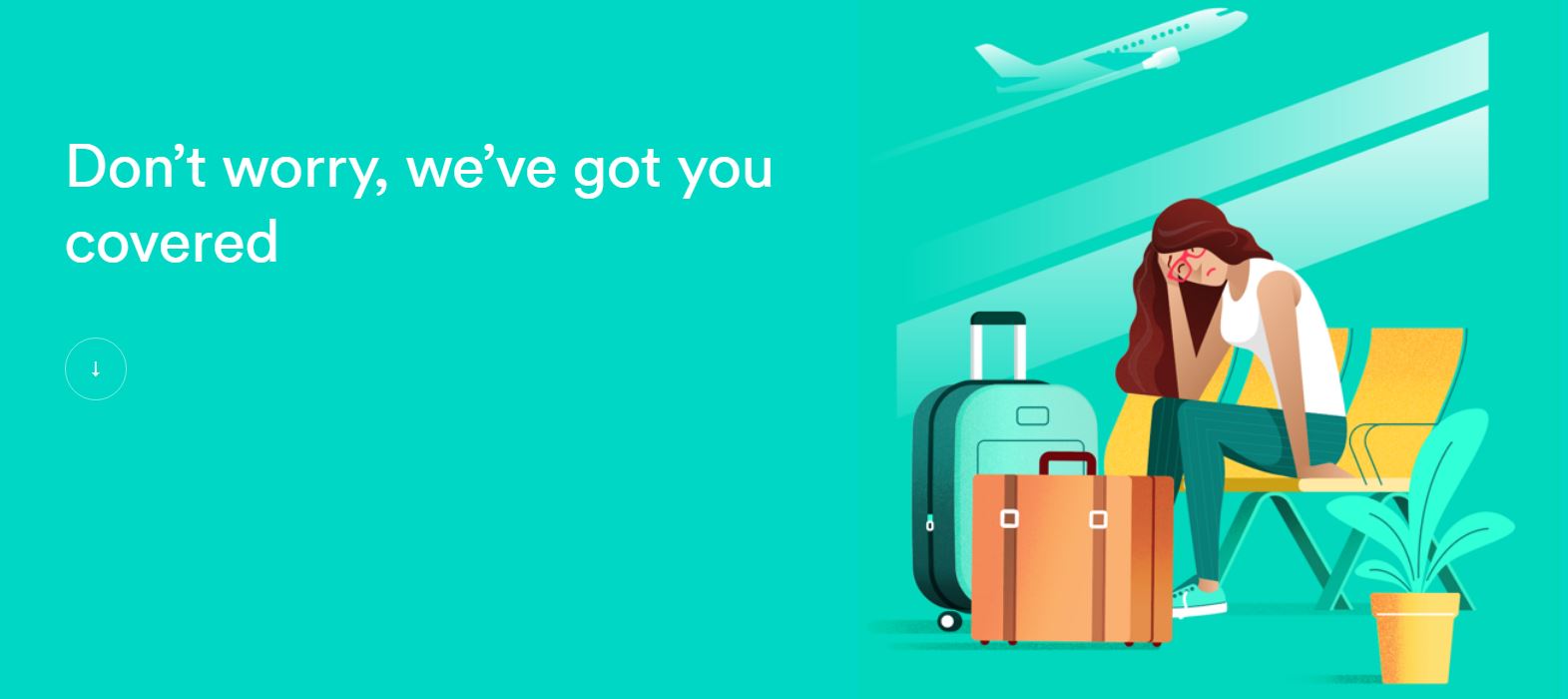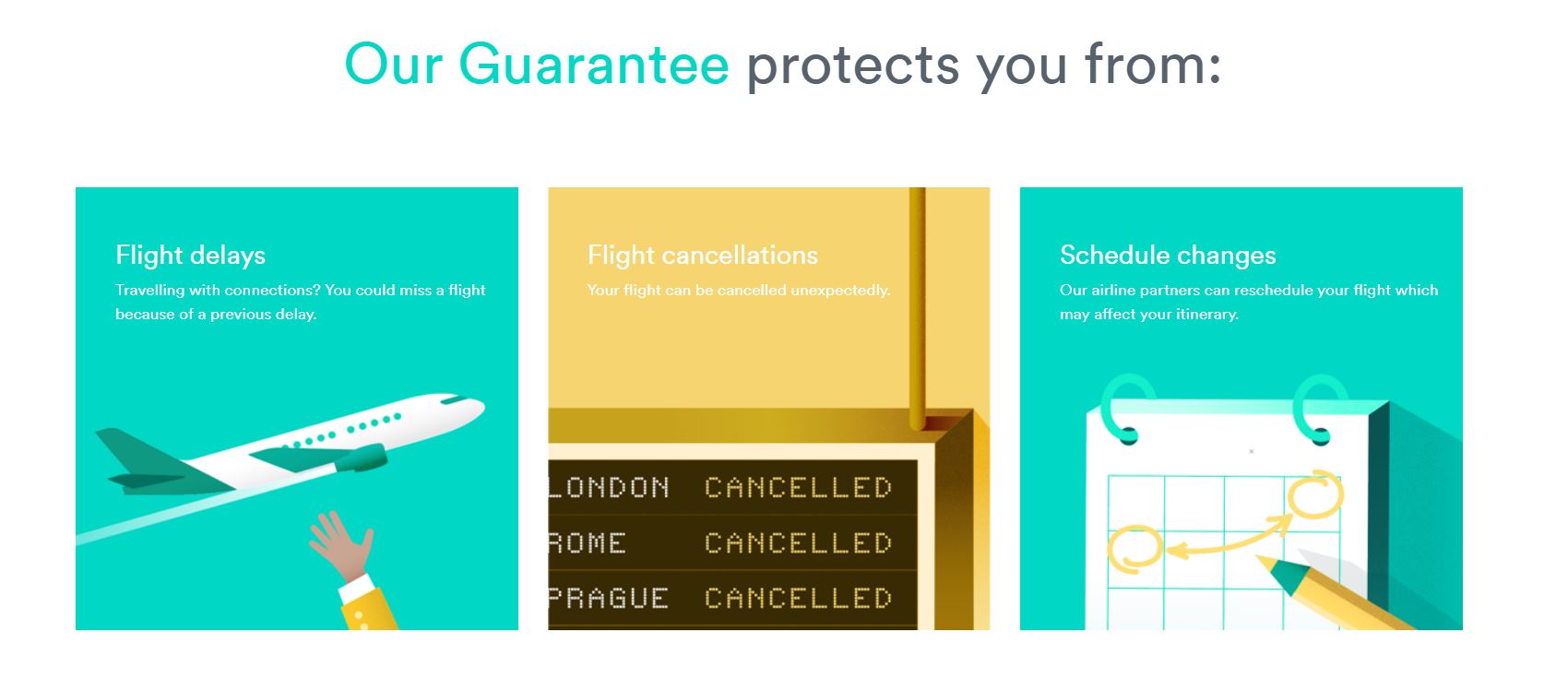 Search by date range
On many of the popular flight comparison sites, you have an option of "flexible travel dates".  This usually allows you to search 3-6 days before and after your desired departure and return date.  Some websites offer you a calendar to see which dates are cheaper to fly on.  Kiwi.com has a very unique feature that allows you to choose a very broad range of departure and return dates.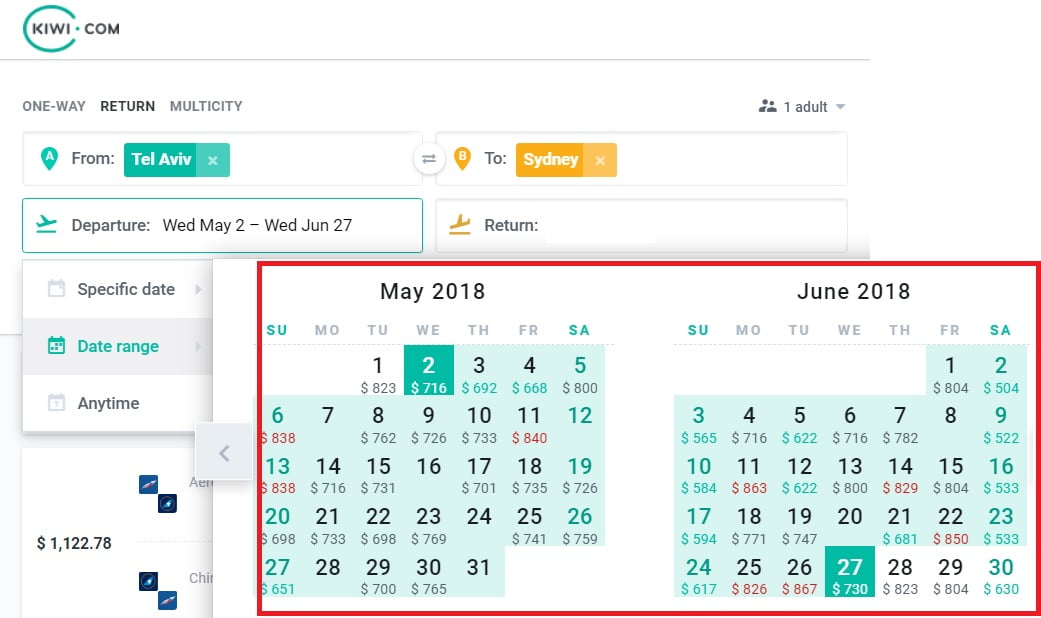 In the photo above you can see that I am telling Kiwi.com to search for the cheapest departure date for a flight from Tel Aviv, Israel to Sydney between May 2nd till June 27th.  This works as well for the return flight.
Search flights based on duration of stay
For those of you who have a more flexible travel schedule, Kiwi.com offers a unique feature that will find you the best deal based on how long you want to stay at a destination.  You will see in this next photo that I am telling Kiwi.com to find me the best flight available from New York to Sydney, leaving April 4th and I am flexible on staying between 2-29 days in Sydney.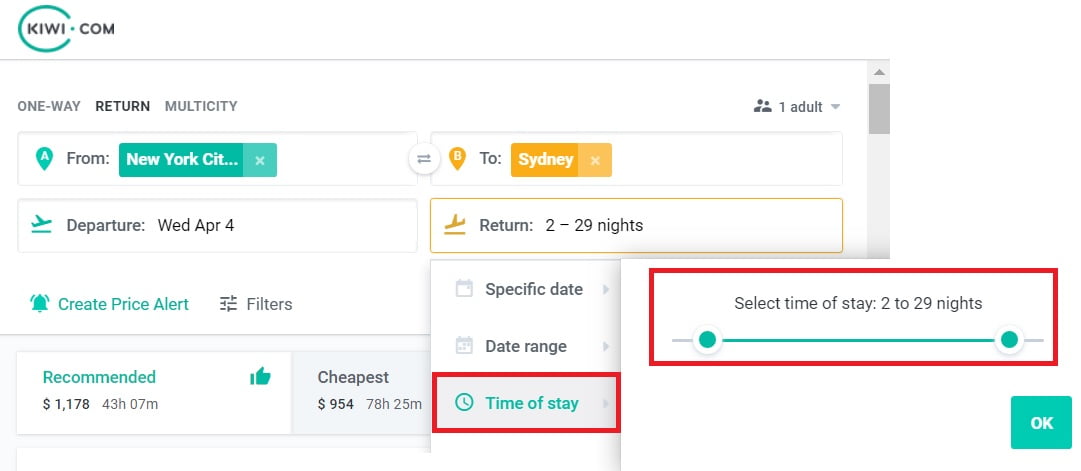 This allows Kiwi.com to perform a much broader search since you are not obligated to return on a certain date.
Combining flights with airlines from different alliances
I started to see this tactic first on Kiwi.com , though recently a few other flight comparison websites have begun as well.
On long haul flights, Kiwi.com´s algorithm will search flights, combining airlines which are not part of the same alliance or code share. Though this can be risky, thanks to their Kiwi.com Guarantee policy, all risk is eliminated.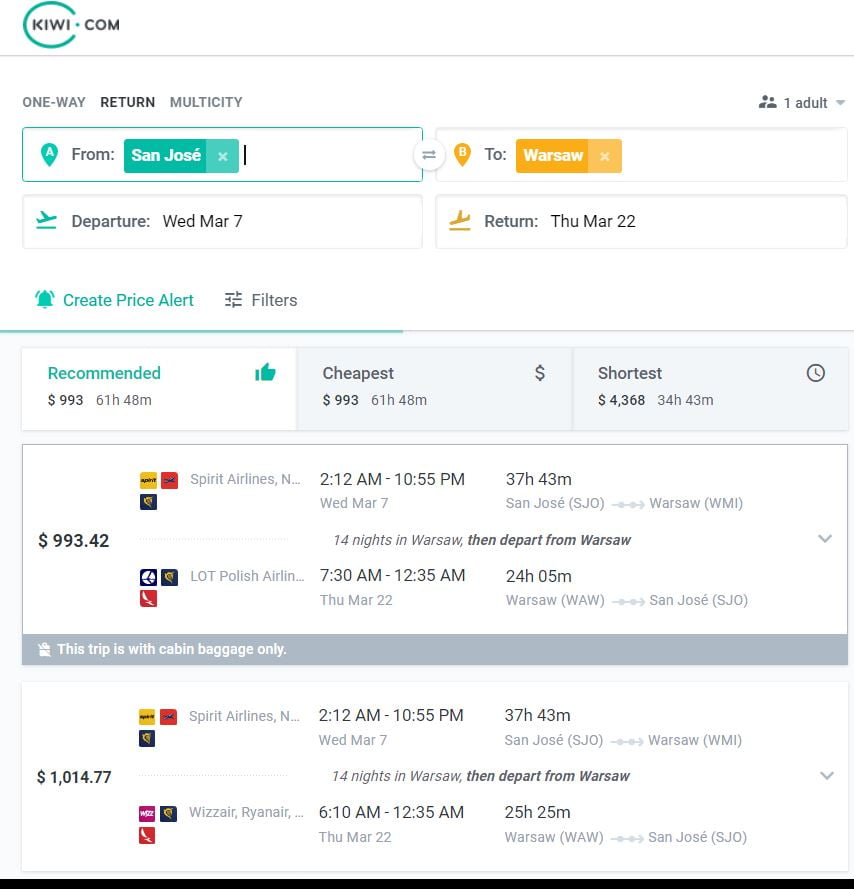 Multiple Origins and Multiple Destinations
This is a great feature, especially for those flying to or from Europe and Asia.  Since internal flights are so cheap within Europe, for example, it might be cheaper to reach your destination by leaving from a different city in Europe.  Reaching the city of departure could cost you less than €50!
Here you can see that as an origin I chose Amsterdam or Paris, which are relatively close and convenient to commute between
Interactive Map which allows to search for origins/destinations within certain radius
Once again, this is another great feature for those flying to or from Europe and Asia.  Kiwi.com´s interactive map will allow you to check close by destinations, even if they are not in the same country.  For example, you might find that it is cheaper to fly into Frankfurt rather than to fly into Berlin, and then fly or take a train for relatively cheap.
Destination = Anywhere
Although this is available on Skyscanner as well, it still is an amazing tool.  This can be used in a variety of ways.  For example, if you know you have 3 weeks off in July and want to know prices to a variety of destinations, just put in your origin and date, and put "Anywhere" in the destination box and see what Kiwi finds you.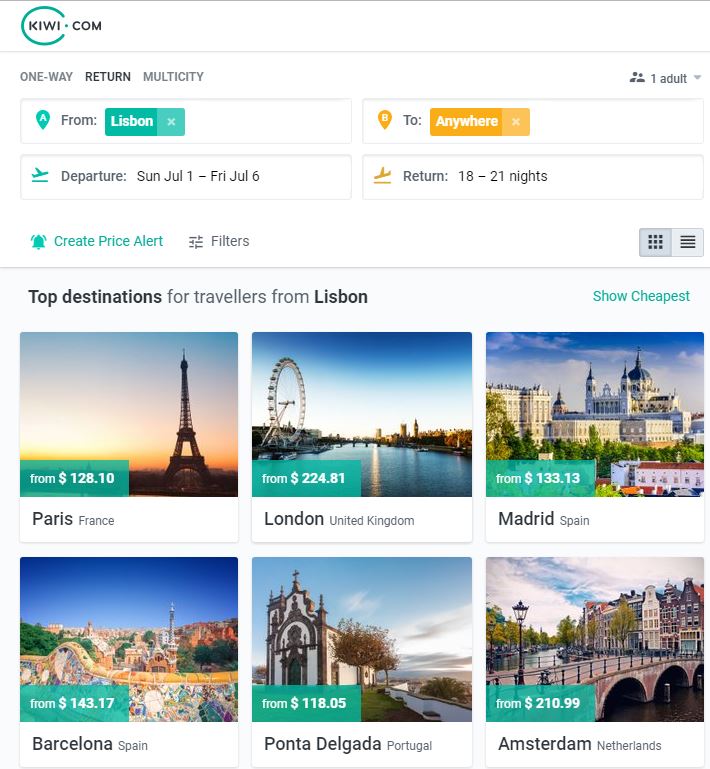 You can read about another way to use this feature on this blog post, which will explain how to find a "mid point" that is cheap to fly to from your origin and cheap to fly from to your destination.
The key to budget travel is flexibility.  If flexible, Kiwi.com is an amazing tool that will provide you a variety of features that will help you save money on your flights.
Flights is only one part of trip planning. After you book your flight, remember to always forward your hotel reservations to save@pruvo.com so that you can save up to 72% off your hotel expenses.  There is a reason Pruvo is called the Robin Hood of the hotel industry .
Planning on renting a car?  Remember to check out this post on how to rent a car for $1 a day.
Good travels