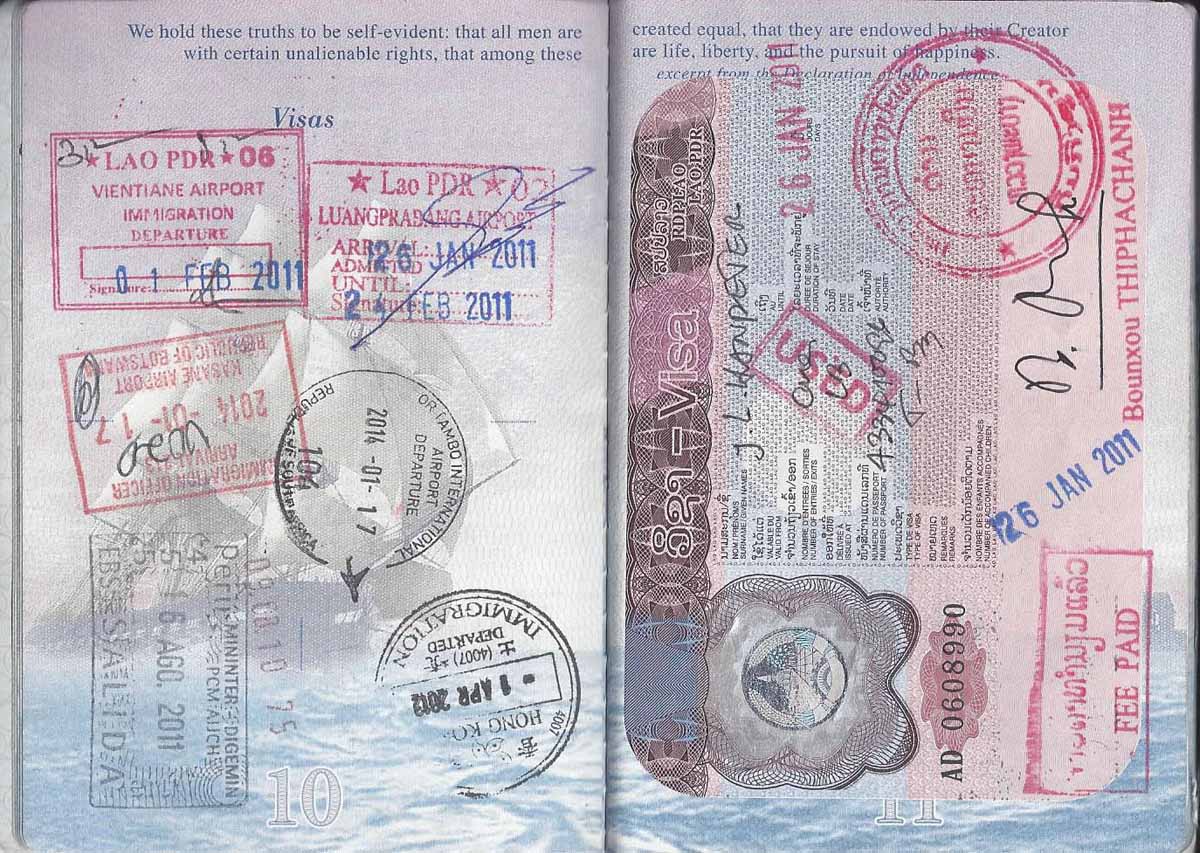 Planning an international trip? Congratulations! Lots of essential travel preparation lie ahead. Making sure your passport is up to date and you have the needed travel visas are two important ingredients for success. Not having them can be a recipe for a travel disaster – and I should know!
Yes, I have had "visa screw-ups" – TWO TIMES! – that really messed with my travel plans. Even though they happened a long time ago, the painful memories still linger. So, I want to make sure that you are never turned away at an airport (like me!) because your documentation is not in order.
The subject of travel visas can be a bit complex because of so many variables, but I hope to give you a good foundation for making sure you obtain the proper visas. Some of the specifics are focused on American travelers, but the principles are applicable for everyone. So here's what you really need to know about visas – including the story of my two mishaps!
What Exactly are Travel Visas?
Essentially, a visa is a stamp placed in your passport by a foreign government, allowing you to enter their country for a specific length of time and for a specific purpose – such as tourism or business. Regulations vary greatly from country to country – and also depend upon your country of citizenship.
For example, many countries grant American travelers an "automatic" visa upon entry – often for between 30 and 90 days. In this case, you're officially on a "short stay visitor" status. Others require that you obtain "formal" travel visas in advance through their embassy (or one of the consulate offices) in your home country. This can also include the "visa on arrival."
Different types of visas are issued, depending on the purpose of your visit. The Tourist Visa – the one we are focused on here – is for pleasure travel. There are also business (ie, work) visas and student visas for studying abroad. Then there is the whole category of immigration and naturalization visas. Some countries also offer Transit Visas, designed for very short stays, for travelers on their way to somewhere else.
For example, Australia's Transit Visa allows you stay in the country for no longer than 72 hours. That particular visa has no fee vs. the $15 fee ($20 AUD) for an Australian Tourist Visa. However, you might want to apply for the Tourist Visa if your travel plans are tight against that 72 hour deadline – allowing for any possible flight delays or schedule changes.
How Do You Know if You Need Travel Visas?
Ah, hah – the $64,000 question! Luckily, it's pretty easy for Americans thanks to the excellent U.S. Department of State's website with its U.S. Passports & International Travelpage. On that page, in the top blue box, locate the "Learn About Your Destination" and enter the country you will be traveling to. A new page pops up with very helpful travel-related info for that country.
The page's "Quick Facts" will tell you the country's requirements about Passport Validity, Blank Passport Pages, and if a Tourist Visa is Required. Then, further down, click on the "Entry, Exit & Visa Requirements" link for more specific instructions about visas. The page will also have a link to the website of the country's embassy where you definitely want to check for the most current visa information, including fees.
If you are traveling with a group on a tour or cruise, you will most likely receive specific travel visa information from them. But, it never hurts to double check the State Department website and that of the embassy of the country(s) you will be visiting. Visa requirements can change so you want to make sure you have the latest information. And read everything very carefully!
What About Visas for Americans Traveling to Europe?
Up until recently, Americans only needed a passport – but not a visa – to travel to most European countries. Specifically, countries in the Schengen Area – a coalition of 26 mostly European countries as far north as Norway and as far south as Greece – allow American tourists to visit for up to 90 days without a visa.
However, at the time of writing, there has been some significant friction in relations between the U.S. and Europe with the talk of a possible "visa war." Apparently, in response to the U.S. tightening up visa-free travel for some newer EU countries, Europe has threatened to start requiring visas for American travelers. I write this here as a caution – to make sure you stay on top of the latest developments from those in the know!
A List of Commonly Visited Countries Where Americans Need Visas
Australia / Brazil / Cambodia / China / Ghana / India / Jordan / Kenya / Myanmar (Burma) / Russia / Tanzania / Turkey / Vietnam
The Travel Visas Application – Summary of Different Methods & Fees
Okay, once you have learned that you need a visa for the country (or multiple countries) that you will be visiting, now what? You next need to determine what "visa application methods" that country requires or accepts.
Some require that you apply for the visa in advance, usually by sending your completed application form (with passport, photos, visa fee, etc.) to that country's embassy or one of their consulates. (see below). You can also hand deliver your application if one of the offices is located in the city or area where you live.
More and more countries, like Australia & Turkey, have gone (or are going) high tech with an e-Visa system. I have recently done this for both places! Travelers fill out the visa application online. Once approved, your Electronic Travel Authority (ETA) visa is electronically linked to your passport. You also get a PDF document of the visa approval which you should print and carry with you. Lastly, many countries offer the convenience of a "visa on arrival" at your port of entry.
The fees for a Tourist Visa vary according to the nationality of the passport holder. For Americans, there is a wide range of fees – as low as $15 up to $150 or more. Apparently, there can be a bit of a diplomatic "tit for tat" between countries. When the U.S. raised the visa fee for Chinese travelers, China in turn raised the fee for Americans! Brazil's website snarkily states the visa fee is "US$ 160.00, charged in reciprocity for an identical fee paid by Brazilian citizens who apply for a tourist visa to the U.S."
Process for the Visa Application In Advance (via mail)
You can usually download the application form from the country's embassy website, along with detailed instructions. Be diligent & make sure to fill out the form completely and exactly as they request – and don't forget to sign it. Valuable time would be lost if your application was rejected for incompleteness and you had to start over.
Assemble your package of requested items to mail to the Embassy or Consulate office. These usually include the completed application form, your passport, 1-2 photos, the visa fee (usually payable by money order or cashier's check), and any other documentation they request – such as copies of airline tickets or your travel itinerary.
Some countries also require that you include a self-addressed, stamped envelope so they can mail your passport & visa back to you. With both this envelope, and the initial mailing of your package to the embassy, be sure to use a secure, trackable form of mailing. You certainly don't want your passport or visa lost in the mail. Definitely a travel nightmare!
Visas on Arrival
The "visa on arrival" is a very convenient method of getting a Tourist Visa. I have done this many times upon entering a country, usually via their international airport – including Nepal, Cambodia, Tanzania, Ethiopia and Laos (photos below).
Here's how it generally works. In advance, check the latest requirements on the embassy's website and download the visa form, if available. Make sure to check if you need to bring passport-sized photos with you. Also verify the amount of the visa fee – and whether it can be paid in U.S. dollars.
After you arrive in the country and deplane, follow the line towards immigration where you will first go to the "visa on arrival" windows. It's a good idea to have your visa paperwork filled out ahead – so you can bypass some of your fellow passengers who still are doing theirs. This is especially helpful if your plane has dumped a large number of passengers all at once in one of the smaller foreign airports with limited staff working this area.
Often, you turn in your visa paperwork, passport and any required photos at the first window. Sometimes you pay the visa fee here. Then you wait and when the visa is finished being processed, your name is called. You usually pick up your passport with the visa at a second window.
Caution: Carefully check ahead which "ports of entry" (airports & land border crossings) offer the visa on arrival, as it may not be available at all of them. Even if you can get this type of visa at the airport, land border crossings may be understaffed and not equipped to handle this.
Single vs. Multiple-Entry Visas
This is another important area to pay close attention to – and what caused one of my visa screw-ups! It seems that most visas offer single and multiple-entry options (or possibly a double-entry). Most of the time, you will only need a "single entry" visa but there may be some trips where you exit and reenter back into a country and need a multiple-entry visa.
For example, on my Kenya-Tanzania safari trip, we started in Kenya before traveling by land into Tanzania. We finished by crossing the border back into Kenya. Thus, we needed a multiple-entry visa for Kenya.
Also, it's common for countries to charge a higher fee (possibly up to double) for a multiple-entry visa. The application process is usually the same as for  single-entry. The multiple-entry visa may also allow a longer period of time in the country, which makes sense.
My Hong Kong & China Visa Travel Screw-up
So, you ask, what was my visa screw-up? Well, it happened on a China/Hong Kong trip back in 2001. I was on a tour of China which ended in Hong Kong. My group flew home and I was to fly back into China later that day for two more days of touring with a local guide (including a Li River cruise!). The tour operator arranged both trips plus the visa.
However, they got me a "single-entry" visa for China. I thought that was fine because Hong Kong had recently become part of China. (The transfer of sovereignty from the UK had taken place in 1997.) However, not so fine! When I arrived at the Hong Kong airport for my flight, I was denied boarding. I was shocked to learn that I had "left" China when I entered Hong Kong and it was a new "entry" to go back into China. I should have gotten a multiple-entry visa.
Who knew? I checked my Lonely Planet guidebook on the way back from the airport, but no mention. So, I had to spend an extra night in Hong Kong. Luckily, the next day I was able to get a one-day turnaround Chinese visa so my trip was delayed by just one day.
It was certainly anxiety-inducing at the time but luckily, the story had a happy ending. However, it was a big lesson learned about the concept of multiple-entry visas! And a cautionary tale if you're doing a similar type of China/Hong Kong trip.
Make Sure Your Passport is In Order
Since travel visas are "connected to" and/or stamped in your passport, it also needs to be in good order to avoid a travel disaster. You need a valid passport – with an expiration date usually good for 6 months after your return date of travel. In addition, make sure you have enough blank pages in your passport for the visa and the entry & exit stamps (as per each country's requirements).
Visit the U.S. Department of State's website(as mentioned above) to review your destination country's specific requirements for these items under Quick Facts – Passport Validity and # of Blank Passport Pages.
Always check your passport's expiration date far in advance of your trip, especially if it's been a while since you looked. Many a traveler has pulled out their passport only when packing for a trip to discover – in abject horror – that it had expired or was getting close.
This way, you will have plenty of time to renew your passport, if needed. My blog post on US Passport Renewal has tips on how to do this. Please be aware that the U.S. Passport office has gotten busier in 2017. Their website currently lists the following passport processing times:
Routine: 6-8 weeks
Expedited: 2-3 weeks
Expedited at Agency: 8 business days (based on need, restrictions apply)
Other Important Visa Travel Tips
1)  Plan Ahead / Allow Adequate Time for the Visa Process
The visa application can be a lengthy process, especially if you need to apply for a visa in advance by mailing your application (with passport) to the embassy.
This can be further complicated if your upcoming trip has a second destination country requiring a visa and/or if you need to renew your passport during this time.
Remember that in these types of "manual" visa applications, you have to "give up" your passport for a period of time – preventing you from most overseas travel until you get your passport back.
This is another reason why it is so important to check your passport expiration date well in advance – along with the visa requirements for all countries you will be visiting so that you allow enough time.
However, in a time crunch, you can always pay for expedited services or use a visa service (see below) but they will cost you.
2) Be A Perfectionist with Visa Application Forms
Carefully "follow to the letter" all requirements when filling out visa application forms being sent to an embassy to be processed
Common snafus are forgetting to sign the form or to enclose the correct fee
Make sure you always send your application package (with passport) via trackable mail
3) Acceptable Visa Photos
The rules for "passport-sized" (2x2inch) visa photos are usually similar to those for U.S. passport photos.  Check those rules here.
These include not wearing a hat or sunglasses and adhering to a specific format.
However, check your country's specific requirements for the last word.
Some countries don't want you to staple the photo to the application, so check that too.
4) Visa Expiration Dates
Period of Stay – the number of days allowed in a country on a single visit
Visa Validity – the period during which you are allowed to enter (and remain in) a given country.
The visa issuance date is shown on the visa along with the visa expiration date. The time between the two dates is your "visa validity."
Be mindful of your visa's expiration date. Don't overstay. Countries don't like that!
Some visas might be good for only a short period (like 3 months) after issue – so be careful not to order the visa too far in advance or it might expire during your trip.
Passport & Visa Services – Should You Use Them?
There are private passport & visa agencies who, for an additional service fee, can assist travelers with obtaining their visas. This can be particularly helpful if you are really crunched for time or dealing with complicated visa applications and/or feeling overwhelmed by it all.
These agencies have staff that can stand in line at the embassies and consulates to expedite visa applications, relieving you of the burden of having to do so yourself (when on a tight deadline). Plus, you can apply for several visas at the same time, without needing to enter repetitive info online. These services certainly cost more than doing it yourself, but they can be critical if you need rapid turnarounds.
The agencies stay current with the latest visa requirements so they can answer questions and advise you on filling out the forms — China, for instance, has a particularly complicated and confusing form. Making a mistake on it could delay or derail your application. Other countries that also seem to have complex visa processes include Brazil, India and Russia.
Visa Agency Service Fees
Their service fees can be significant. For example, one agency charged a $59 service fee for a Cambodia visa – on top of the $36 Cambodian consular fee. Recently, a friend obtained an expedited Brazilian visa. The Brazil consular fee was $185; the visa agency service fee was $81; return FedEx fee was $24; and there was an additional $75 fee for the expedited service. It definitely adds up!
Key Reasons You Might Want to Use A Visa Service:
You need a visa from a country which requires an advance application (via mail) – and it is one of the countries with a complex visa process.
You are visiting multiple countries and need more than one visa so you would like to have the visa applications taken care of at the same time.
You are on a tight deadline and need rapid turn- arounds along with guaranteed delivery dates for the visa and/or passport renewal.
You don't want the hassle or aggravation and are happy to pay the experts to do it for you.
You are a business traveler (and many of the above apply!)
Here is an interesting USA Today articleon the subject: Is it worth it to pay extra for passport, visa services?
Of course, it is always a personal choice. What I can say from experience is that the "visa on arrival" and the new e-Visa online applications are pretty easy – plus the need for expedited timing doesn't factor in. So, you might be best spending your money in using a visa agency for those cases listed above.
What Visa Agencies To Use?
I have not yet used a visa service so I don't have personal experience with any of the visa agencies listed below. CIBT was recommended by a trusted travel agent friend. TraVisa & VisaHQ were recommended by the VisaHunter blog post entitled: Best U.S. Visa Services.
Regardless, it's good to check reviews & compare prices of a few different visa agencies when in the market for that service. Plus the VisaHunter article will help you know what to look for. This should get you started.
Visa Agencies You Might Want to Check Out:
Also, Here's A Couple Cool "Visa Widgets" from VisaHQ:
In Closing – My Other Visa Screw Up: Brazil
I hope the information in this blog article will help you successfully navigate the often tricky world of travel visas and avoid a travel disaster. I have already shared the first of my two visa "travel nightmares" with China & Hong Kong. Guess it's time for "True Confessions – Part 2"! This time Brazil was involved – and it was entirely my fault!
I was traveling around Peru & Bolivia for 3 weeks in 2002. From there, I had made plans to fly to Brazil to visit a good friend temporarily living in Rio. I had been so consumed with the complex planning of the first part of the trip, that I neglected to check on a visa for Brazil. I knew Peru & Bolivia didn't need visas.
So, with full naivete, I arrived at the La Paz, Bolivia airport (accompanied by my local guide Valeria) for my afternoon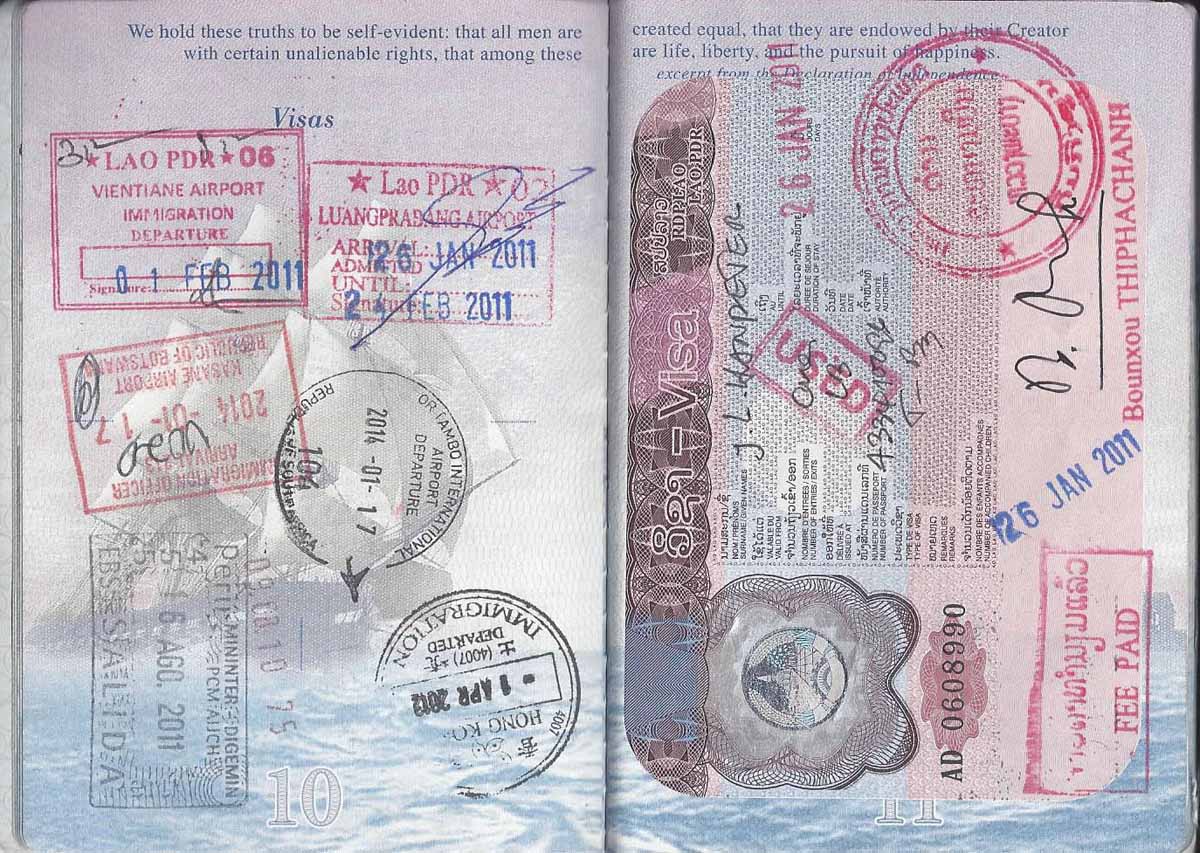 flight to Rio. At the Varig airline counter, the agent asked for my tickets and passport – and then for my Brazilian visa. In shock, I said what visa? Yikes, I had royally screwed up. I didn't have a visa & so I was not flying to Brazil that day.
Could I Salvage My Brazil Trip?
I returned to my La Paz hotel to book another night. Then Valeria & I headed off to the Brazil embassy to see if we could possibly obtain a "quick visa" so I could take a flight to Rio the next day. It was now Friday afternoon at 3pm. The embassy's visa clerk gave me the forms to fill out. She told me I would need a bank money order for the visa fee – and this couldn't be done until Monday!
She also said there was only a 40% chance she could do a one-day turnaround on Monday after I returned with everything. Even if so, I wondered if this all could be done in time to catch the 2:40pm Rio flight. And, that also depended on whether I could even get a seat on that very booked Monday flight.
So most likely, I would not be able to fly to Rio (with the  Brazil visa) until Tuesday – 4 days later than my original plans. However, my international flight back home to the U.S. was the next day, on Wednesday. The writing was on the wall – no Brazil this trip!
So, I had to call my girlfriend in Rio – with both of us in tears on the phone – to tell her I wasn't coming. Instead, I flew home from La Paz to the States the next morning. That Brazil visa episode was certainly a painful lesson learned. But, I'm happy to report: No More Visa Travel Disasters since then!
COMMENTS:  Have you had any challenges (and/or "screw-ups") with Travel Visas? Have you found some country's visa processes to be more complicated than others?  Do you have some positive travel visa experiences to share? I'd love to hear!
Now that you know about mishaps, you should also make sure you choose the right traveler´s insurance.  Check out this in-depth guide on how to choose the best insurance for you.
Now remember that travel doesn´t have to be so darn expensive.  Did you know that there is a 40% probability that you are unnecessarily overpaying for your hotel reservations?  Fox news did a story on how to slash up to 72% off hotel reservations using this trick.