How do I begin to write an article about the most incredible country I have ever been to?! For those of you who have already been to New Zealand, you know what I mean.  While in New Zealand, there are two phrases that tend to be repeated by people.  One of them is "This place is gorgeous.  These are the most amazing views I have ever seen".  The other one is "Damn,  New Zealand is EXPENSIVE!".  Unfortunately, it is. Unless you are from Australia or Fiji, just arriving to New Zealand can be well over US$1000 (unless you use some of these less known tricks for getting cheap flights or manage to find a mistake fare).  Very basic hotels or motels in New Zealand can also cost you over US$120 per night (that is if you didn´t use Pruvo for your hotel bookings).  Even though I spent roughly 400 hours online prior to my trip, I did not find all the information I needed regarding budget travel in New Zealand concentrated in one place.  So I decided to concentrate some of the most useful tips on saving money in New Zealand into one article. So make sure to highlight what is relevant to you and let's make this trip to New Zealand beautiful AND cheap!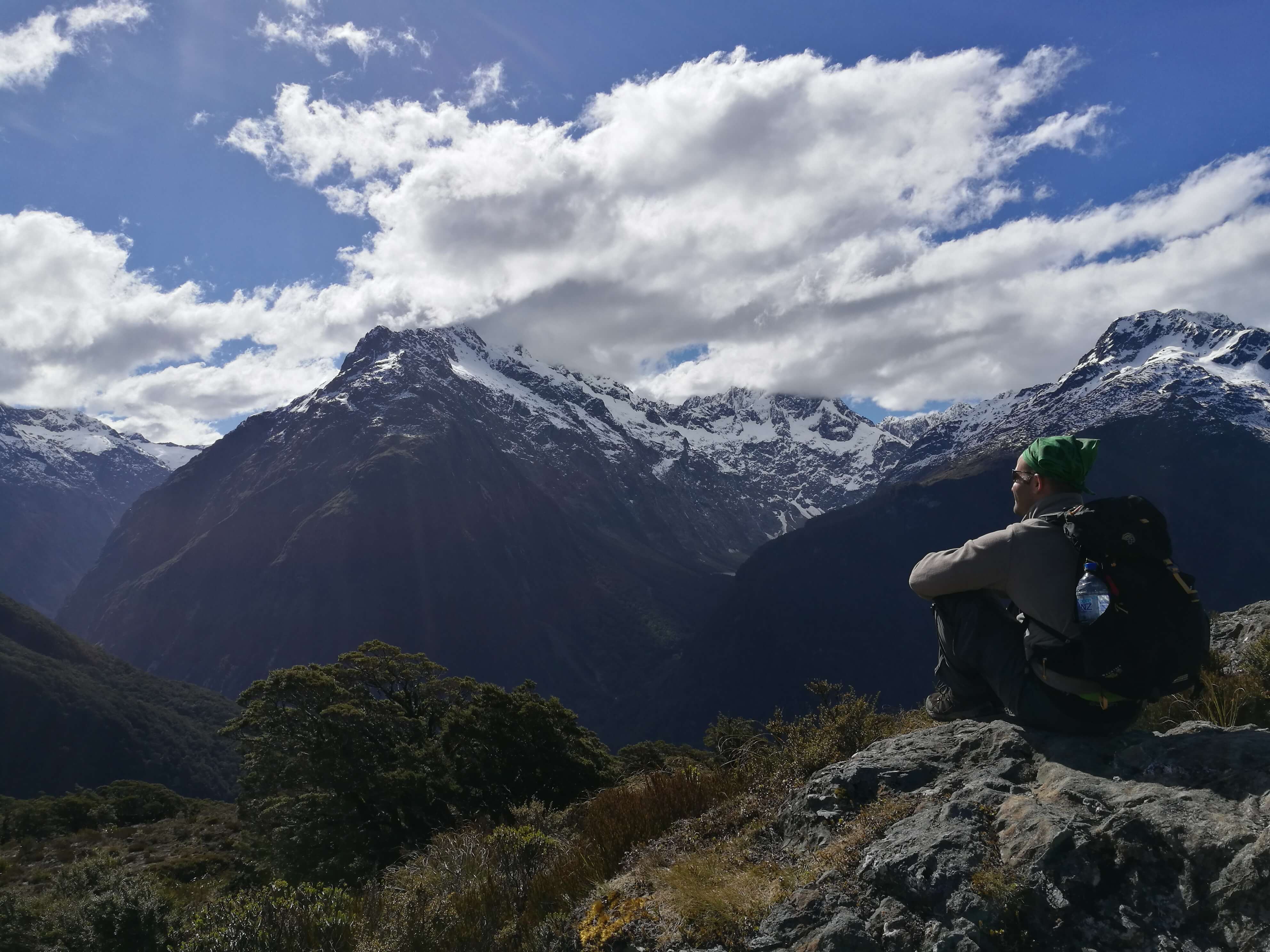 Tips on Saving Money in New Zealand – Getting Around
The good thing about New Zealand is that you have many options available regarding transportation.  You have buses, cars, camper vans, flights, trains and hitchhiking.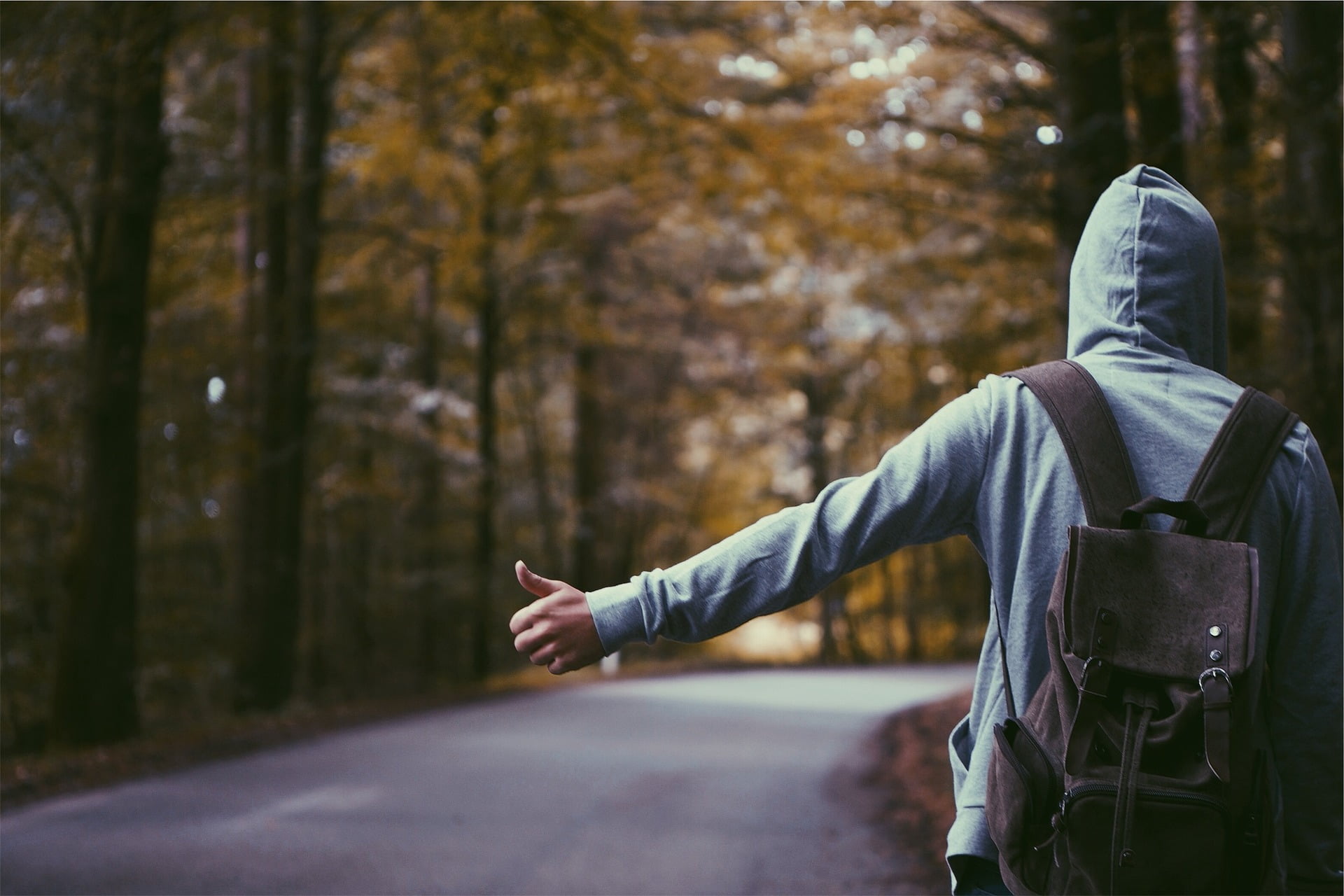 If you decide that the best option for you is renting a regular car and sleeping at hotels, fantastic!  It is very easy to drive in New Zealand.  Remember, if you don´t have a driver's license written in the English language, you will need to either have an international license or an official translation done by authorized offices in New Zealand. Follow this link to obtain a list of authorized translators in New Zealand.
Besides your multinational companies (Budget, Hertz, Avis etc), you have some local companies that are very reliable and tend to be a bit cheaper (Apex Rentals, Omega etc).
*Prices are in NZ $ and may vary based on season and length of car hire.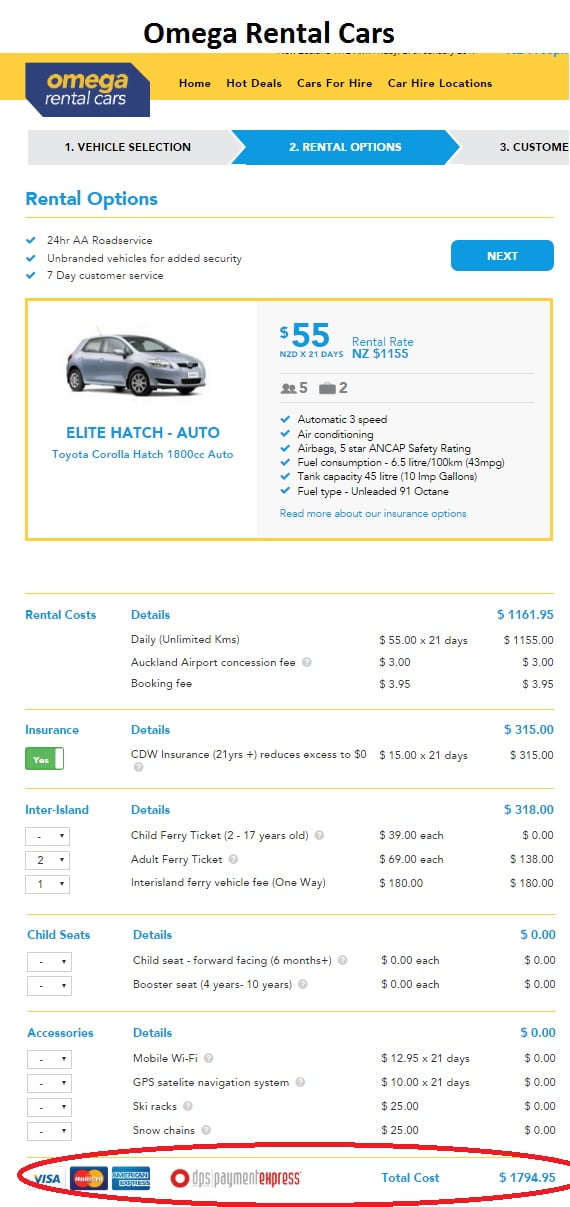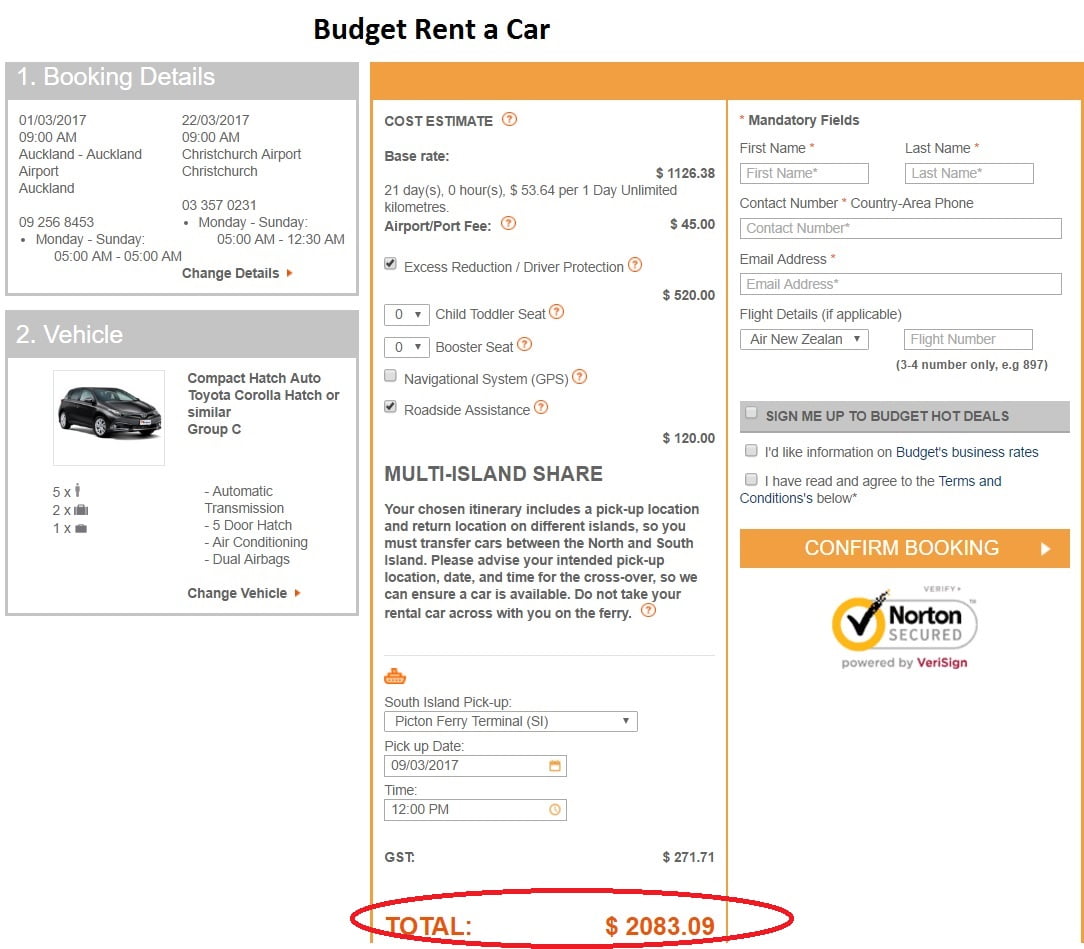 As you can see, Apex offers the best price (all prices are in NZD).  Another benefit about using Apex is that they have offices located in many cities around New Zealand .
One of the less known tips on saving money in New Zealand is beneficial if If you are flexible in your route. You might want to think about starting from the South Island and heading north.  Some rental companies offer rental fees of $1 a day if you rent the car from Christchurch and take it northbound.  The reason being is that the vast majority of tourists start in the north island and head south, so the rental car companies need to send back many cars to Auckland or Wellington.
For car relocations, make sure to also check out Rental Car Relocation.  For example, on popular routes like Wellington to Auckland and Queenstown to Christchurch, you will probably be required to relocate the car in less than 48 hours.
Remember to also use websites like Rentalcars .  Sometimes, they offer better prices than the actual company itself.  Regardless of which company or website you use, remember that usually car rental reservations are not paid for in advance.  This allows you to keep shopping for better deals up to 72 hours prior to arrival.  Since many of you won´t have time to keep checking websites after making your initial reservation, use Autoslash, which is basically the Pruvo of car rentals.
Some other things to consider if you choose to rent a car.  A regular sedan with a 1600cc or 1800cc engine is more than enough.  We drove 4000km and not once did we regret not renting a 4×4.  Another thing to include in your calculations is gas costs.  As prices vary constantly, make sure to review Price Watch  to see the current prices of gasoline closer to your date of travel.  The South Island will usually be about NZ$0.30 to NZ$0.50 more expensive per liter than the north island.
If being independent, flexible and self-reliant is important to you, then you should consider renting a camper van.  One of the biggest benefits of renting a camper van versus a car is if the weather changes in your upcoming destination, you can re-route  to a different destination where the weather will be pleasant.
The main thing to understand about camper vans is the difference between a non-self-contained camper van versus a self-contained camper van.  A non-self-contained camper van has no toilet, shower or grey water storage. They tend to have other facilities within them like a stove, fridge, seats that convert into a bed, blinds, etc. Plus, rental companies will include the dinnerware, kitchen utensils and bedding. So, this gives camper vans an edge over sleeping in a car.  Because these camper vans are smaller than self-contained vans, they are easier to drive. Plus, the fuel and rental costs are cheaper.  Here are a few examples of prices (driving southbound and in NZ$) for non-self-contained camper vans:
*Prices are in NZ $ and may vary based on season and length of car hire.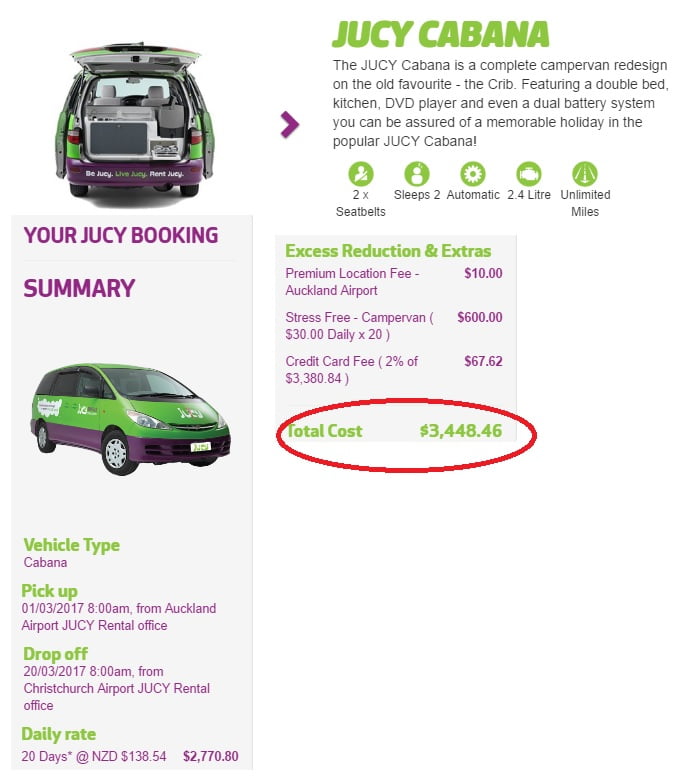 The other option for camper vans are the self-contained vans.  What is self- containment? This is where waste water is held in holding tanks within the vehicle.  You must dispose of the waste in dump stations.  The benefits of self-containment are that you have all the facilities you could need. Plus, you can take advantage of all New Zealand's campsites including approximately 340 free sites!  However, self-contained camper vans are more expensive both on fuel and rental.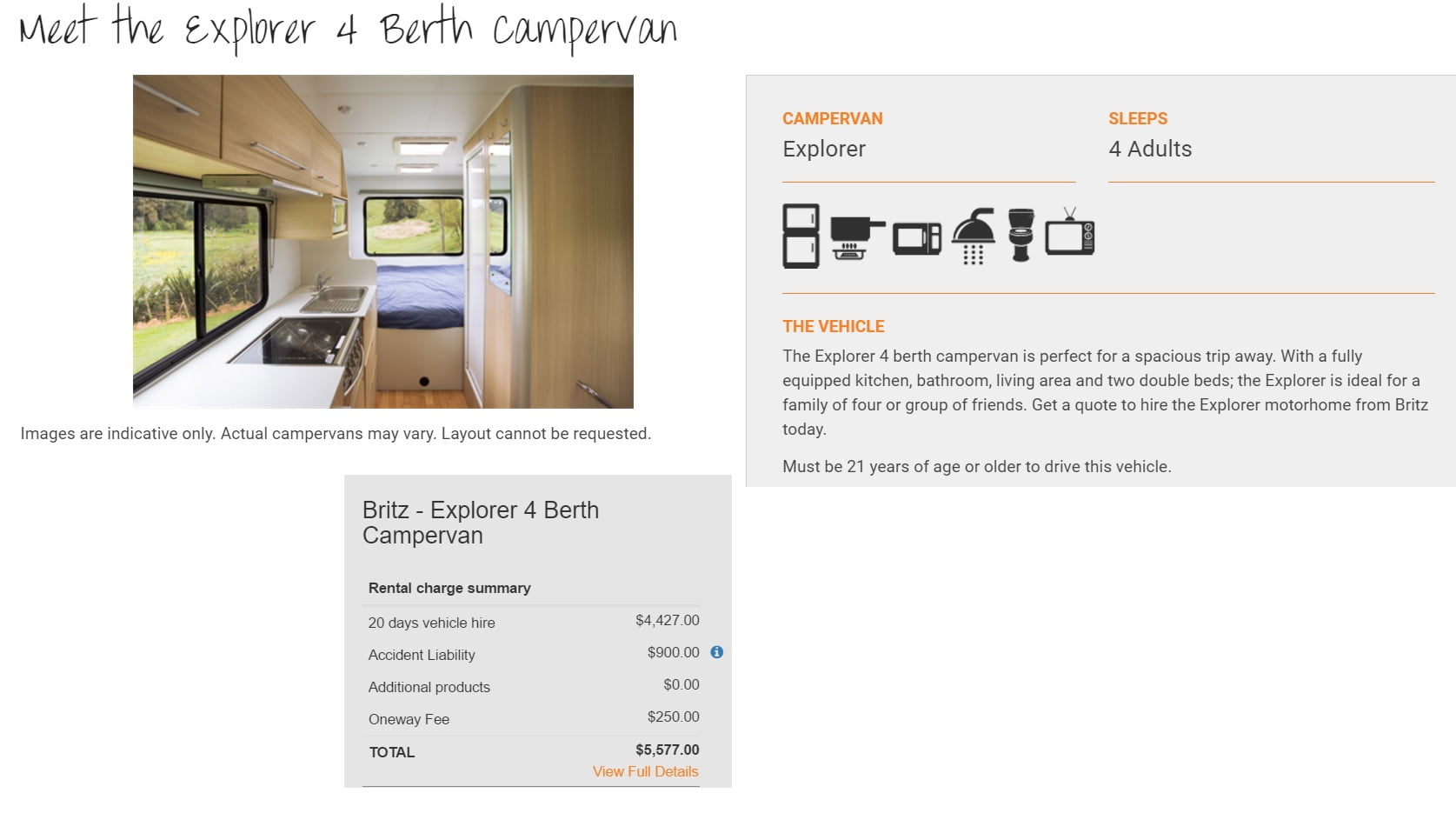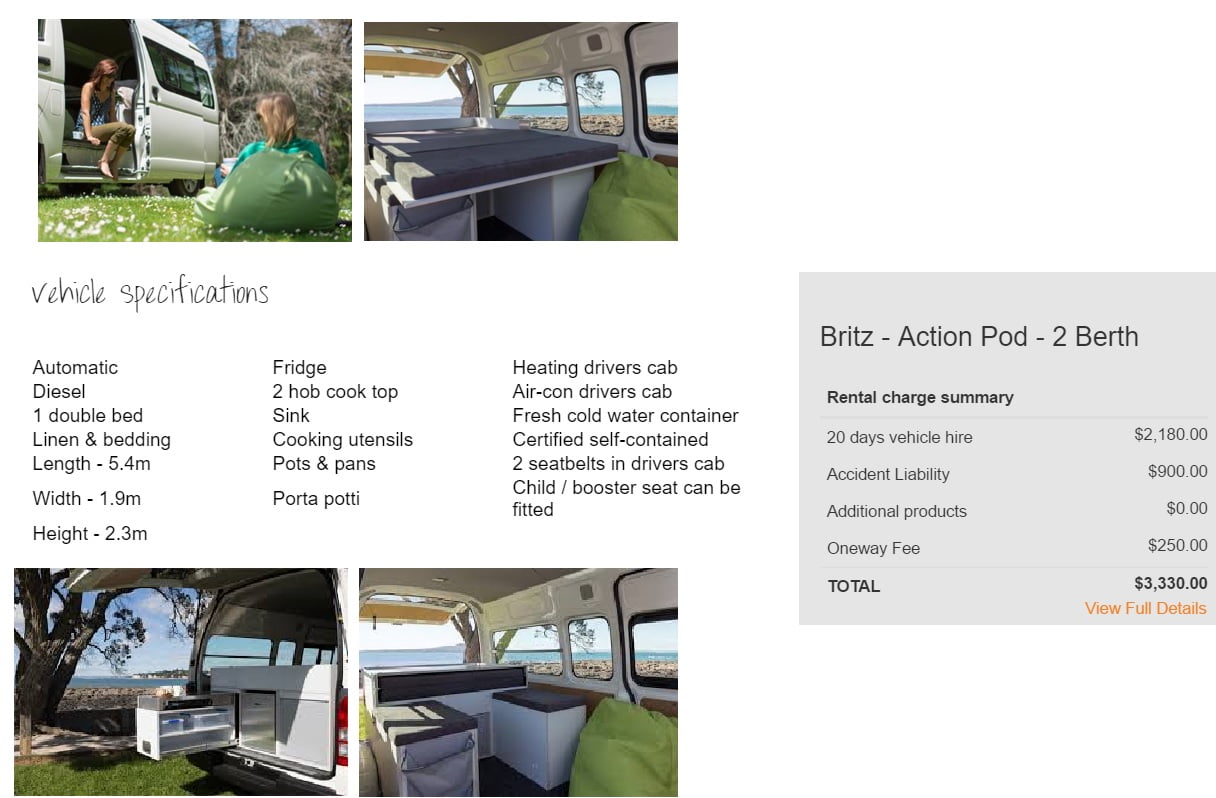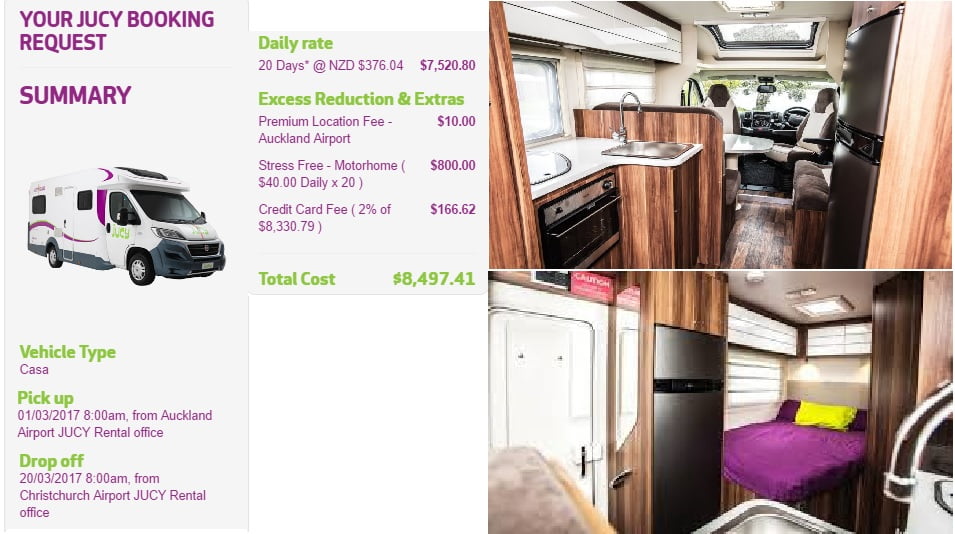 You need to also consider that in addition to the cost of the camper van, you will need to pay for staying at the campsites anywhere from NZ$0 to NZ$50 per night.  If you do choose the camper van option, it's vital that you install this app called Camper Mate.  It will help you identify the cheapest campsites available based on your geographical location at any given moment.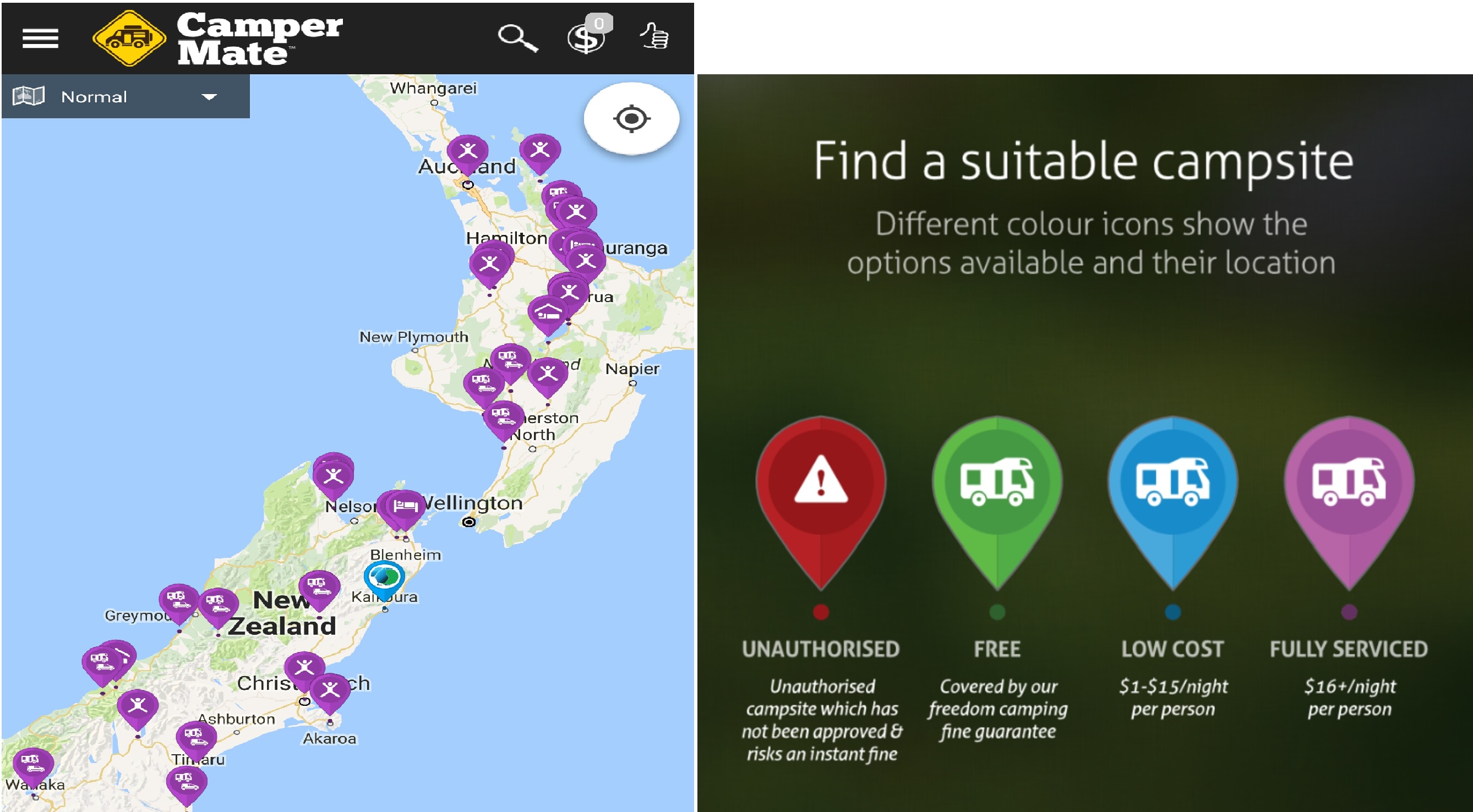 Another "four-wheel option" is purchasing a car.  I would recommend doing so only if time is not an issue for you or if you have at least three months to spend in New Zealand.  Remember to factor in repairs, registration, oil changes, etc.  Insurance is relatively cheap, less than NZ$300 a year.  The main benefit is that you can sell your car and recuperate the majority of your transportation costs by posting to websites like Trade me or Autotrader  or even on Facebook groups .
*Prices are in NZ $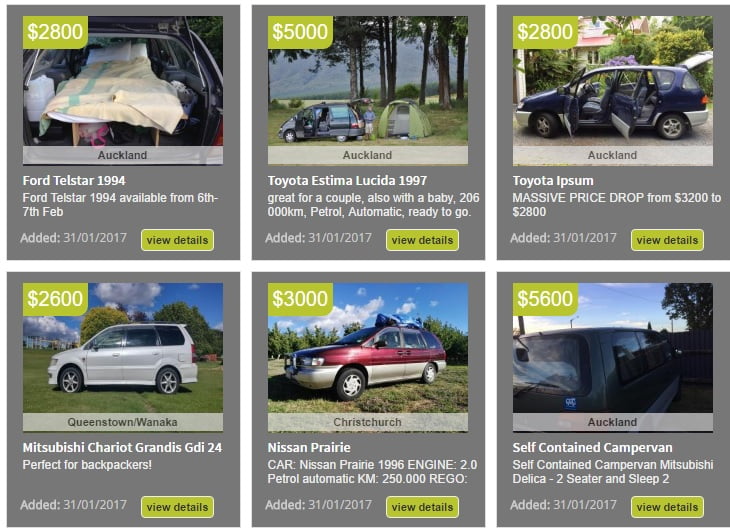 Domestic flights in New Zealand have improved lately.  However, don't expect "Ryanair" or "Air Asia" prices here.  Here are a few tips on saving money in New Zealand if flying domestically within New Zealand. Make sure to use Air New Zealand's "no frills" website,  Grab a Seat.
*Prices are in NZ $ and may vary based on season and baggage allowance.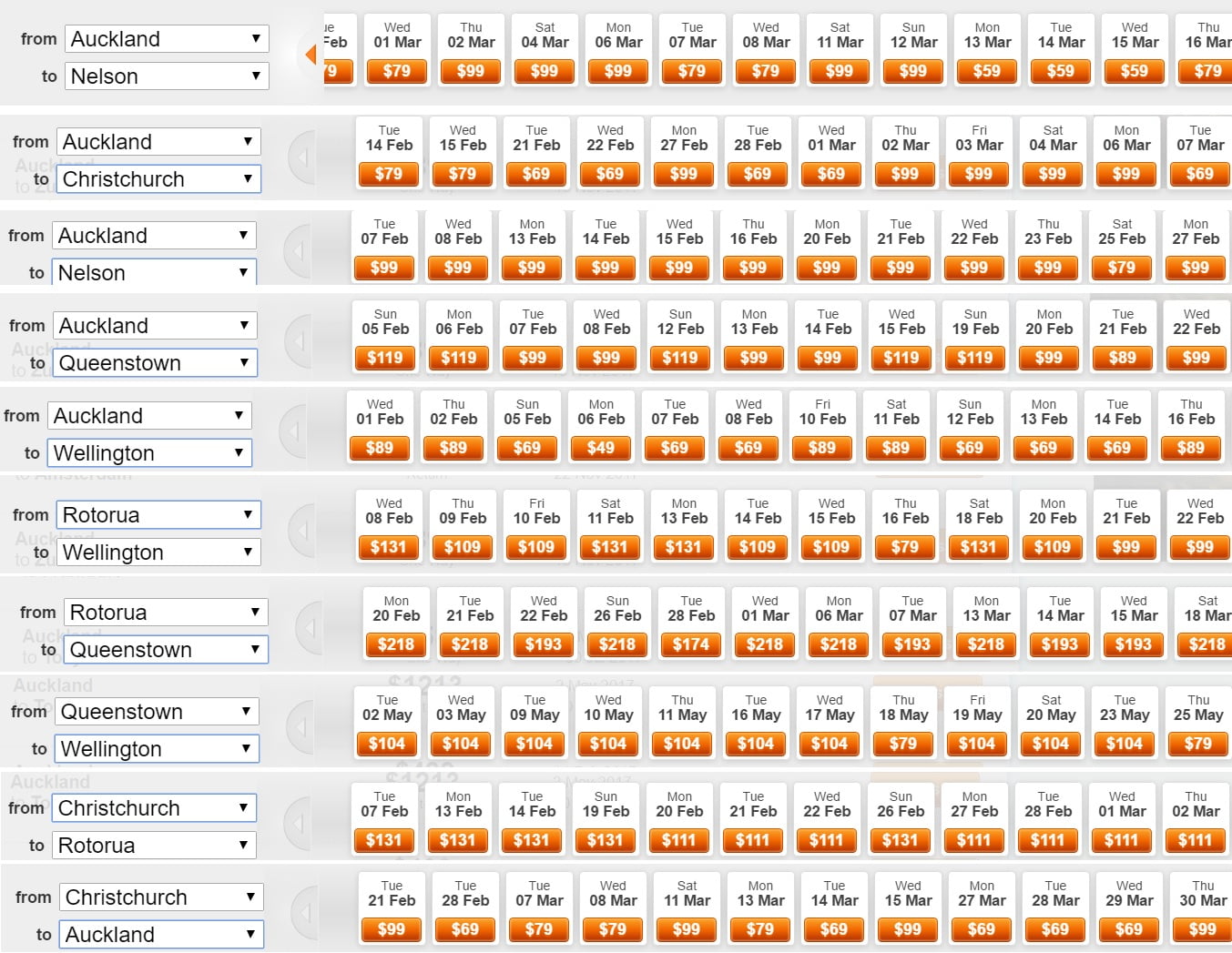 Jetstar offers competitive prices on southbound routes.
*Prices are in NZ $ and may vary based on season and baggage allowance.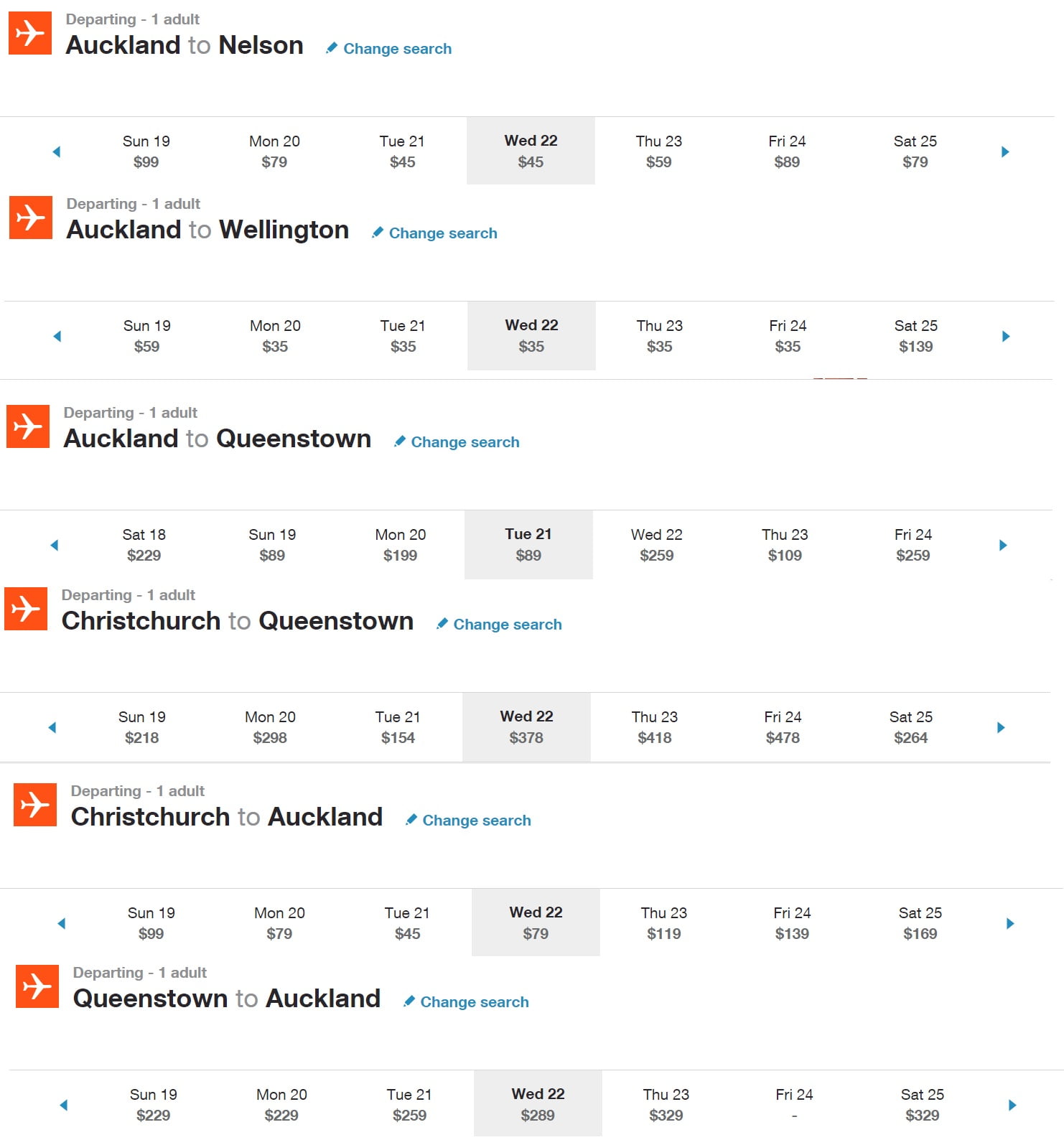 If your activities in the north island are all relatively close to Auckland and you plan to go to the South Island as well, it might be worthwhile to fly from Auckland or Rotorua to Nelson or some other destination in the South Island to save 1-2 days of driving, hotel costs, gasoline costs, Cook Strait crossing costs etc.  If you plan on combining flights and car rental, it's imperative that you choose a car rental company that has offices in many cities. This is another reason why I personally would recommend Apex for car rentals, since they have offices in 15 different locations.
If time is not pressuring you, then you have three of the cheapest transportation methods to choose from: train travel, bus travel and hitchhiking.  In New Zealand, there are a few train routes: Northern Explorer, Coastal Pacific, TransAlpine and Capital Connection (all run by KiwiRail Scenic Journeys).  They allow you multiple stopovers for free.

If you prefer to travel by bus, then you have a few "hop on hop off" services to choose from:  Kiwi Experience, Stray Travel and Naked Bus.  These services allow you to buy a pass and get on and off as you choose.  You also have the (much) cheaper options of Intercity and Naked Bus (direct service).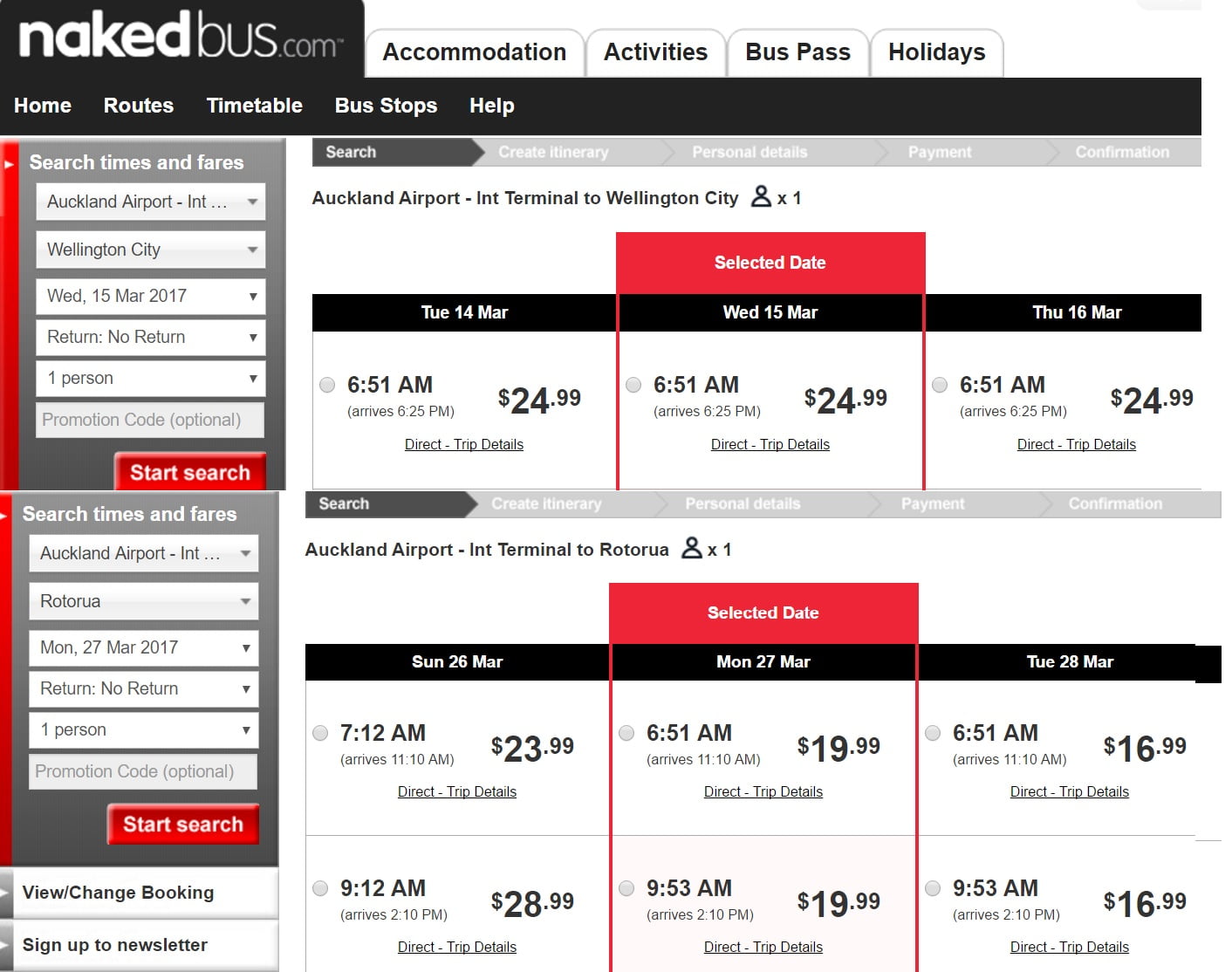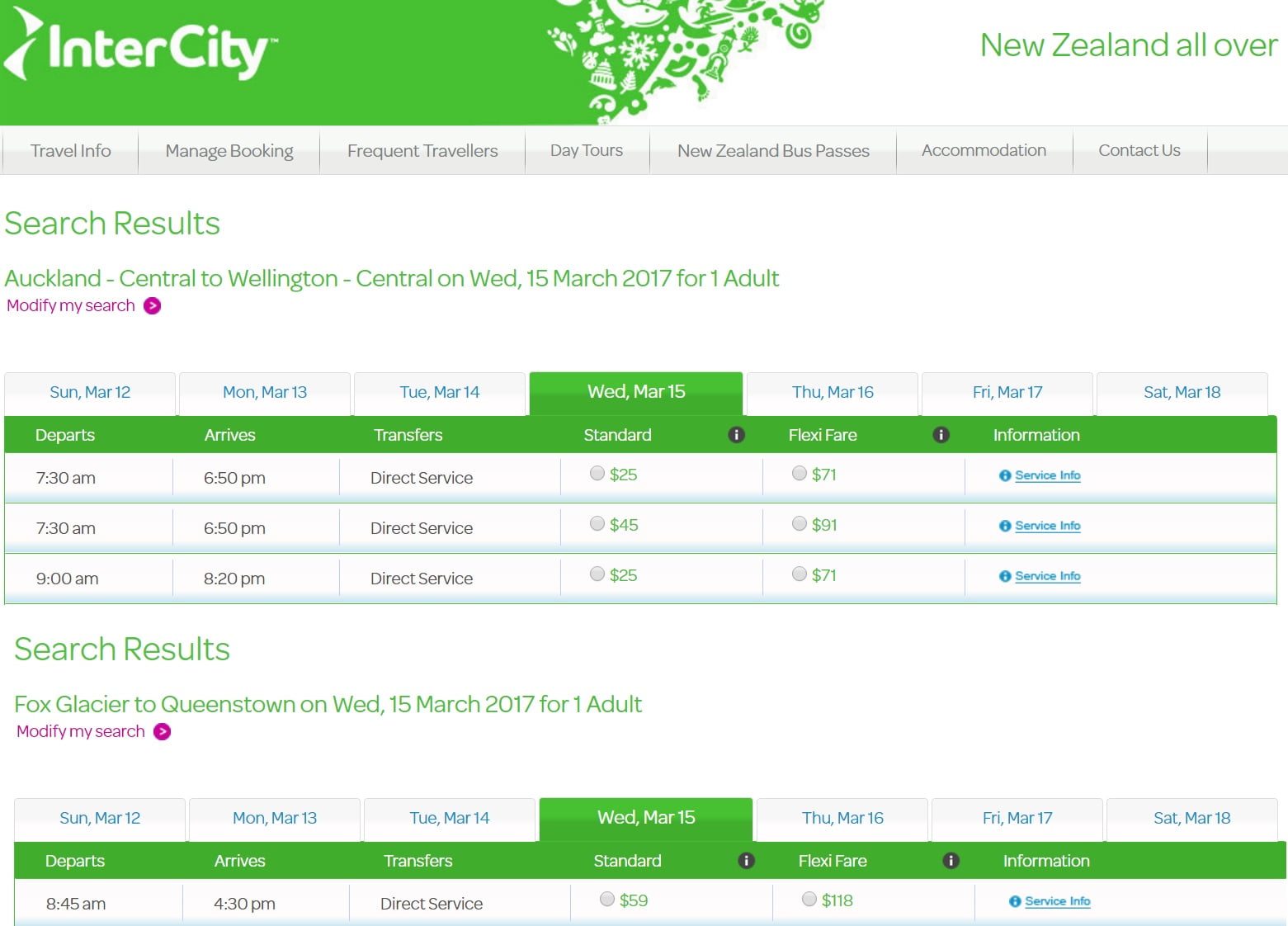 The last and by far the cheapest way to get yourself from A to B is by hitchhiking.  New Zealand is one of the safest countries in the world in which to hitchhike.  It is expected that you pitch in with gasoline costs when you hitchhike.  You can also coordinate rides at hostels or even in Facebook groups like these: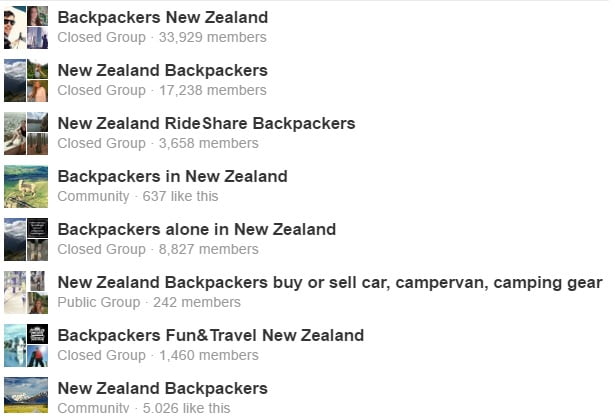 Now that we covered the transportation aspect of your trip, let´s share some tips on saving money in New Zealand while doing some amazing outdoor activities.
Tips on Saving Money in New Zealand While Having Fun
New Zealand is filled with amazing activities that are SO much fun…and a bit expensive.  Though well worth the money, I wanted to give you some tips on saving money in New Zealand and the abundant activities you can choose from.
You are probably familiar with the stack of free brochures and maps available upon arriving at an airport. When we arrived at the Auckland Airport, I decided to pick up this free magazine.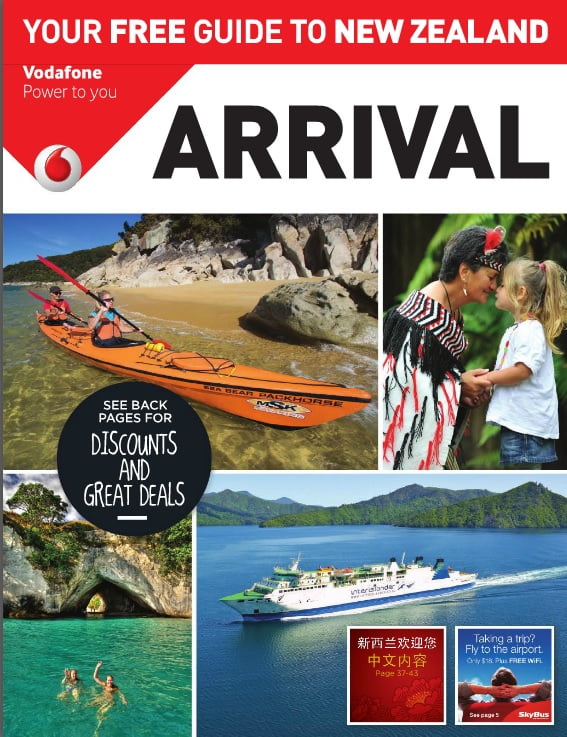 There are many coupons for activities and tours that we were planning on doing.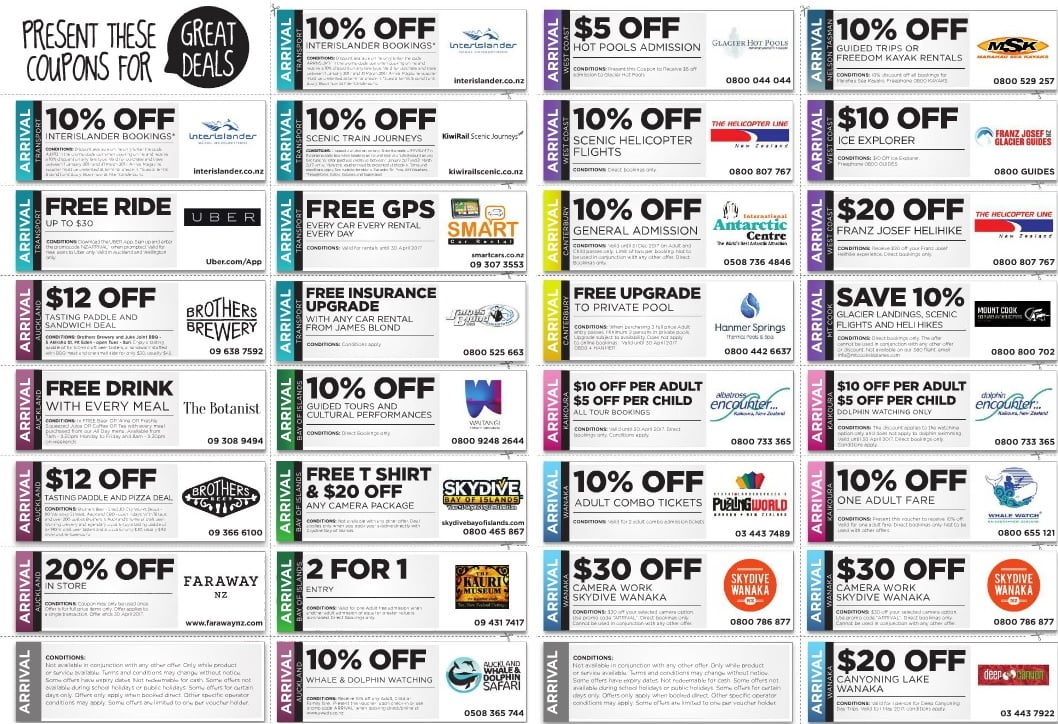 Make sure to pick up one magazine per adult, since many of these coupons are per person.
Having a smartphone and internet connection in NZ is almost a necessity, especially if you plan to drive.  We relied heavily on Waze while driving, and this couldn't have been done without a local SIM card.  NZ internet reception and speed is that it isn´t that good. The further away you are from civilization, the worse your connection will be, regardless of the company.
We purchased a Spark SIM from the booth located right after clearing customs in the Auckland Airport.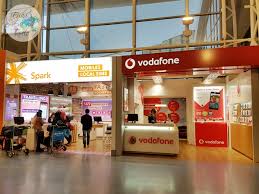 Spark is considered to have "the least worst" internet connection.  Both Spark and Vodaphone sell the same standard pack for tourists (if you are staying for over two weeks, I would recommend at least 3GB).  One big advantage with Spark is their network of 1000+ free Wi-Fi zones all around the country.  These look like public phone booths and you can connect only if you have a Spark SIM card.
This following tip is one of New Zealand's best kept secret that was extremely useful for us and saved us a few hundred dollars over the course of our trip.  This secret is the website Bookme.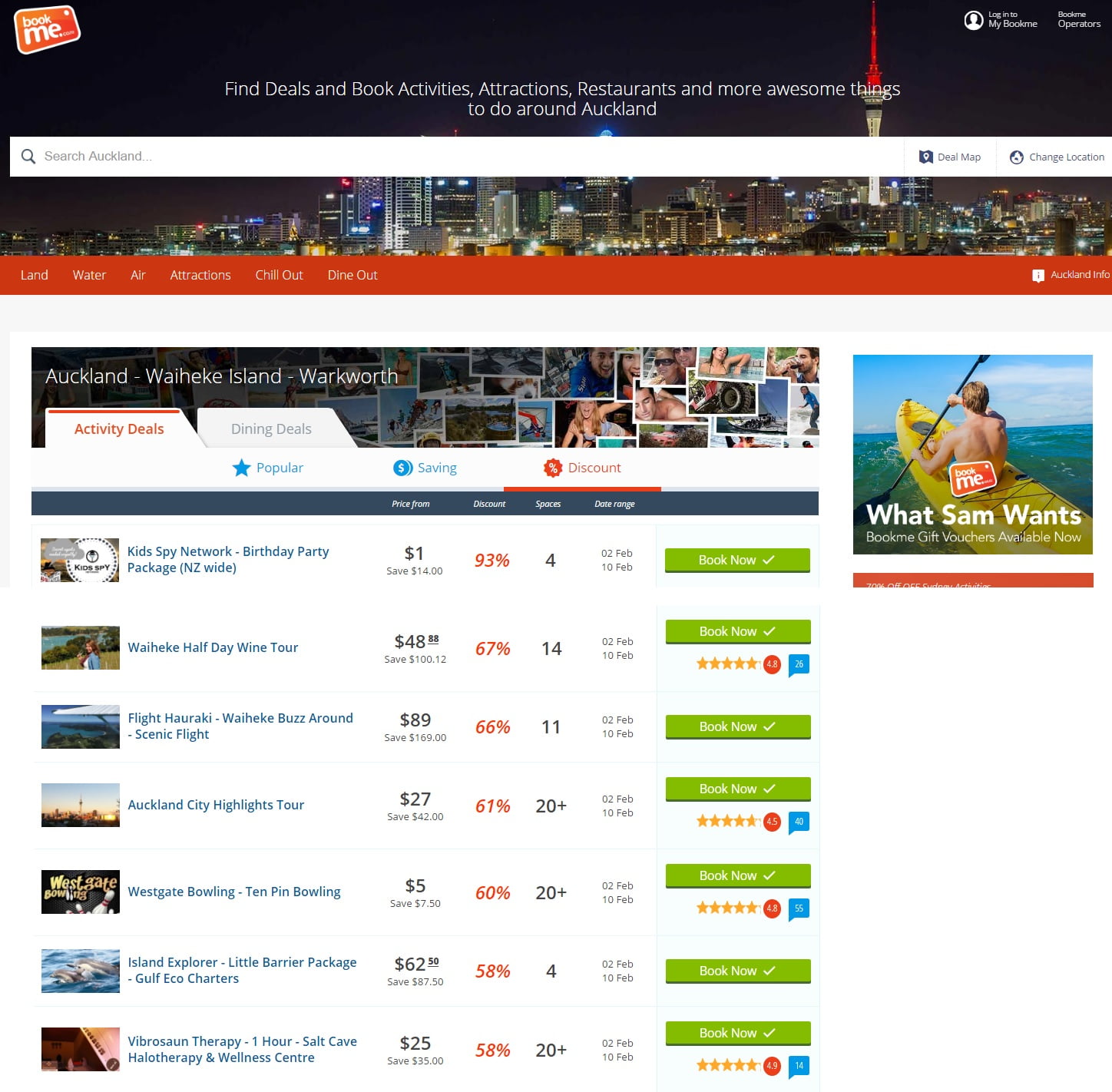 Bookme partners up with local tour agencies and restaurants to help them fill up last minute vacancies.  This means that you will get MUCH better deals offered on Bookme than you would by walking into the restaurant or tour agency.  Take into consideration that these are short notice vacancies, so you need to be flexible and act fast.  We personally used Bookme on multiple occasions on restaurants, museum entrance fees and extreme activities fees and saved hundreds of NZD.
Tips on Saving Money in New Zealand When Buying Food
One of the areas where we found it quite easy to save a lot of money was in food.  Restaurants are very expensive in New Zealand.  There are three main supermarket chains in New Zealand: Countdown, New World and Pak n´ Save.  We found Pak n' Save to be the cheapest out of the three.  Take advantage and stock up when you find them in bigger towns, since the smaller towns do not have supermarket chains, which usually means supplies are more expensive.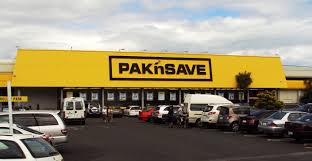 Two great things about NZ supermarkets: First, they sell prepared food by weight.  A half chicken with two side orders will come out less than NZ$6 per person. Second –  the famous New Zealand pies!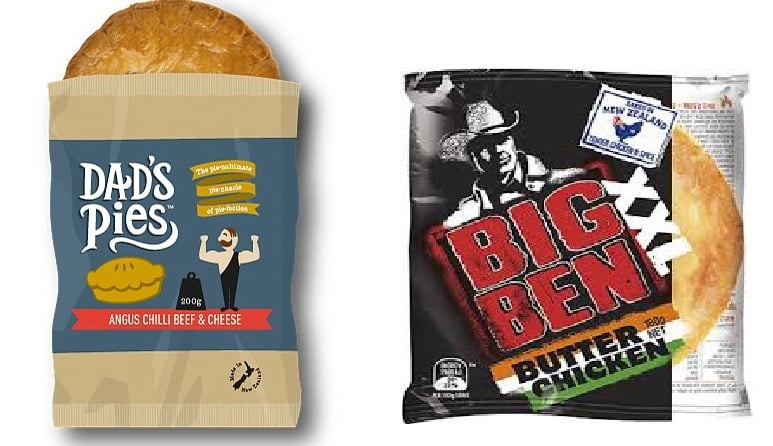 These pies are delicious!  They fill you up more than a sandwich and cost less than NZ$3 in the supermarkets.  These will surely become part of your travel stories when you come back home.
If you are trying to budget for your trip and want to know how much money you will spend on food, then you should calculate about NZ$60-NZ$70 per person per week if you plan to cook all three meals, and about NZ$30-NZ$40 per person per day if you plan to eat out two of three meals a day.
I hope that these tips on saving money in New Zealand, along with tips on finding ridiculously cheap flights to NZ and saving up to 72% off your hotel reservations will make your visit amazing and cheap(er). Have any more tips on saving money in New Zealand? Leave your comment at the bottom of this article.
Safe travels